When a customer calls to place an order, a lot of information is required at fingertips. Sales Order module for the Sage 100 ERP provides all such information like customer's mailing and shipping address, availability of specific units in inventory, or alternate items if those on order are out of stock. It also provides item pricing, quantity pricing, specific customer pricing, costs, customer credit limits, credit card deposit information, and more.
It can be used as template for another Standard Order. Using Repeating Order template will help user to reduce the effort of Data Entry for every New Sales Order. It is interesting to know that if we create Standard Order from Repeating Order then quantity in Repeating order line doesn't get affected.
In this blog, we will see how to create a Repeating Sales Order in Sage 100.
Creating Repeating Order:
To create a Sales Order with Repeating Order user needs to navigate to the Sales Order Entry Screen. System gives options to select Repeating Order from the Order Type dropdown.

After selecting Order Type, other required field should be filled just as Normal process of Sales Order.It is also advisable to recheck  Customer's Address and Tax related info.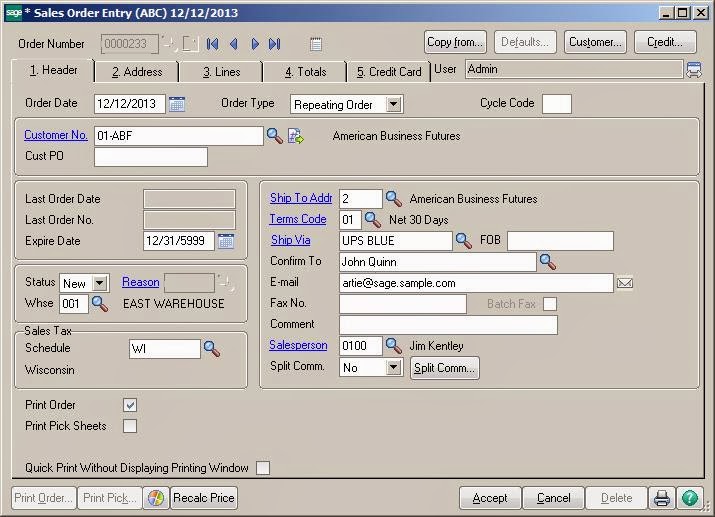 3)
User should then navigate to Lines Tab. On the Lines tab, Line Items and its quantity should be selected as specified by the customer. Accept should be processed to save the data and create a Sales Order. This ends the process of creating a Sales Order with Repeating Order.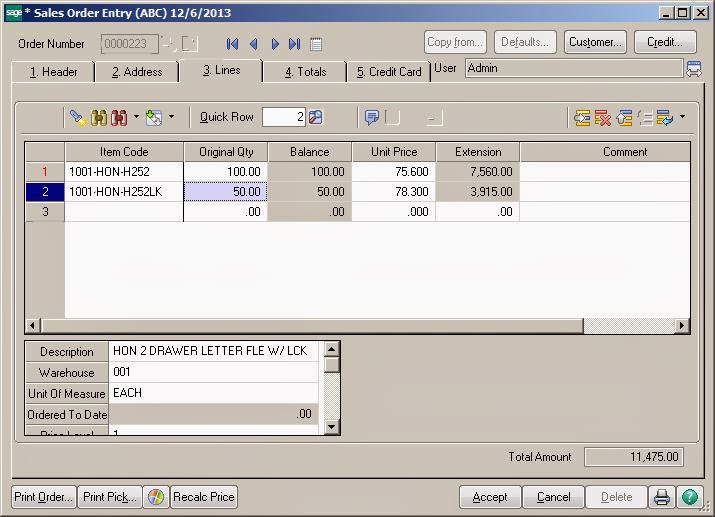 However, we can add a Sales order for which can be work as template for multiple sales order in Sage 100.In our next blog, we will see how to create Standard sales order from Repeating sales order in Sage 100.