The Memo Manager option in Sage 100 ERP gives users the ability to create memos for Employees, Vendors, Customers and General Ledger accounts, Inventory Items, Sales Orders, Purchase Orders and Invoices.
Normally a Sage 100 ERP accounts receivable credit memo is done because of a return of some kind, such as you originally ordered 6 cases of paper, and you find one has been damaged so the Sage 100 ERP credit memo is sent to document the return and there is a paper trail. It can also be used for a customer account write-down.  But the key is that the credit memo is much like an invoice and does show up on the accounts receivable aged invoice report.
Memos can also be used in all Data Entry processes, such as General Journal entry or Receipt of Goods entry. Additional documentation can then be attached to the memos. Memos can be triggered to automatically display or are available for viewing or maintaining. Security within Memo Manager Maintenance is by Roles to determine accessibility to Maintain, Show or Hide these memos.
Let's see some examples of Credit Memos –
For

Employee Maintenance in Payroll, memos are often used for employee review information or for other HR documentation such as Health insurance. Scanned resumes or applications can be attached to memos. Security for Employee memos is determined by Payroll security settings within the Role Maintenance in Library Master.


During AP Invoice Data Entry, a memo can be created to attach a scanned copy of the invoice or other documentation. This memo goes with the invoice to Invoice History and will be available to view whenever the invoice is displayed either in Invoice History Inquiry or during a drill down view within the Vendor/Invoice or Transactions tab in Vendor Maintenance.

At the Vendor or Customer level, memos can be used for vendor or customer specific instructions or notations. With the auto display feature, these memos can automatically popup whenever that vendor or customer is selected.
Credit Memo Creation

To create a Sage 100 ERP credit memo we follow these simple steps, which might help you too:
We navigate to the Invoice Data Entry page via Main of the Account Receivable Module. On the Invoice Data Entry page, we type in the invoice number with a CM at the end, instead of an IN. Doing this system converts the invoice into a Credit Memo as Invoice Number-CM. Now add the customer number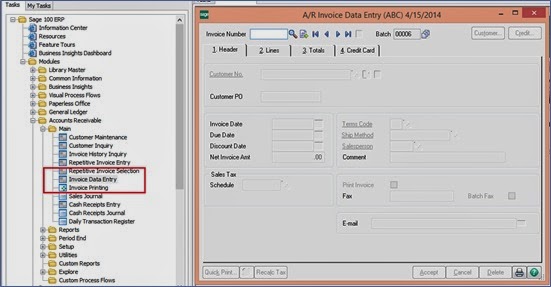 On the Invoice Data Entry page we type in the invoice number with a CM at the end, instead of an IN. Doing this system converts the invoice into a Credit Memo as Invoice Number-CM. Now add the customer number.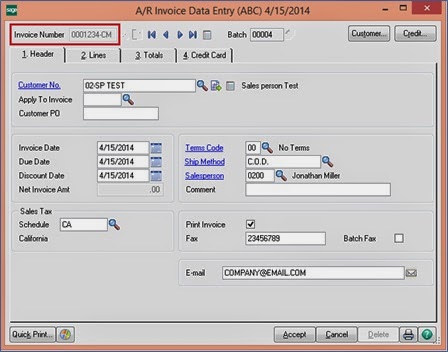 On the Lines Tab type an item code. It should be noted because we used a CM for Credit Memo the 
system automatically converts the lines to negative, except for the Invoice.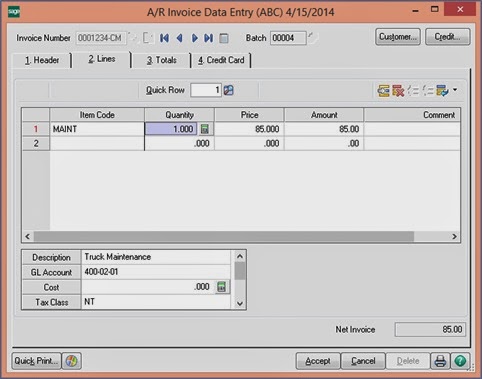 At this point if we print the Invoice, the Credit memo is created.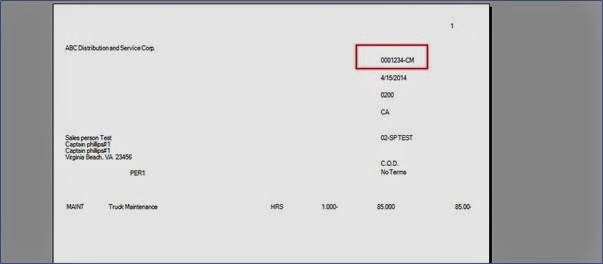 However we can create a memo in sage 100 in just few steps!
About Us
Greytrix is a one-stop solution provider for Sage ERP and Sage CRM needs. We provide complete end-to-end assistance for your technical consultations, product customizations, data migration, system integrations, third-party add-on development and implementation expertise.
Greytrix has some unique solutions of Sage 100 integration with Sage CRM, and Salesforce.com  along with Sage 100 Migration from Sage 50 US, QuickBooks, Sage Business Vision and Sage Business Works. We also offer best-in-class Sage 100 customization and development services to Sage business partners, end users, and Sage PSG worldwide.
For more details on Sage 100 Services, please contact us at sage@greytrix.com. We will be glad to assist you.