Business Insights Explorer is the most convenient way to navigate your business related activities. It brings ad hoc inquiry, drill-down, and drill-around analysis up to a whole new level. It turns data into knowledge that can act on by using powerful sorting, grouping, filtering, and charting capabilities that can be personalized to specific needs and roles within a company. This easy-to-use inquiry and analysis application optimizes daily decision-making tasks in the most critical areas of business.
A streamlined grid interface spans multiple data elements in one view, and you can choose among the predefined views for Sales Order, Accounts Receivable, General Ledger, Accounts Payable, Bill of Materials, Inventory Management, and Purchase Order. User can use quick-click charts for a visual representation of the data and to show trends. Changing views for the same customer, plus drill down to the transaction level and access customer maintenance for edits without having to go to other modules in your Sage 100 ERP (formerly Sage ERP MAS 90 and 200) system is also possible. User can also launch familiar Sage 100 ERP tasks directly from within Business Insights Explorer and find the information without losing its place. In fact, both employer and its employees can efficiently go through daily tasks from Business Insights Explorer that may exceed the productivity using the traditional menu layout.
Benefit of Sage 100 View – Business Insights Explorer
Get timely access to key business information in a format that is easy to read and understand
Easily apply query, reporting, and statistical analysis to make faster and better decisions for your future— this afternoon or next year
Use quick-click charts for a visual representation
Quickly assess the state of your business; monitor a new product's acceptance rate or the impact that a competitor's promo is having on your sales
Share information with others in your organization in a meaningful wayUse intuitive grid-based view of key entity and transaction-level data for more precise tracking and resolution
Easily drill around into original records and change views for at-your-fingertips access to invoices and transactions
Save views containing customized preferences and predefined filters for future use and navigation
Gain quick access to key system tasks for the displayed entity with powerful task launch options
Enable a wide range of sorting, grouping, and reorganizing functionality with easy-to-use customization and personalization features.
Let's check out how we can find different views and what different features are available for our usage:
To navigate this page, we must process Sales Order View of Explore under the Sales Order Module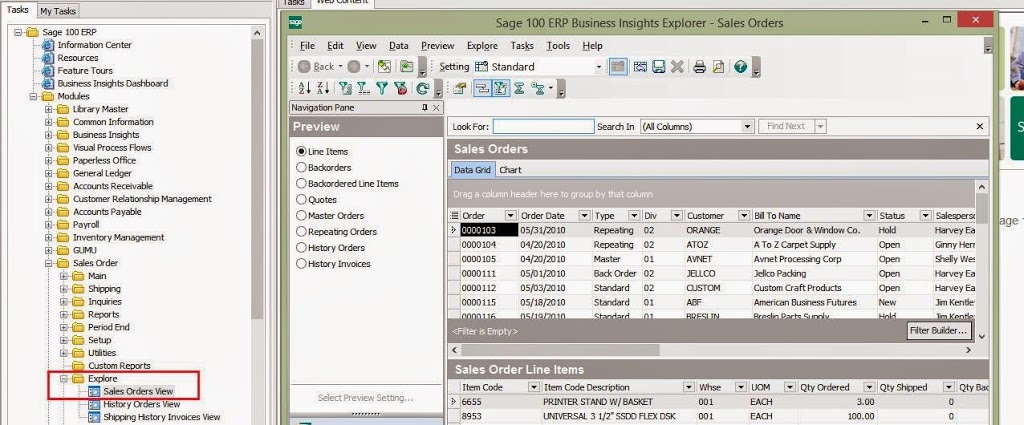 To group by Salesperson, left click on the 'Salesperson' column heading and drag to top grey area. This selection will modify the data set and all the data display around Sales Person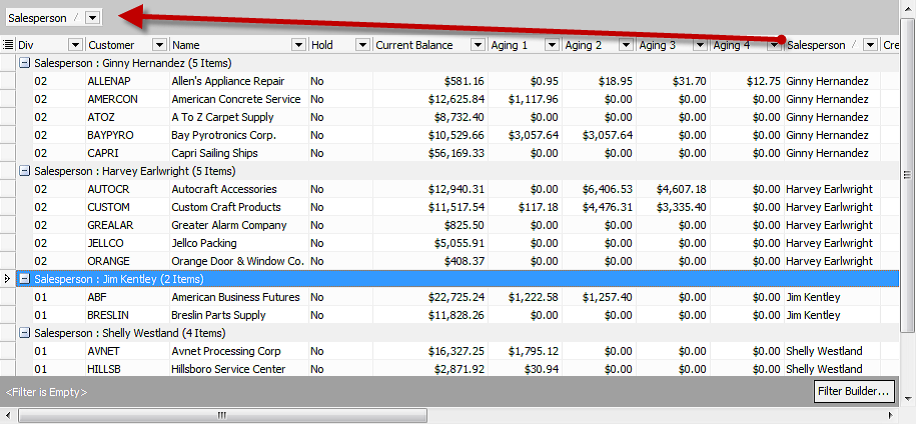 Choose the columns you want to include by right clicking on the column heading row and select column settings from the drop down list

If we Right click in each field and select 'Sum' from the menu, the summation of the column will be displayed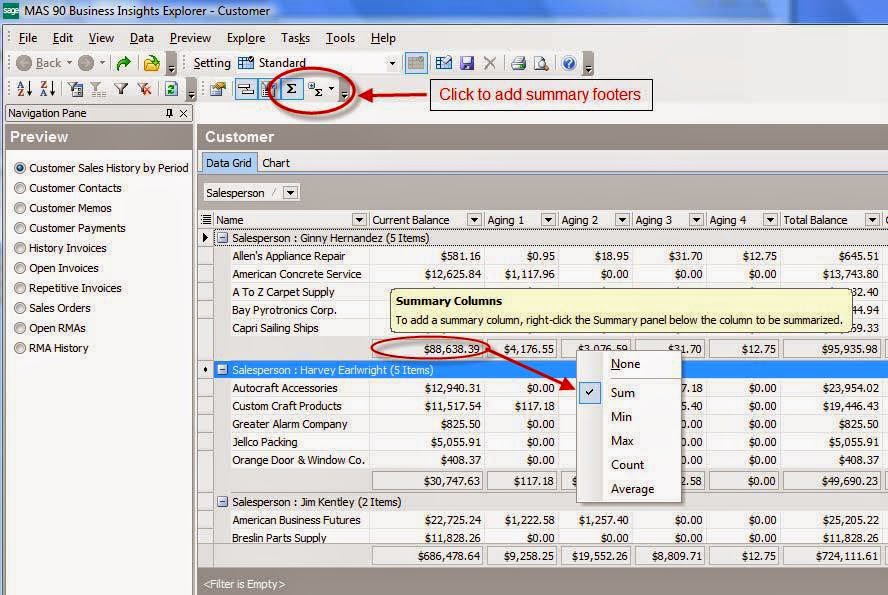 You now have a BIE view that can be further sorted, filtered or grouped for additional analysis. You can also view the open invoices that make up the balance by selecting 'Open Invoices" from the left 'Preview' menu or you can open related tasks by selecting 'Tasks' from the left menu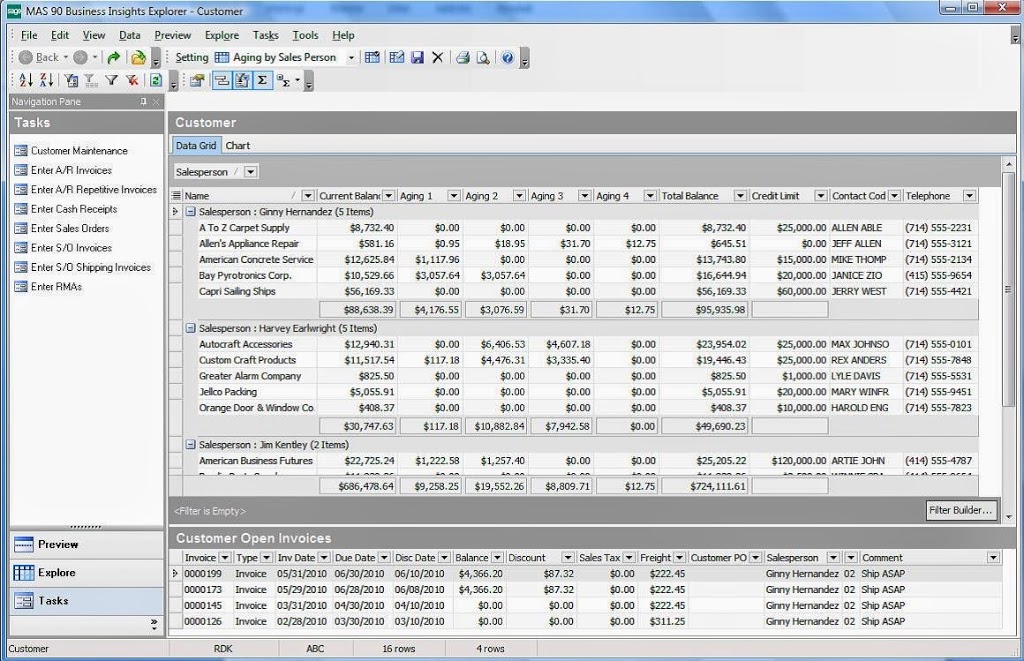 This view is a deep sea of knowledge. It actually covers a huge amount of view than we could cover in this Blog. This 360-degree view gives you the ability to quickly access timely, up-to-the-minute business information. The result favourably impacts your bottom line and your long-term success through more accurate decision-making and enhanced customer satisfaction. Business Insights Explorer provides you with a better way to access and understand your data—offering you a powerful, intuitive reporting tool—and you don't have to be a programmer to use it! First-time users can start right away. Importantly, Business Insights Explorer is great for analysing "what-if" scenarios that can keep you awake at night. Who are the top customers for each of your salespeople? What products do they buy? How many new customers did you gain last month? And, because of the depth of functionality, Business Insights Explorer will continue to grow with you and your business far into the future.
About Us
Greytrix – a globally recognized and one of the oldest Sage Development Partner is a one-stop solution provider for Sage ERP and Sage CRM organizational needs. Being acknowledged and rewarded for multi-man years of experience and expertise, we bring complete end-to-end assistance for your technical consultations, product customizations, data migration, system integrations, third party add-on development and implementation competence.
The unique GUMU™ integration solutions provided by Greytrix for Sage 100 include Sage 100 integration with Sage CRM, and Salesforce.com, Dynamics 365 CRM, the migration solutions include Sage 100 Migration from Sage 50 US, Sage Intacct, QuickBooks, Sage Business Vision and Sage Business Works. We also offer best-in-class Sage 100 customization and development services to Sage business partners, end users, and Sage PSG worldwide. Sage 100 product listings by Greytrix include Salesforce – Sage ERP integration available on Salesforce Appexchange, Dynamics 365 CRM – Sage ERP integration available on Microsoft Appsource (Free Trial).
The GUMU™ Cloud framework by Greytrix forms the backbone of cloud integrations that are managed in real-time for processing and execution of application programs at the click of a button.
For more details on Sage 100 Services, please contact us at sage@greytrix.com. We will like to hear from you.