A Purchase order (PO) in Sage 500 ERP is a commercial document and first official offer issued by a buyer to a seller, indicating types, quantities, and agreed prices for products or services. It is used to control the purchasing of products and services from external suppliers.
New Stuff: Changing the Price Labels in MAS 500
The purchase order has same flow what we flow in actual such as – create the purchase order, make the receipt for received.
Goods, enter a receipt for invoice form vendor, do payment for an invoice by check or EFT.
In sage 500 ERP, a purchase order can either be partially received, fully received or never received.
The Modular Flow for Purchase Order in Sage 500 ERP is:
Enter Requisition (Request for Goods)
Enter Purchase Order (PO)
Process Receipts of Goods
Enter Receipt Of Invoice
Process Invoice for Payment.
Below is the process flow design of PO.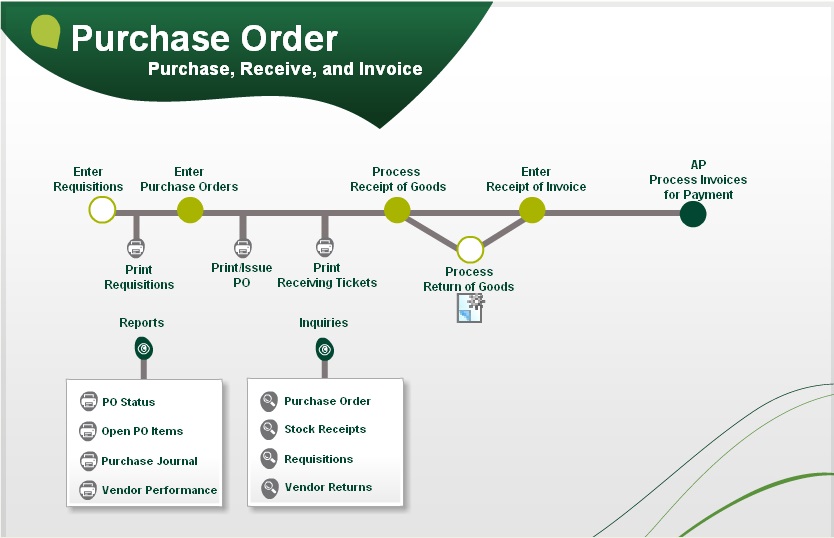 Here we take an example of creating purchase order for product 'router' to get better understanding of basic PO flow.
We create a requisition for quotation; navigate to 'Purchase Order' → 'Activities' → 'Enter Requisition'. Generate new Requisition no. (0000000021) enter the details required – as Department, warehouse, items to be purchased and its qty., date of request.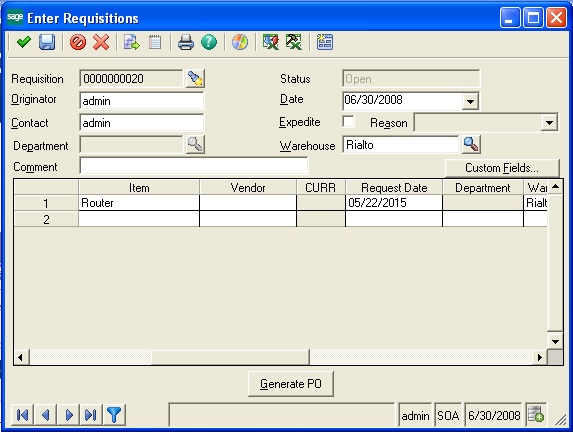 Click on Generate PO button for Purchase Order (0000000221-PO).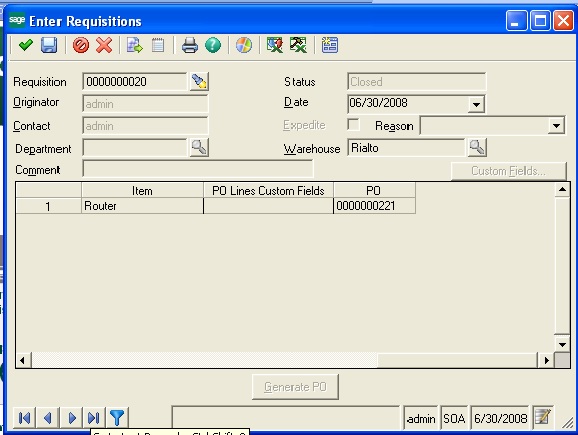 Open the generate PO in 'Enter Purchase Order' window to edit the PO if needed.
Navigation: Purchase Order' → 'Activities' → 'Enter Purchase Order'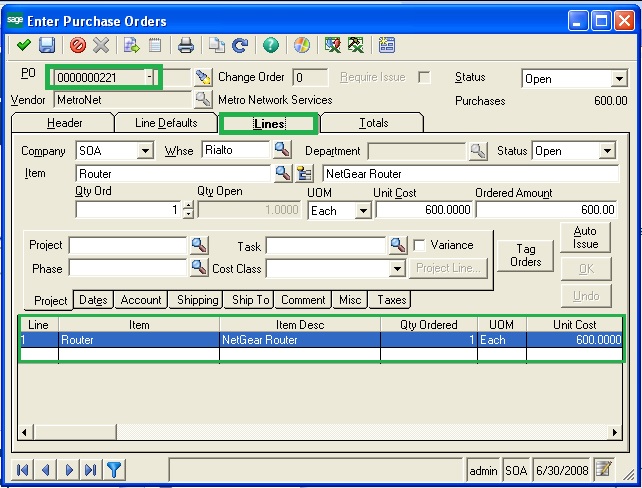 Now we move to 'Processing Receipt of Goods' after receiving goods at warehouse.
Navigation: 'Purchase Order' → 'Activities' →  'Receipt Of Goods' → 'Process Receipt of Goods' (ROG)
In ROG window select the warehouse >> click on Enter Receipt of goods to create receipt against the PO >> Match PO line with receipt by using 'Matching' option and then post the receipt.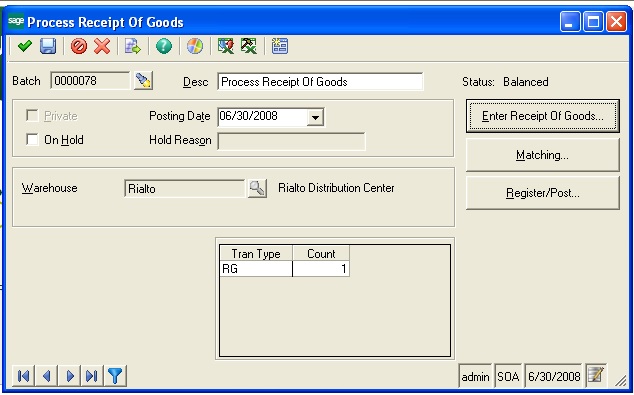 If the goods received are fine with no damage we go for processing of invoice receipt against the PO.
Navigation:  'Purchase Order' → 'Activities' → 'Process Receipt of Invoice'
Enter the receipt of invoice by creating voucher (0000000416-IN) of type invoice.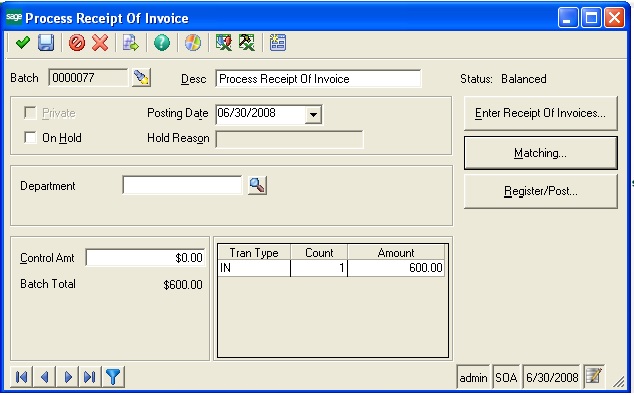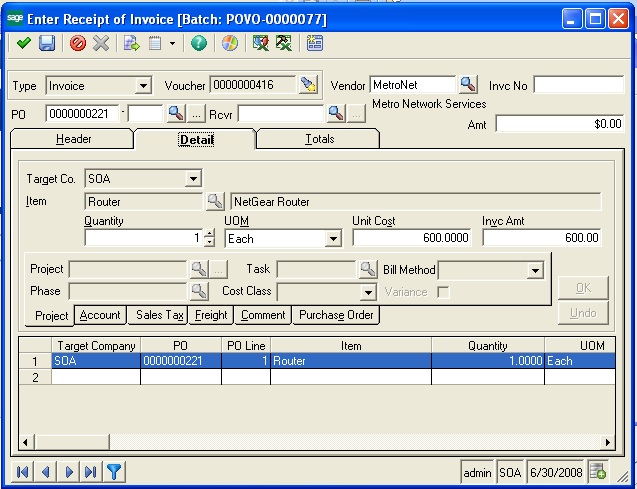 Now match the PO line and post the batch for processing the payment against an invoice.
AP – Process Invoice for Payment
Navigation: 'Account Payable' → 'Activities' → 'Process Invoice For Payment'
As the amount paid to a vendor for goods invoice comes under Account Payable.
Create a batch >> select the payment by clicking on ' Select for payment' and select voucher created earlier.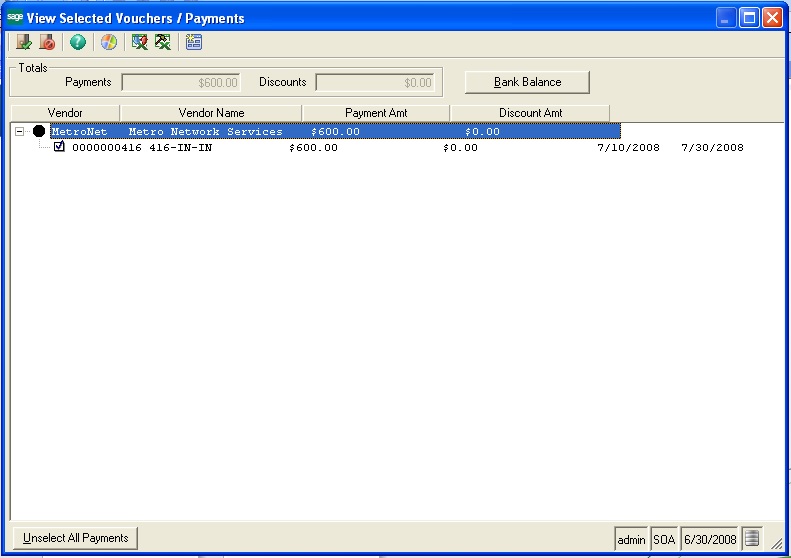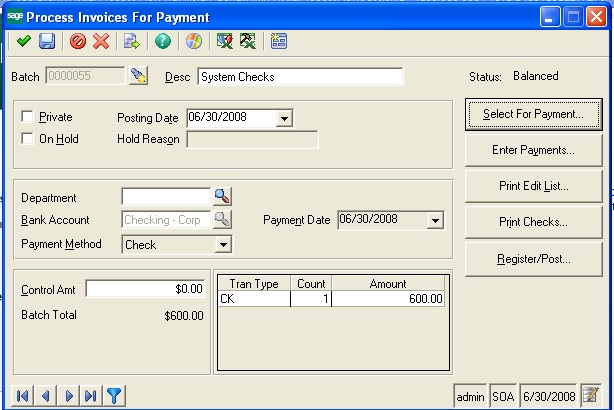 We Print the checks for transactions and post the batch
In purchase order, this is basic flow but there many different ways of creating PO in Sage 500 ERP as – Generating PO from SO, Generating PO from Blanket agreements/order.
About Us
Greytrix is a one-stop solution provider for Sage ERP and Sage CRM needs. We provide complete end-to-end assistance for your technical consultations, product customizations, data migration, system integrations, third-party add-on development and implementation expertise.
Greytrix has some unique solutions of Sage 100 integration with Sage CRM, and Salesforce.com  along with Sage 100 Migration from Sage 50 US, QuickBooks, Sage Business Vision and Sage Business Works. We also offer best-in-class Sage 100 customization and development services to Sage business partners, end users, and Sage PSG worldwide.
For more details on Sage 100 Services, please contact us at sage@greytrix.com. We will be glad to assist you.