Thanks for your feedback on our GUMU™ for Salesforce – Sage 100 (MAS 90/200) Integration solution. We are happy to inform that our Pro version of the integration is also now available for download from the Salesforce AppExchange.
Email us at salesforce@greytrix.com and we can assist you to set up integration with your Sage 100 ERP and your Salesforce account (or with a 30 days trial of Salesforce).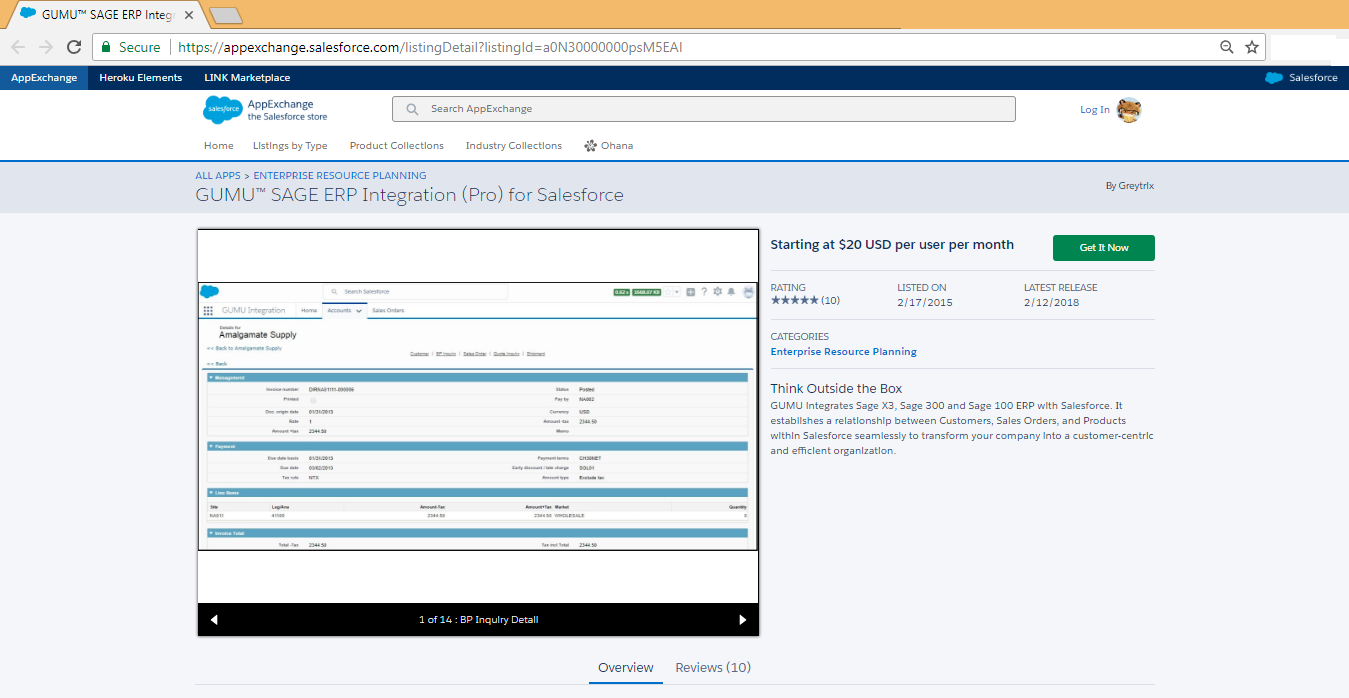 GUMU™ SAGE ERP Integration (Pro) for Salesforce on AppExchange
Let's first go through the architecture and design to understand the flow of GUMU™ Sage ERP Integration (Pro) for Salesforce better: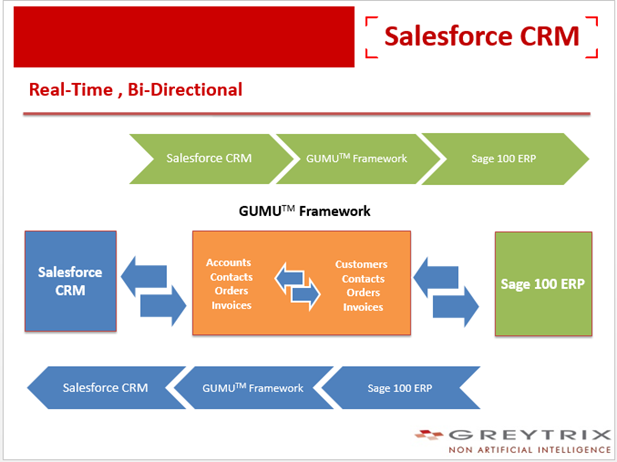 We have designed web service (GUMUTM Framework) for Sage 100 (MAS90/200) ERP and Salesforce will communicate with Sage 100 ERP through GUMU™ Framework web service.
Supports
Sage 100 ERP (MAS 90/200) all editions from version 4.3 onwards
Salesforce Editions – Enterprise and Unlimited (Professional edition soon)
Key features of GUMU™ Sage ERP Integration (Pro) for Salesforce
Import Sage 100 (MAS90/200) ERP customers into Salesforce Accounts along with contacts and Additional Ship to Addresses
View Customer Information, A/R Inquiry and Order Inquiry real-time in Salesforce from Sage 100 ERP
Integrate Multiple Sage 100 ERP companies with a single instance of Salesforce
Security Matrix to control access of Sage 100 ERP data to Salesforce user
Link/Unlink Sage 100 Customers with existing Salesforce accounts
Real-time updates for linked accounts.
Promote Salesforce account as a Sage 100 ERP Customer real-time
Promote Sage 100 ERP customer as Salesforce account real-time
Import Sage 100 products into Salesforce
Supports real-time pricing of products while creating a Sales Order from within Salesforce.
Promote Sales Order from Salesforce to Sage 100 ERP real-time.
Sage 100 Salesperson Mapping with Salesforce users
You can install the application from AppExchange into the Salesforce Organization of your choice and can refer the "Customization Guides" section of "Details" tab from the listing page for various documents related to the setup and configuration of the product.
For a live demo/trial or any queries/ feedback/suggestions please email salesforce@greytrix.com
About Us
Greytrix as a Salesforce Product development partner offers a wide variety of integration products and services to the end users as well as to the Partners across the globe. We offers Consultation, Configuration, Training and support services in out-of-the-box functionality as well as customizations to incorporate custom business rules and functionalities that requires apex code incorporation into the Salesforce platform.
Greytrix has some unique solutions for Cloud CRM such as Salesforce integration with Sage Enterprise Management (Sage X3), Sage Intacct, Sage 100 and Sage 300 (Sage Accpac). We also offer best-in-class Cloud CRM Salesforce customization and development services along with services such as Salesforce Data Migration, Integrated App development, Custom App development and Technical Support to business partners and end users.
Greytrix GUMU™ integration for Sage ERP – Salesforce is a 5-star app listed on Salesforce AppExchange.
For more information, please contact us at salesforce@greytrix.com. We will be glad to assist you.