Salesforce earlier started a new tool on developer community named "Trailhead". Currently, this is in beta mode and Salesforce is adding more features into it.
What is "Trailhead"?
Trailhead has broken down the Salesforce 1 platform into various sections known as "modules" and these are further divided into units so that one can learn those sections step-wise. Anyone who is new to Salesforce or wants to learn more about Salesforce can use the Trailhead. One can select the module as per his background (developer or administrator). Trailhead is also a great resource for anyone studying to take a Salesforce Certification exam.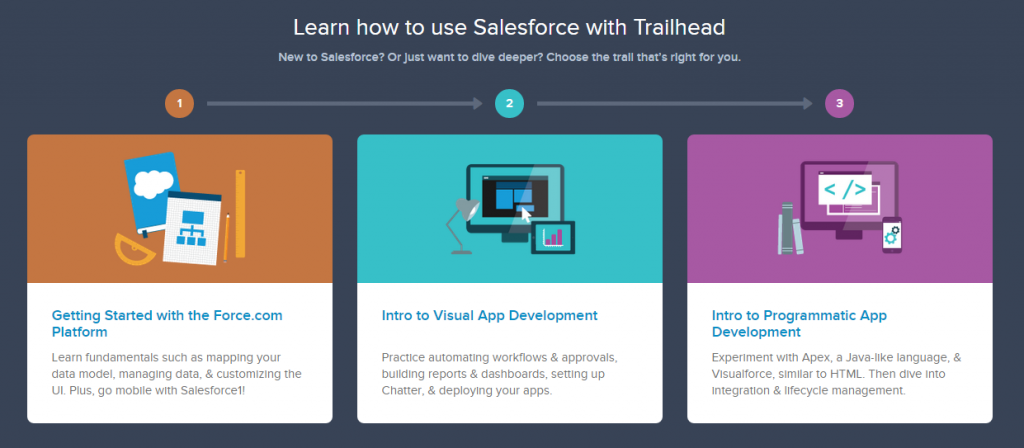 Real-time, bi-directional, multi-company – Sage ERP Integration with Salesforce
Units, Modules and Trails
A unit is a learning objective for a feature of the Salesforce Platform and most units conclude with a challenge.
A module is a series of units for a particular subject area. Once you've completed all the units in a module, you will earn a badge that will be displayed on your Salesforce Developers profile.
A trail is a series of Modules.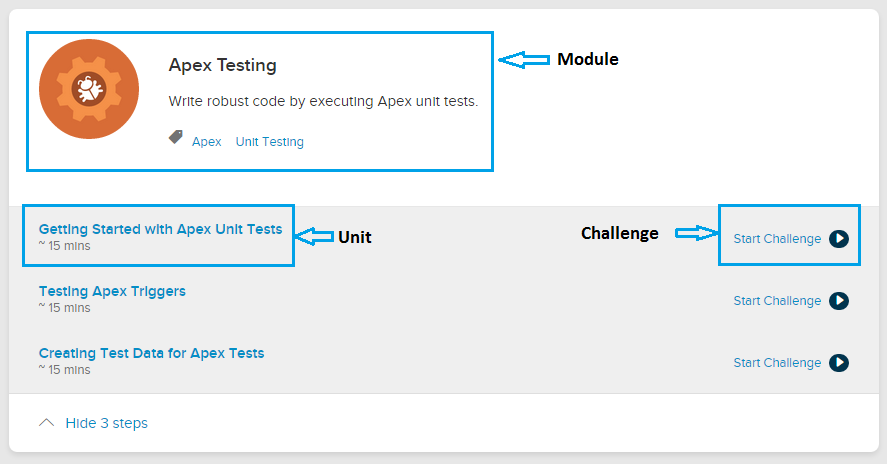 Currently available modules –
Apex Basics & Database
Apex Testing
Apex Triggers
Change Management
Process Automation
UI Customization
Data Management
Data Modeling
Data Security
Lightning Components
Formulas & Validations
Salesforce1 Mobile Basics
Force.com Basics
Visualforce Basics
Challenges, Points, & Badges
Challenges: – Every unit ends with a challenge that you have to complete in a related Developer Edition (DE). A challenge is an exercise that tests your knowledge of a related unit. When developers accept challenges they have to complete them on a DE and Trailhead assesses the outcome. Developers will need to log into a Developer Edition via Trailhead to assess the challenge.
Points: – After successful completion of a Challenge, developer earns points that get added to their Salesforce Developers profile.

Badges: – Whenever the developer completes all the units from the modules, they automatically get awarded by a badge.
Share a progress: – Developer can show off their points and badges to the world via Salesforce Developers profile.
How to use trailhead?
Use Salesforce developer profile to log into Trailhead.
Select the interested module.
Select a step as a unit and study.
Complete the unit by accepting and solving the challenge.
Click on Check Challenge to be assessed by trailhead.
Keep earning more and more points and badges by completing more and more modules.
About Us
Greytrix as a Salesforce Product development partner offers a wide variety of integration products and services to the end users as well as to the Partners across the globe. We offers Consultation, Configuration, Training and support services in out-of-the-box functionality as well as customizations to incorporate custom business rules and functionalities that requires apex code incorporation into the Salesforce platform.
Greytrix has some unique solutions for Cloud CRM such as Salesforce integration with Sage Enterprise Management (Sage X3), Sage Intacct, Sage 100 and Sage 300 (Sage Accpac). We also offer best-in-class Cloud CRM Salesforce customization and development services along with services such as Salesforce Data Migration, Integrated App development, Custom App development and Technical Support to business partners and end users.
Greytrix GUMU™ integration for Sage ERP – Salesforce is a 5-star app listed on Salesforce AppExchange.
For more information, please contact us at salesforce@greytrix.com. We will be glad to assist you.
Related Posts