After an unforgettable Sage Summit 2015 at NOLA our event team now moves on to Dreamforce 2015 (#DF15) – Dreamforce is an event which you would never want to miss. Four packed days starting from Sep 15 to Sept 18 in San Franciso this year, will impact and inspire attendees from all the corners of the globe. Dreamforce is Salesforce's largest annual event and is a great deal in the cloud computing world.
Imp Links – Event Website | Register | Agenda |Session|Keynotes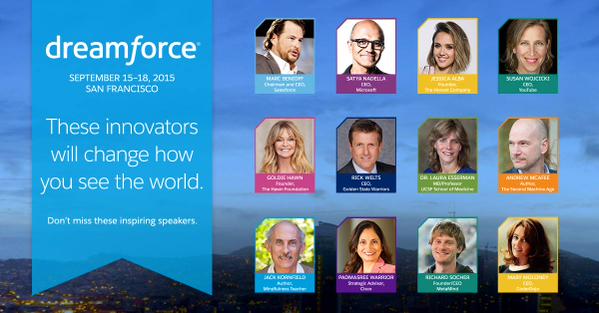 Top 5 Reasons to attend Dreamforce
Insightful Keynote: After some Insightful Sage Conversation keynotes on navigating a changing world with Sage CEO Stephen Kelly, General Colin L. Powell, USA (Ret.), and Deepak Chopra we look forward for Dreamforce.
Dreamforce is much more than your typical business conference. Keynote from Marc Benioff's (Salesforce's CEO) is always a mass pleaser. There will be many other inspiring speakers at Dreamforce this year including Satya Nadella (CEO, Microsoft), Susan Wojcicki (CEO, YouTube), Travis Kalanick (Co-Founder & CEO, Uber Technologies) Chuck Robbins (CEO, Cisco), Jessica Alba (We were so glad to have her at Sage Summit 2014) and many more. You don't wanna miss them.
Expert to Guide: Experts on Salesforce are eager to solve our business problems. You will find someone or the other to answer your needs, interests and learnings about Sales Cloud, Service Cloud, Marketing Cloud, Salesforce Platform, Analytics Cloud and Salesforce CRM. You can also learn how to build an app.
Networking Opportunities: With more than 7,500 people attending Sage Summit. We managed to connect mentors, peers, contacts, customers and partners with whom we shared idea and exchange knowledge.
Dreamforce is the place to make new connections and connect with people you can learn from. Its community organizes networking events throughout the conference. Dreamforce experience doesn't end with the conference, online and offline communities are created to continue networking opportunities to share the knowledge and information.
Encouraging Women's Leadership
Each year at Dreamforce they bring together a unique group of people who are interested in making the world a better place for all. Featuring a group of powerful, influential and diverse women, Susan Wojcicki, Mary Molony, Lyndsey Scott and Jessica Alba will share their journey to leadership and experiences to inspire and engage future female leaders and advocates.
Global Strategic Partnership of Salesforce with Sage
Sage is a Champion of Small Business solutions who knows the pulse what the SME's need, be it software, be it technology. Sage and Salesforce partnership bringing together, a world leader for SME's in accounting and payroll enterprise solutions with world's #1 CRM solution on cloud platform. They combine to provide world's first real-time accounting engine in the market as Sage Financials- Powered by technology that works the way you do.
This doesn't stop here Sage's Premier ERP solutions Sage X3, Sage 100 and Sage 300 are now integrated with Salesforce Cloud CRM using our GUMUTM Integrator. Greytrix GUMUTM Integrations are the first to be listed on Salesforce AppExchange with Sage X3-Salesforce, Sage 300-Salesforce and Sage 100-Salesforce Integrations.
Sage and Salesforce together are empowering fast growing companies to run their businesses on the world's #1 enterprise cloud platform. Dreamforce will strengthen the association of the two IT giants.
About Us
Greytrix – a globally recognized and one of the oldest Sage Development Partner, as a Salesforce Product development partner offers a wide variety of integration products and services to the end users as well as to the Partners and Sage PSG across the globe. We offer Consultation, Configuration, Training and support services in out-of-the-box functionality as well as customizations to incorporate custom business rules and functionalities that require apex code incorporation into the Salesforce platform.
Greytrix has some unique solutions for Cloud CRM such as Salesforce Sage integration for Sage X3, Sage 100 and Sage 300. We also offer best-in-class Cloud CRM Salesforce customization and development services along with services such as Salesforce Data Migration, Integrated App development, Custom App development and Technical Support to business partners and end users. Salesforce Cloud CRM integration offered by Greytrix works with Lightning web components and supports standard opportunity workflow.
Greytrix GUMU™ integration for Sage ERP – Salesforce is a 5-star rated app listed on Salesforce AppExchange.
For more information, please contact us at  salesforce@greytrix.com. We will be glad to assist you.
Our CEO, Kumar Siddhartha is attending Dreamforce 2015. As a first-time attendee, he looks forward to event's innovation, networking and fun. Meet you at Dreamforce!