The New Year brings new hopes, new milestones and resolutions for your business and you are probably evaluating your business performance, checking an annual customer satisfaction survey, monitoring the effectiveness of marketing and obtaining insights on potential new products and services. However, it's also necessary to relate these business metrics with your business management solutions and understand what can be improved in your operations, thereby making preparations for the following year. If you are thinking of integrating your Sage ERP and Salesforce solutions, then Greytrix GUMU™ connector should be the first thing on your mind.
Applications compliment almost every piece of software systems that businesses use. Today, businesses are gradually acclimatizing to the Digital age and the natural outcome of it is applications that assist in day-to-day business processes such as placing orders, checking inventories, auditing finances etc. Making it easier for businesses to find these apps, Salesforce has come up with AppExchange – an Applications Marketplace that enhances business processes and increase the productivity of your software systems.
Salesforce AppExchange – Has over 2900 versatile applications revolving your crucial business processes, 4 million installs in the last 10 years, 50,000+ customer reviews. It takes out the daunting task of reinventing the wheel in creating business specific applications.
Salesforce and Sage dominate the CRM and ERP market respectively. Greytrix with its GUMU™ connector takes your Sage ERP data on a cloud with Salesforce Integration for both SME and large enterprises. Our unique blend of technology developed on Force.com platform & native Sage API's and proficient Salesforce certified team relieves your business from the complexities of data redundancy and enriches real-time, bi-directional data visibility across entities and much more.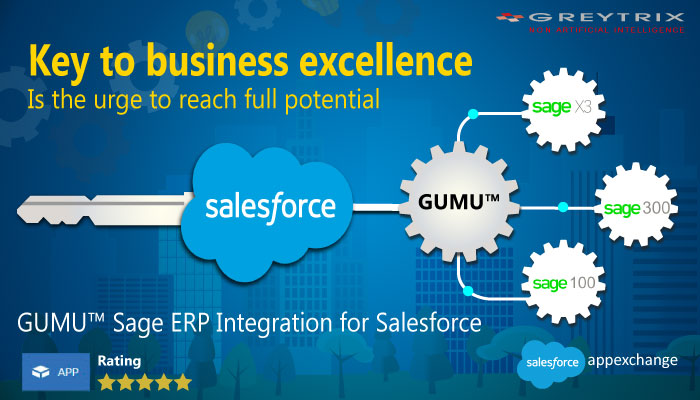 Greytrix being a Salesforce Product Development Partner, identified the potential of Force.com platform. We analyzed business expectations over the years and developed GUMU™ connector that seamlessly integrates your Salesforce with Sage ERPs (Sage X3 / Sage 100 / Sage 300). We are also open to the fact that GUMU™ can be used to integrate any custom data or another ERP as well. GUMU™ connector is a 5-star rated app that helps you bridge Salesforce & Sage ERP into a unified solution. The rigorous application security and functional review carried out by Salesforce before listing it on the AppExchange adds to the credibility of our connector. Additionally, the cloud capabilities of Salesforce with Sage ERP offers better control of your business anywhere and anytime, keeping your enterprises in the forefront while exceeding customer expectations.
Features of GUMU™ for Salesforce – Sage ERP Integration
Real-time, bi-directional data sync
Multi-Company / Folder Integration
Authorization control
Flexibility to configure
Linking / Unlinking Customers
Real-time inquiries
Easy to Promote Customers / Sales Orders from Salesforce to Sage ERPs
Entity Synchronization from Sage ERP to Salesforce
Accessibility of data on smart mobile devices anytime, anywhere
Benefits of Salesforce Integration with Sage ERP
Minimized data redundancy
Make informed decisions with real-time data accessibility
Extract client information on the go
Enhanced client experience due to faster resolution of queries and responses
Increased employee productivity due to data consistency
Learn how you can connect, collaborate and increase productivity by automating processes from Sales to Finance to IT. Fuel your enterprise success with GUMU™.
Want more information about GUMU™ app or about Sage ERP – Salesforce integration? Write to us at salesforce@greytrix.com
***One would be able to see the "Truly, Delete All" and "Renew" option after installing an additional Chrome Plug-in***
Check Salesforce – Sage X3 Integration Product Demo –  Click here
GUMU™ connector not just seamlessly integrates the two revolutionary systems Salesforce and Sage X3 but offers a wide range of features and functionalities that benefit your business investments.
About Us
Greytrix is one stop solution provider for Sage ERP and Sage CRM needs. We provide complete end-to-end assistance for your technical consultations, product customization, data migration, system integration, third party add-on development and implementation expertise.
Greytrix have some unique solutions for Cloud CRM such as Salesforce integration with Sage X3, Sage 100 and Sage 300. We also offer best-in-class Cloud CRM Salesforce customization and development services to business partners and end users.
For more information, please contact us at salesforce@greytrix.com. We will be glad to assist you.