As you all are aware about the fact that GUMU integration supports Promotion of Accounts and SalesOrders from Salesforce to Sage X3 using both classic and lightning components. Contacts are significant to every Organization in order to carry out their day-to-day operations.
While building those relationship it is necessary to focus on who we are contacting in order to communicate about business opportunities. Those Contacts are further play a very significant role.
Therefore GUMU Integration now also supports promoting of Contacts from Salesforce to Sage X3 using lightning version. This blog will guide you on how a Salesforce user can Promote Contacts to Sage X3 from Salesforce.
Note: To Promote Contacts, it is mandatory that the associated Account should be Linked/Promoted with/to a valid Sage X3 ERP record.
Promote New Contact
Let's move ahead and learn on how to Promote Contacts from Salesforce to Sage X3:
Login to Salesforce Org.
Navigate to Salesforce App Launcher and click on GUMU Integration Application.
After Clicking on GUMU Integration tab Salesforce will direct you to the page displayed in the below image where you can view the list of all Accounts.

GUMU Integration selected Account
Select the desired Account for which you wish to create and promote Contact from Salesforce to Sage. Here we are going to create Contact for already Linked Account: Distribuição Angola Farma.
Linked Account
Click on related tab present on the Salesforce Account Page for creating new Contact.

Salesforce Related Tab
Click on the "New" button to create new Contact for the Account.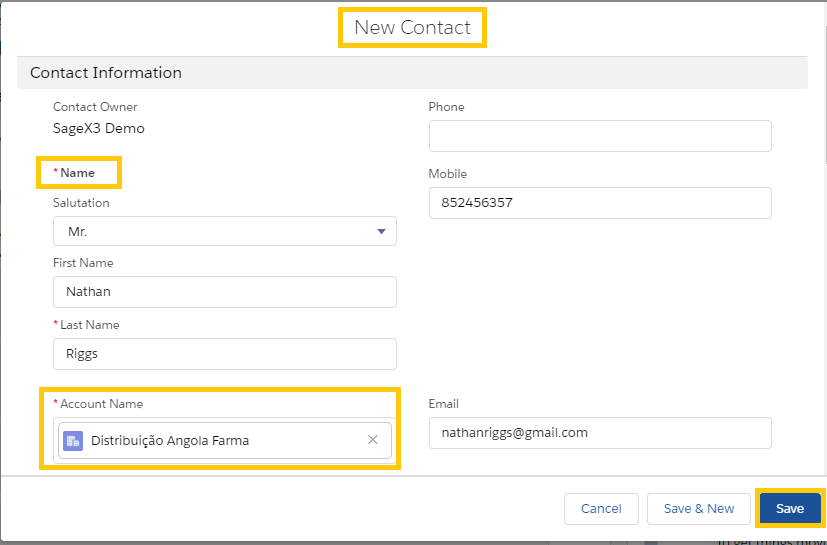 New Contact
After filling in the necessary details, click on the Save button to save the newly created record. Now to Promote the Contact, re-edit the record and again save it.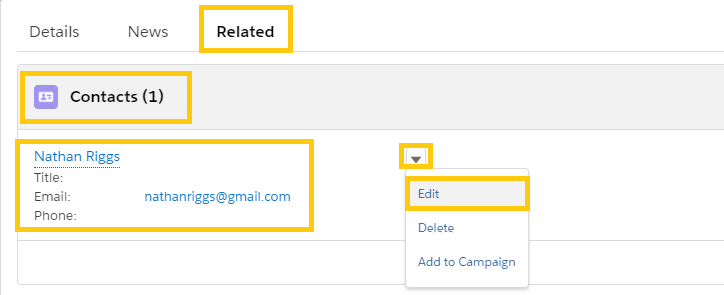 Edit Contact
Contacts get promoted/updated to Sage X3 as well when saved. Let's look upon the Contact in Sage X3 that has been promoted from Salesforce.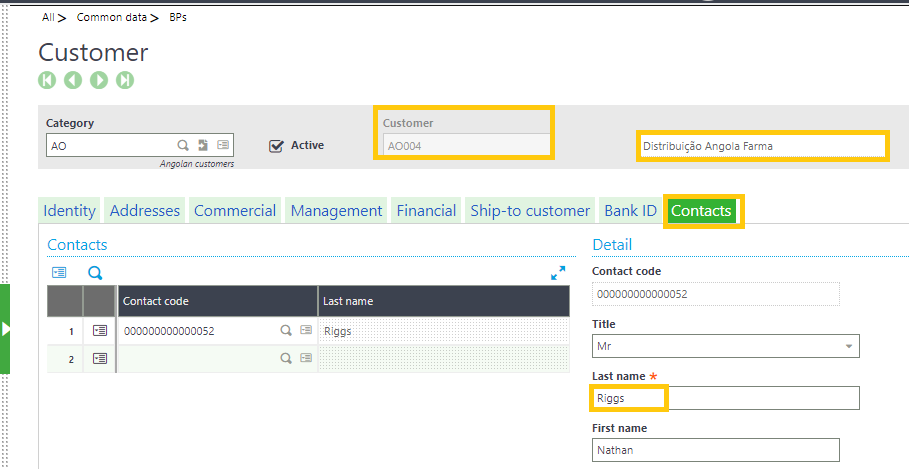 Contact in Sage X3
By following the above mentioned steps Users can now easily promote Contacts from Salesforce. Along with Promoting the Contacts, GUMU integration also supports updating Contact information on real time basis.
Update Linked Contact
To understand how the real-time changes work we shall continue to work on the same Accounts Contact we promoted earlier. Kindly follow the below steps to update Contact info to Sage from Salesforce:
Open the Linked Account for which you have created and promoted Contact and Click on the "Edit" button to make the changes as show in the below image and click on Save button for the changes to update on real time basis from Salesforce to Sage X3.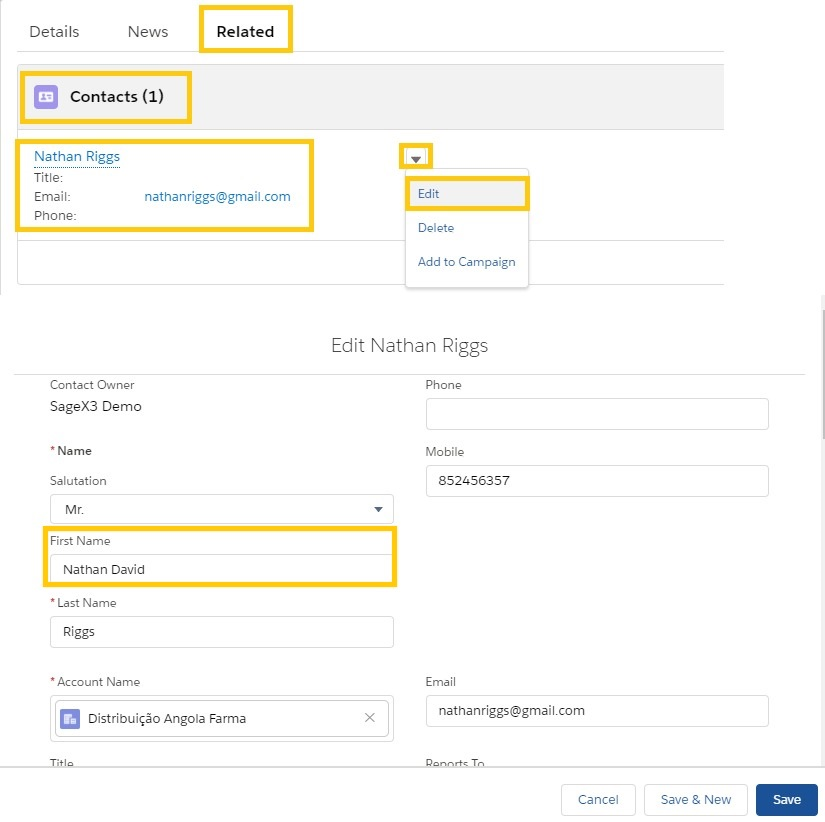 Updating Contact information in Salesforce
Once saved, let's verify the changes in Sage to have a better understanding of real-time changes. Refer the below image to view the changes:

Updated Contact information in ERP
Note: One of the most vital point, that user needs to keep in mind while making changes for Account, Contact, Addresses etc in Salesforce is that. The record for that particular entity shouldn't be Open (i.e. in edit or read only mode) on the Sage X3 screen. Otherwise, the real-time changes will not be reflected from Salesforce to Sage X3.
About Us
Greytrix – a globally recognized and one of the oldest Sage Development Partner and a Salesforce Product development partner offers a wide variety of integration products and services to the end users as well as to the Partners and Sage PSG across the globe. We offer Consultation, Configuration, Training and support services in out-of-the-box functionality as well as customizations to incorporate custom business rules and functionalities that require apex code incorporation into the Salesforce platform.
Greytrix has some unique solutions for Cloud CRM such as Salesforce Sage integration for Sage X3, Sage 100 and Sage 300 (Sage Accpac). We also offer best-in-class Cloud CRM Salesforce customization and development services along with services such as Salesforce Data Migration, Integrated App development, Custom App development and Technical Support to business partners and end users.
Salesforce Cloud CRM integration offered by Greytrix works with Lightning web components and supports standard opportunity workflow. Greytrix GUMU™ integration for Sage ERP – Salesforce is a 5-star rated app listed on Salesforce AppExchange.
The GUMU™ Cloud framework by Greytrix forms the backbone of cloud integrations that are managed in real-time for processing and execution of application programs at the click of a button.
For more information on our Salesforce products and services, contact us at salesforce@greytrix.com. We will be glad to assist you.
Related Posts