Relationships are the backbone of Non-Profit organizations. But unfortunately, it's harder for Non-Profits to retain their relations with donors & sponsors for a long-time due to low visibility across the institution. Hence, using GUMU™ for Salesforce – Sage Intacct Integration gives you an eagle eye throughout your organization by improving visibility & simplifying processes.
The Advanced CRM Salesforce & industry-leading ERP Sage Intacct always go hand-in-hand. The seamless GUMU™ Integration for Salesforce – Sage Intacct allows Non-Profits to improve communication between sales & accounting teams. This integration is well-crafted to cater to niche Non-Profits needs like grants management, fundraising, donor management, & much more.
Here's why in the following image:
GUMU™ for Salesforce – Sage Intacct Integration on Salesforce AppExchange. This blog gives you detailed insights about everything you want to know – What's GUMU™?,How's GUMU™ a key player for this integration?, How can this integration assist NPs?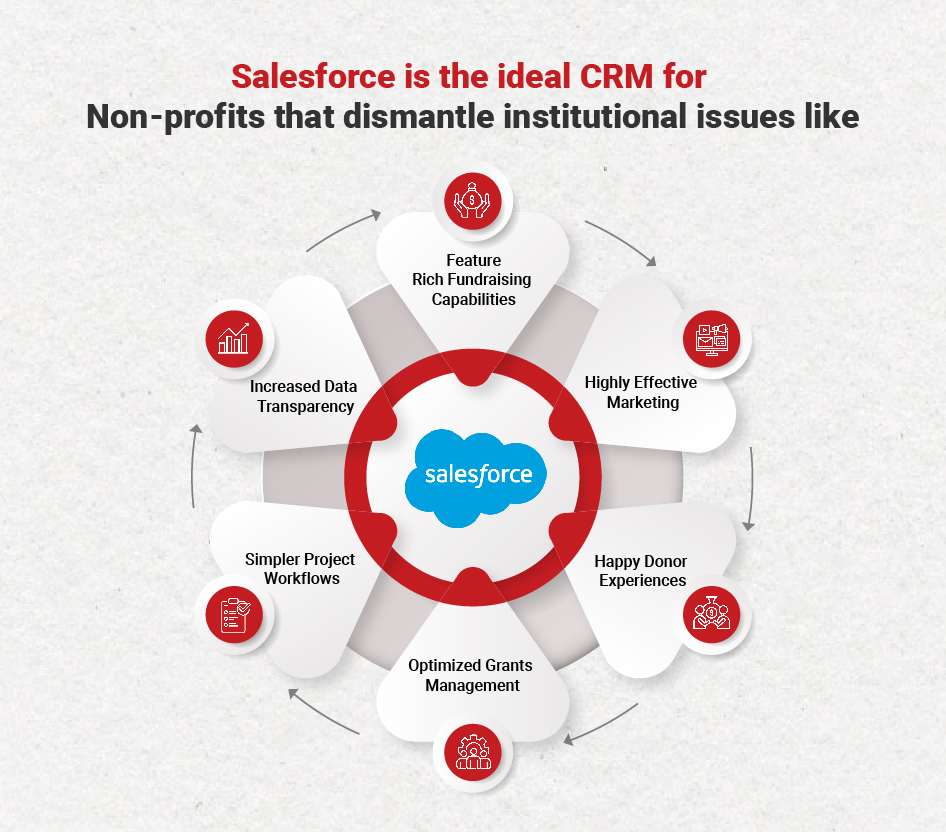 Hang on till the bottom!
How is GUMU™ the key driving factor for this integration?
GUMU™ is our in-house integrator with plug-and-play technology that ensures a seamless integration experience across all ERPs, CRMs, & other apps.
So, how GUMU™ impacts on Salesforce-Sage Intacct integration:
The GUMU™ powered Salesforce easy-to-use UI allows Non-Profit volunteers to simplify workflows & build outstanding donor relations.
When you integrate Salesforce – Sage Intacct with GUMU™, Non-Profits organizations can be audit ready & have easy grant management.
Non-Profits having GUMU™ can create detailed financial reporting & future-proof sales forecasts with the help of Salesforce Reports and Dashboards.
Non-Profit Institutions can have improved donor data management & increased data visibility by managing data at your fingertips with GUMU™.
This GUMU™ integration for Non-Profits can retain their existing & new donors /sponsors with better donor management, a 24*7 helpdesk facility, & exceptional welfare services.
Until now, you might have understood why GUMU™ is much needed for Sage Intacct – Salesforce Integration. Let's have a look at its benefits:
1. Data Management
Get any details with quick access to your data anytime, anywhere.
Make strategic decision with most-up-to-date data insights.
Evaluate real-time spending & compare budget to actual data.
2. Donor Management
Meet all your fundraising goals with easy donation management.
Have a life-long donor base with a detailed view of each donor.
Record, Revise & Retrieve all donor interactions minutely
3. Grant Management
Achieve accuracy with minimized grant reporting time.
Optimize your grants tracking & grantee records.
Grantmaking can be refined & enhanced anytime.
4. Reports & Analysis
Invest & Promote events with reduced accounts burden.
Generate customizable reports unique to your needs.
Manage annual earnings right with easy reporting.
5. Others
Have track of expense ratios, average donations, & fundraising costs.
Understand better project status, percent complete, & progress.
Boost efficiency & volunteer productivity by all entities in check.
All departments work in sync with sound collaboration.
Need to explore more about GUMU™ for Sage Intacct – Salesforce Integration?


Find out why Greytrix is a trusted integration partner:
350+ Business Partners & 1500+ customers – Our trusted Partners & loyal customers know us for advanced ERP Integrations with CRM & third-party apps.
50+ 5-star reviews – Our noteworthy customer service is honored by highly satisfied customers for Salesforce – Sage Intacct Integration. Check Now
Cost-Effective Solution – Our integration is made-in-heaven for businesses looking for a customized integrated solution with high ROI without extra costs.
Salesforce + Sage Systems Mastery – Our 23+ years of expertise in Sage & 8+ years in Salesforce give us all-around Force.com + Sage Systems knowledge to craft better solutions.
Striking Presence since 2014 – Our thorough Salesforce knowledge empowers us to be proudly listed on Force.com, AppExchange, & Salesforce Implementation.
The Ultimate Truth – Our Champion Integrator GUMU™ ensures data is in safe hands as it is not a middleware & doesn't store it during data transfer. Check Now
Over to you
The well-vetted GUMU™ for Salesforce Sage Intacct integration offers a single-integrated platform for Non-Profits to fund & drive their mission. This powerful GUMU™ integration unifies accounts, finances, program management, marketing, and grant-making teams by allowing Non-Profits to go above & beyond to drive societal change & impact.
Moreover, the Advanced CRM Salesforce & accounting software Sage Intacct integration assists planning & strategy development by making them agile with changing organizational needs. In short, this Non-Profits feature-rich integration allows Non-Profits institutions to make better use of efficiency & growth to achieve the humanitarian mission.
Unlock now "How integrating Sage Intacct & Salesforce by GUMU™ can benefit your Non-Profit organization?" Call Greytrix experts today at 1 888 221 6661 or write your queries to our team at salesforce@greytrix.com.