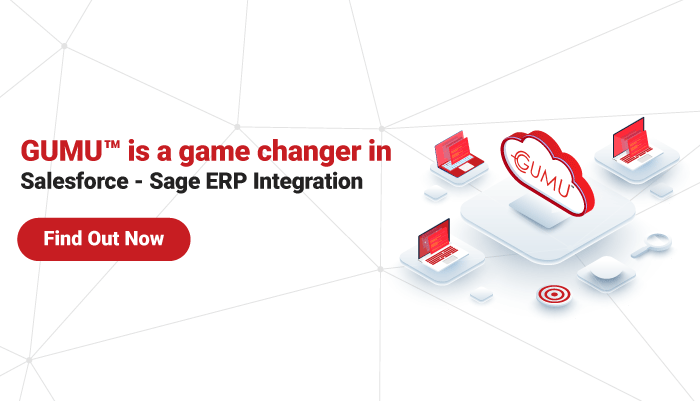 What makes GUMU™ the best integrator?
Salesforce is the most trusted customer relationship management (CRM) platform in today's world of CRM & ERP. It's a prime CRM platform that assists businesses in unifying diverse processes like marketing, sales, commerce, and services to provide unparalleled client experiences.
So, are you a Salesforce user and haven't integrated Salesforce with the ERP in your organization? Maybe you've not found the perfect integrator means GUMU™ for your business. Don't worry! we'll help you find a promising integrator amongst a wide range of integrators in the market. We strive to deliver the right integrator with exceptional service the way you want. GUMU™ is our integration platform, well-crafted by our skilled team to remove your system complexities effortlessly.
Integrate your Salesforce effectively and have a seamless integration experience with the GUMU™. GUMU™ is our native integrator that flawlessly transfers your ERP data within Salesforce by enhancing data visibility, transparency, and flow. It's like having a reliable integration platform to integrate Salesforce – Sage ERP without errors, complex procedures, and data loss. GUMU™ is built on the Force.com platform (upgraded to LWC and the latest technology), providing Salesforce users an extra edge to manage their customers smoothly and helping them to focus on their vital work.
The GUMU™ for Sage ERP – Salesforce integration is one of our best-breed integrations, as it provides detailed customer insights and actionable customer data. This integration allows business to meet their diverse needs and minimizes bottlenecks that negatively impact customer experience. Learn more on GUMU™ for Salesforce – Sage ERP Integration in the further blog.
Top 5 Integration Features
Let's understand better from the given highlights, "Why it's a great deal to invest in GUMU™ for Salesforce – Sage ERP Integration."

1.Simplified Data Flow

Data analysts can get the exact data anywhere, anytime, any day, with instant synchronization of customers, sales orders, and inventories from ERP to Salesforce and vice-versa. With bi-directional entity promotion, Salesforce users can have a holistic view of their customers sales & financials information.
2.Real-Time Pricing & Product Inquiry
The real-time product pricing updates prices instantly whenever there's a change in product lists or applies differently specific to user type. Deliver out-of-stock shipments on time with the right quantity on-hand details specific to every warehouse or location
3.Compatible with Standard (Opportunity) Workflow
There's no need to maintain multiple quotes due to the secure data flow of opportunities and quotes from Salesforce – Sage ERP. This workflow is improved through GUMU™ Standard Opportunity Workflow enabling quote to order process.
4.Statistical view of Data Transfer
Users can have timely statistical updates of each data flow from one system to another, like percent of successful data transferred, transfers failed, no. of errors detected, and more.
5.No Human Intervention Required
Users can check/search for the reason for a data flow failure and correct the data with the pre-defined measures for data update. They can raise assistance tickets related to the integration data from the GUMU™ SF interface and track the progress/response of the same.
What's GUMU™ Impact on Sage ERP – Salesforce Integration?
Get a complete overview of GUMU™ enhances Salesforce – Sage ERP integration from the below specs:
The Salesforce user-friendly UI powered by GUMU™ allows sales reps to simplify their workflows and build exceptional customer relationships.
Integrating Salesforce – Sage ERP with GUMU™, sales reps to make their taxation easy with comprehensive worldwide tax structures, applying the right tax rates, and cross-verifying tax rules.
GUMU™ allows sales reps to create meaningful reports and offers detailed sales forecasts, making it easier for them to build with Salesforce Reports and Dashboards within Force.com.
With GUMU™ Salesforce – Sage ERP Integration, sales reps can improve data accuracy and get data high-quality by minimizing data errors and collecting and visualizing any data from the ERP to Salesforce.
When Salesforce – Sage ERP is integrated with GUMU™ sales reps can deal faster with customers by making more informed decisions, instant query resolution, and better customer service.
The GUMU™ Salesforce – Sage ERP Integration helps sales reps to create accurate quotes by making complex product configurations agile and have excellent order management.
Integrate Salesforce – Sage ERP with the help of GUMU™ allows sales reps to provide eye-catching discounts and recollect your debts by creating an invoice or reflecting new payments efficiently in ERP and Salesforce.
What Makes Greytrix a Leading Solution Provider for Salesforce Sage ERP Integration?
Till this point, you might have become well-versed with 'What GUMU™ for Salesforce Sage ERP Integration is?', but you may be wondering, 'What makes Greytrix a trustworthy Partner?' If that's the case, here are the key driving factors:
We've empowered 350+ Business Partners and 1500+ customers by delivering powerful ERP Integrations with CRM and third-party apps for 2+ decades.
We've got 50+ 5-star reviews from all-time happy customers for Salesforce – Sage ERP Integration.
Our extensive Salesforce.com + Sage Systems knowledge gives us a crystal-clear understanding of your system needs specific to businesses.
Since 2014, our cloud solutions have been listed on Force.com, AppExchange, & Salesforce Implementation.
The best part for Salesforce users is that this integration is built within the Force.com platform, and there's always a security check at the end of integration.
As GUMU™ is built within the Force.com ecosystem, your data management is simplified.
In 2021, we extended the package to include Sage Intacct and Sage 50 US.
So which ERP are you using, and what do you expect your ERP system to do for you? Tell us in the comments below. Take your time; we can't wait to provide you with an excellent integrated solution for your booming business. We value your views and would be happy to know which ERP you plan to integrate Sage 100, Sage X3, Sage 300, Sage 50, to Sage 500. Or any other ERP? We also integrate apart from Sage ERPs, like Acumatica and QuickBooks.
We would like to share an interesting fact that we not only integrate with Salesforce but also provide services like Development, Implementation, Integration, Consulting, and Support. Our proficient Salesforce Services Team has incredible CRM capabilities through which they ensure all business ecosystem is working correctly with extensive assistance on Salesforce. Throughout your Salesforce journey, our proficient Salesforce Services Team is with you at every step from start to end, assuring your business processes are running in perfect harmony.
Our Salesforce Consulting Team offers implementation and in-moment assistance on lead management, nurturing processes, sales cloud processes like user management and training, custom quoting processes, B2B marketing – Pardot Support and Configuration, B2C Marketing: Marketing Cloud, Salesforce CPQ, Email synching tools – Salesforce Inbox/ Einstein Activity Capture / Revenue Grid, Knowledge Base configurations.
We also master Salesforce Platform services such as Propertybase, configure the Action plan templates, Support in Salesforce Education Data Architecture platform, DocuSign and CongaSign Configurations, Chatter, and CTI support (Drip Campaigns). This value-added service gives users a better end-to-end sales process and an in-depth understanding of the optimum usage of Salesforce CRM features.
Why wait if you are curious about any of the above-mentioned services? We are always available to resolve your queries. Reach us today at: salesforce@greytrix.com.