ERP is widely used as business management software for all operation, financial and sales tasks. Sage 300 is a well-known ERP, used efficiently to manage the business. As business grows, the need of a functionalities increases.
New Stuff : Hide Completed Lines in OE Invoice Entry Screen in Sage 300 2018
Now a days there are many setup of an organization at different places. Currencies of different nations are different. As we all know, there are two types of currencies available in Sage 300. Functional currency and Source currency. Functional currency is company's currency. It is nothing but the primary money that the company uses in its business. Source currency is nothing but vendor / customer currency in which you do trading with your client.
For an example, you have a company in India where your currency is "INR" and you have global clients where currencies differ as Euro, US Dollar, Yen etc. when you have this type of situation in this case when you do PO entries in ERP it has been shown in vendor currency. One of our client's requirement was to show the Function Currency also on screen. For this we have customized our "PO Invoice" screen.
As per requirement we have shown the Functional Currency on the screen. Please find the below screenshot.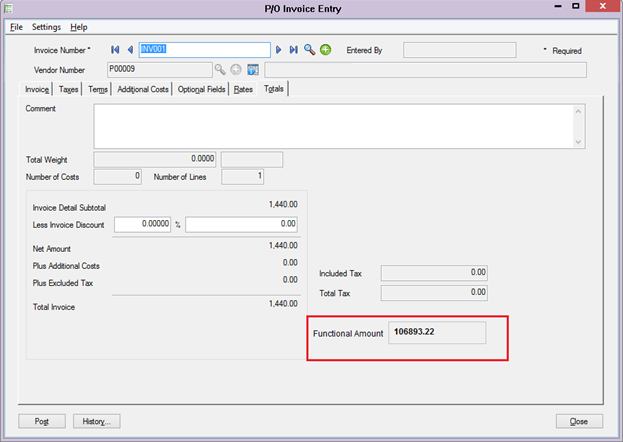 This will give you the quick idea about the currency of your own company for better understanding.