We have seen many integration solutions in past from Greytrix which usually covered Desktop <-> Desktop integration.
Today will see its foray into the Desktop <-> Cloud segment with FreshBooks The Leader in Online Invoicing and Sage Peachtree (soon to be re-branded as Sage 50 – US Edition) integration. A one of its kind giving you the Power of Cloud as well as sense of security by integrating with Sage 50 – US Edition.

Integrating these two diverse yet complementary products makes the productivity of any organization move up by several folds by avoiding accounting mistakes such as double entries, mistakes in reconciliation, etc.
Adding to it features, is its user friendly UI and a single Click Configuration screen that makes FreshBooks Connector for Sage Peachtree different from other solutions. We have to just follow the 5 simple steps mentioned below;
1. FreshBooks Setting: Fill in the FreshBooks Domain URL and required details.
2. Synchronization: Set the Date from which you want to synchronize the Invoice and Payments.
3. PeachTree Setting: Fill in the PeachTree Details such as Version, company file path etc
4. Accounts: Set the accounts such as Sales, Account Receivable, Cash etc.
5. Taxes: Set the taxes.
Once you are done with this, Connector is ready to use. Note: Above setting is a onetime Process.  Now Just click on "Get Invoices" button and all the Invoices from FreshBooks would get populated as per the date set.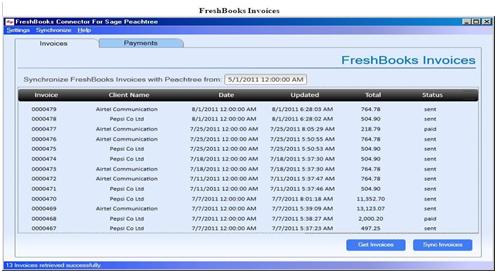 Clicking on "Sync Invoices" would synchronize the Invoices from FreshBooks data and generate General Journal Entries in the Sage PeachTree.
Similarly for the payments, following the similar process to create General Journal Entries for Payments.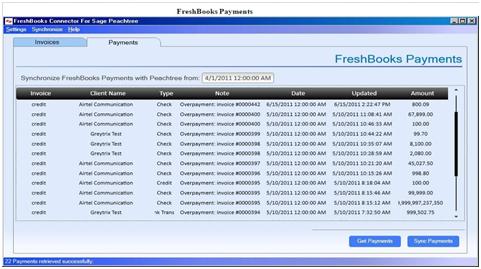 A trouble-free, single click and uncomplicated tool, "FreshBooks Connector for Sage PeachTree" for all your Invoicing and Payment needs.