GUMU™ Integration link for Sage CRM and Sage MAS 90/200 ERP (aka Sage 100 ERP) is widely known for providing a range of features and a user friendly interface to its users. GUMU™ Integration is a real time, bi-directional link that integrates your front office and back office at a real-time basis, thus changes made in one of the either systems is directly reflected in the other system. As a result your front office is well connected to your back office and vice-a-versa, giving your business a competitive edge over other competitors. Thus Users/Salespeople using the system are up to date with the latest required information and can view various details of customers, invoices and orders from either of their systems.

GUMU™ MAS Integration is available in two flavors depending on your business needs i.e. Standard and Complete Integration Suite.
* Standard Suite: In the Standard suite, Sage CRM users will be able to see 4 TABS in their Sage CRM system. These will be read only in which you can view following Sage 100 ERP information within Custom tabs under Company context;



a. View MAS90 customer tab: View all the Customer Details and other information relating to the customer present in Sage 100 ERP.



b. View Sage 100 ERP Sales Transactions (AR Inquiry) in Sage CRM: Lists all the sales transaction(s) for selected company.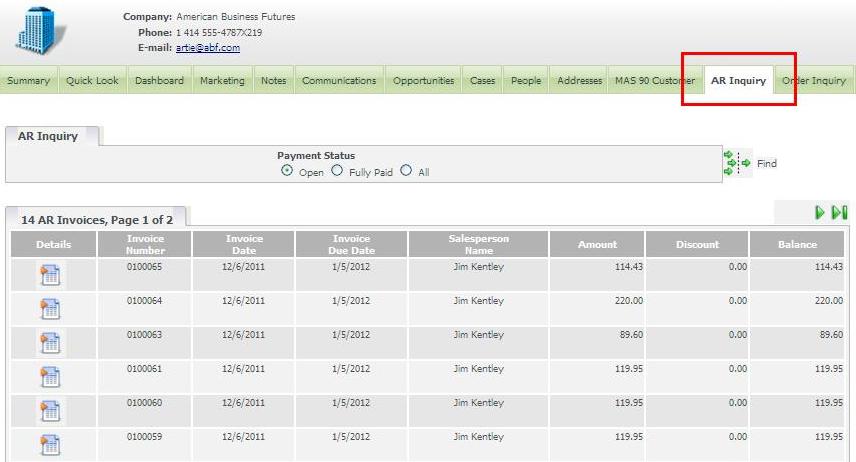 c. View Sage 100 ERP Sales Orders in Sage CRM: Lists all the orders for selected company.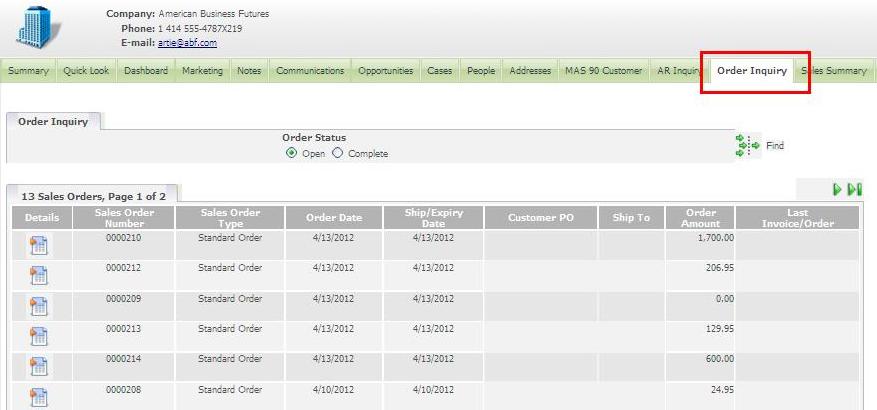 d. View Sales Summary in Sage CRM: It displays the information such as Sales, Cost of Goods Sold etc. for the selected Fiscal Period and Fiscal Year.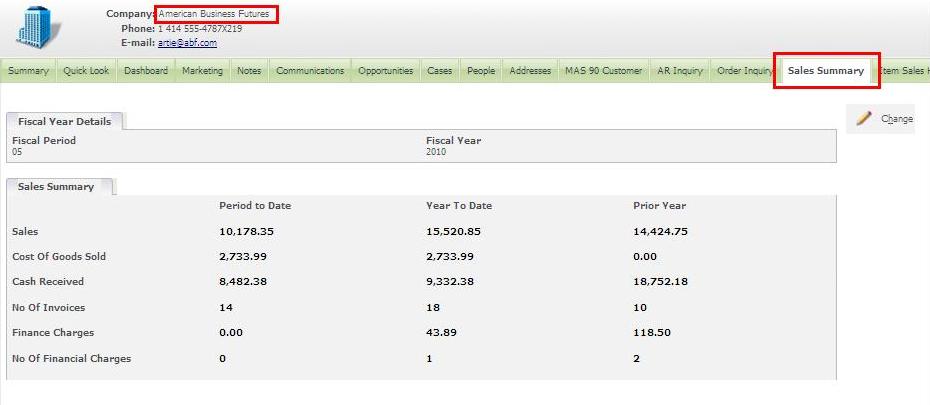 * All the above information is real time data picked from the ERP system.
* Complete Suite: This is a combination of the Standard Integration with an enhancement for Order Entry in Sage 100 through Sage CRM. The complete suite comprises of all the features that are present in the standard integration along with the additional ability to promote orders from within Sage CRM to Sage 100.



Some key features;
1. Supports Multi-Company Integration: Which means you, can integrate multiple companies of Sage 100 ERP with single instance of Sage CRM.
2. Promotes new Company, orders etc from within Sage CRM to Sage 100 ERP.
3. Users can create orders with special pricing assigned to the Item based on various combinations in Sage CRM, same way as it would have been in case of Sage 100 ERP.
4. Provides accurate customer Information and has a user friendly interface.
5. Easy Access to Sales Data over the web.
6. GUMU™ Integration is a Real time, bi-directional link, which provides the data on real-time basis for users/salespersons on their finger tip. You can access this over a external IP/TS system or using a Solo system.
With all these functions GUMU™ for Sage CRM – Sage MAS90/200 (Sage 100) ERP Integration is one of the integration an organization should have to keep competitors at their edge and be productive at the same time.
For more details you can visit our website www.greytrix.com or mail us on sage@greytrix.com
— Related Posts —
1. New Features in GUMU for Sage CRM – Sage 100 ERP Integration
2. Salesperson Mapping Functionality in GUMU Sage 100 ERP integration
3. Synchronize Dropdowns in Sage CRM using GUMU Integration
4. Item Search functionality in GUMU Integration for Sage CRM – Sage 100 ERP
5. Link Functionality in GUMU for Sage CRM – Sage 100 ERP
6. Create AR Invoice in Sage CRM using GUMU Sage CRM-Sage 100 ERP Integration
7. Configuration and Working for Creating AR Invoice in Sage CRM using GUMU Integration
8. GUMU MAS Integration now for your Sage CRM – Sage MAS 90 EES – Part I
9. GUMU MAS Integration now for your Sage CRM – Sage MAS 90 EES – Part II