Greytrix a successful Sage Development Partner since 20 years has reaffirmed its close relationship with Sage by joining the Rockstar ISV Program for its GUMU™ Integration portfolio's flagship product Sage Enterprise Management – Sage CRM Integration. "Rockstar" – the highest accolade for ISV partners from Sage makes it easy for Sage partners, customer and employees to implement, access and support business with the powerful products by the ISV. Greytrix GUMU™ connector for Sage Enterprise Management – Sage CRM has been awarded the Rockstar status in Sage integration area to provide the need for seamless and 360° integrations for better customer acquisition, nurturing and retention.
GUMU™ Integration on Sage Marketplace: Seamlessly Integrated ERP – CRM data for real-time intelligence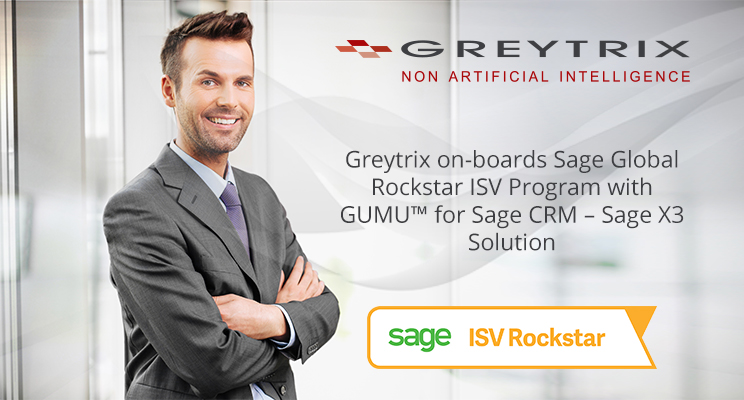 Greytrix, a global ISV and a multi-award winner for Sage ERP and Sage CRM, is renowned for its data exchange and integration framework GUMU™ for Sage Integration requirements since 2002 which has 500+ successful installations. GUMU™ Integration for Sage CRM with Sage Enterprise Management is developed to seamlessly integrate the ERP – CRM data for real-time intelligence, 360° customer analytics, immediate Order and Quote transactions and mobility. The new recognition and certifications for Greytrix allow resellers and partners to take GUMU™ with greater confidence to the end users as a part of completely integrated business solution offering.
"Greytrix has been on the forefront of Integration technology for Sage products and has been embraced by the Sage ecosystem since 2002 in North America. It is exciting to join Rockstar program which will give Greytrix the backing of Sage to scale GUMU™ connector amongst Sage Op-cos and Sage partners worldwide and Sage will benefit from higher customer satisfaction through a seamlessly integrated and robust Sage Enterprise Management and Sage CRM offerings", said Kumar Siddhartha, CEO of Greytrix (@kumarsid).
With a strong heritage in delivering industry relevant integration solutions, Greytrix flagship product range include GUMU™ integration for Sage ERP with Sage CRM, Salesforce and Magento along with 50+ add-ons on Sage Enterprise Management, Sage 300, Sage CRM and Sage 100 while its services expertise is in providing Sage ERP and Sage CRM offshore development services. GUMU™ by Greytrix brings an unparalleled integration engine to Sage customers who can now seamlessly integrate their front and back office business processes for immediate success with extremely reliable and customizable connectors backed by a highly responsive support team.
About Us
Greytrix is a leading global solution provider of Sage worldwide delivering integration, migration and development solutions for Sage ERP – CRM. We assist Sage Partners and Customers with our multi man-years of experience in a number of Sage ERP and CRM solutions namely Sage Enterprise Management, Sage 300 (Accpac) ERP, Sage 100 (MAS 90) ERP, Sage 500 (MAS 500) ERP, Sage CRM and Salesforce.com providing them the best of technical and functional assistance.
Greytrix team consists of experienced techno-functional engineers and consultants have worked with 500+ unique VAR's and Customers on more than 20+ different ERP and CRM product lines in 50+ different countries. Our IP division has an experience of 50+ add-ons, migration and integration solutions. We have been consistently lauded for our work over a decade and a half and executed 1000+ man-years' worth of customization, consulting and modifications in the SME business application segment.
For more, visit www.greytrix.com.