ERP stands for Enterprise Resource Planning (ERP) software, which is being used in every organization from department to department for its day to day activities and in an organization there are many department like Inventory management, Customer order management, production planning, shipping and accounting.
New Stuff : Finder Configuration in Sage 300 Web using Finder Definition Generator Wizard
User can create and maintain Department information, including address and contact information. Departments are used to set up General Ledger Accounts, Contacts and Ship to Addresses on Purchase Orders and Requisitions.
User can open the Setup Department screen from Purchase Order module.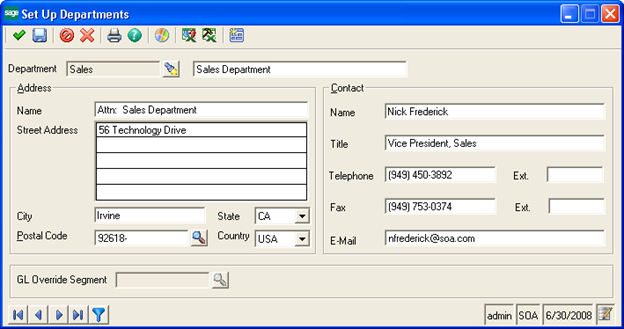 Here are details of data entry fields to create Department.
When user entering the address, they will enter the three lines of street address
Then user need to enter the next entry field should be the postal code.
Once the Postal Code is entered, User can check the entered postal code in Lookup and then process will automatically be defaulted the City and State from the Postal Code table.
Changing the City or State will not change the Postal Code. Regardless of the country in which the Customer is located, display should remain constant (Name, Address lines 1 – 5, City, State, Postal Code and Country.) – Changing the country will clear out and re mask the postal code.
Contact information: User can maintain contact information as per department wise by entering basic information like Name, Title, Telephone with Ext, Fax and E-Mail.
GL Segment Override: This option is only available when GL has configured and option of GL segment account for departments is selected in PO options. The label is changed to the description for the segment chosen in PO Options
Select department from Enter requisition screen: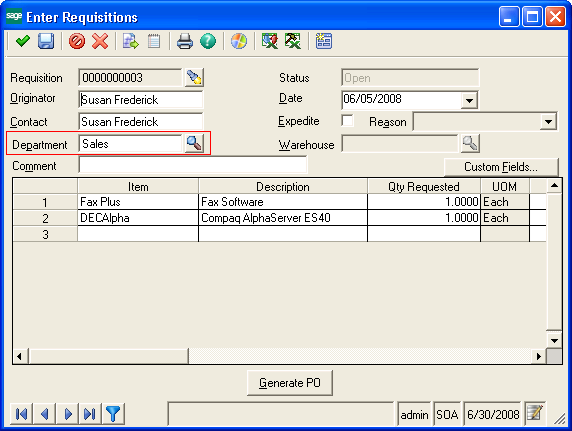 Each Line on a purchase order must be associated with department to address for internal material requisitions.