In our last blog "Deploying project using Salesforce Package Part I- Creating Package", we discussed about Salesforce package & the steps to create it. In this blog we will discuss about how to deploy Salesforce metadata by uploading Package into another salesforce org.
Real-time, bi-directional, multi-company – Sage ERP Integration with Salesforce
Salesforce packages are completely private to particular salesforce org, unless published or uploaded to AppExchange or any other salesforce org. Packages can be uploaded to any salesforce org to share with others privately or posted on Force.com AppExchange to share publicly.
Uploading Package in Salesforce:
Steps:
a.Once package is created & components are added to it successfully, next step is to Upload it.
So fill up all the details as below:Version Name – Enter any desired version name.
b. Version Number – Enter version number for identifying the package.
c. Post Install Instructions – Optionally, specify a link to post install instructions for the package. Click URL and enter the details in the text field that appears.
d. Description – Enter detailed description.
Optionally, enter a password to share the package privately with anyone who has the password. Don't enter a password if you want to make the package available to anyone on AppExchange and share your package publicly.
Then we need to specify the requirements. Salesforce automatically selects the requirements it finds. In addition, you can select any other required components from the Package Requirements and Object Requirements sections to notify installers of any requirements for this package.
Click 'Upload' button.
Once the package is uploaded, you can either change security or deprecate the package.
a. Edit Security – To can change password.
b. Deprecate – To prevent new installations of this package while allowing existing installations to continue operating.
Thus package is uploaded successfully.
Deploying package into target org :
Once the package is uploaded successfully, it is ready to deploy.
Steps:
In a browser, type in the installation URL you received when you uploaded the package.
Enter your username and password for the target Salesforce organization in which you want to install the package, and then click the login button.
If the package is password-protected, enter the password you received from the publisher. Then Package installation screen will appear. Simply click 'Continue ' for package installation. You'll see a message that describes the progress and a confirmation message after the installation is complete.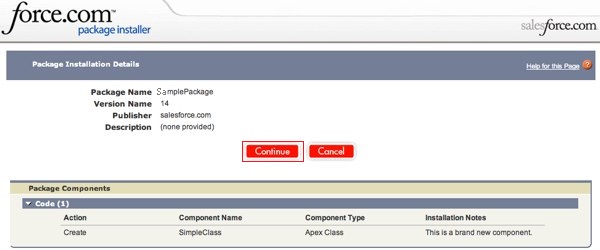 Once the package is installed successfully, all the components of the package will get deployed to target salesforce org.
Thus, we have discussed deploying metadata using salesforce package. Thus we have discussed all the methods of Salesforce Metadata Migration.
About Us
Greytrix as a Salesforce Product development partner offers a wide variety of integration products and services to the end users as well as to the Partners across the globe. We offer Consultation, Configuration, Training and support services in out-of-the-box functionality as well as customizations to incorporate custom business rules and functionalities that require apex code incorporation into the Salesforce platform.
Greytrix has some unique solutions for Cloud CRM such as Salesforce integration with Sage Enterprise Management (Sage X3), Sage Intacct, Sage 100 and Sage 300 (Sage Accpac). We also offer best-in-class Cloud CRM Salesforce customization and development services along with services such as Salesforce Data Migration, Integrated App development, Custom App development and Technical Support to business partners and end users.
Greytrix GUMU™ integration for Sage ERP – Salesforce is a 5-star app listed on Salesforce AppExchange.
For more information, please contact us at salesforce@greytrix.com. We will be glad to assist you.
Related Posts