Every organization in order to achieve continuous growth should engage itself in integrating its business software solutions. So how does one achieve front-end and back-end integration to optimize the business software solutions? Salesforce CRM Integration for Sage ERP (Sage X3 | Sage 300 | Sage 100) form the backbone of your organization's IT ecosystem. Businesses use Sage ERP that manages the backend information such as accounting, shipping details, financial data, supply chain management details and billing information and Salesforce tracks valuable customer data, understanding prospects and managing the sales pipelines. Greytrix, with its GUMU™ connector, integrates the two business systems unleashing the true potential of a unified system.
GUMU™ integration allows enterprises a bi-directional view of Salesforce and Sage ERP (Sage X3 | Sage 300 | Sage 100) data on a real-time basis, that ensures secured data access with Authorization Control, Promote Customers and Sales Orders from Salesforce to Sage ERP and also Link accounts between the two software solutions.
Get the best Sage ERP – Sage CRM connector on Salesforce AppExchange!
To know how GUMU™ can benefit your specific industry with integrated Salesforce & Sage ERP solutions, watch demo on GUMU™ integration for Salesforce with Sage ERP. Empower your enterprise to connect customer information, accounting, payroll and financial data into one system so that information is accessible from any device at anytime, anywhere.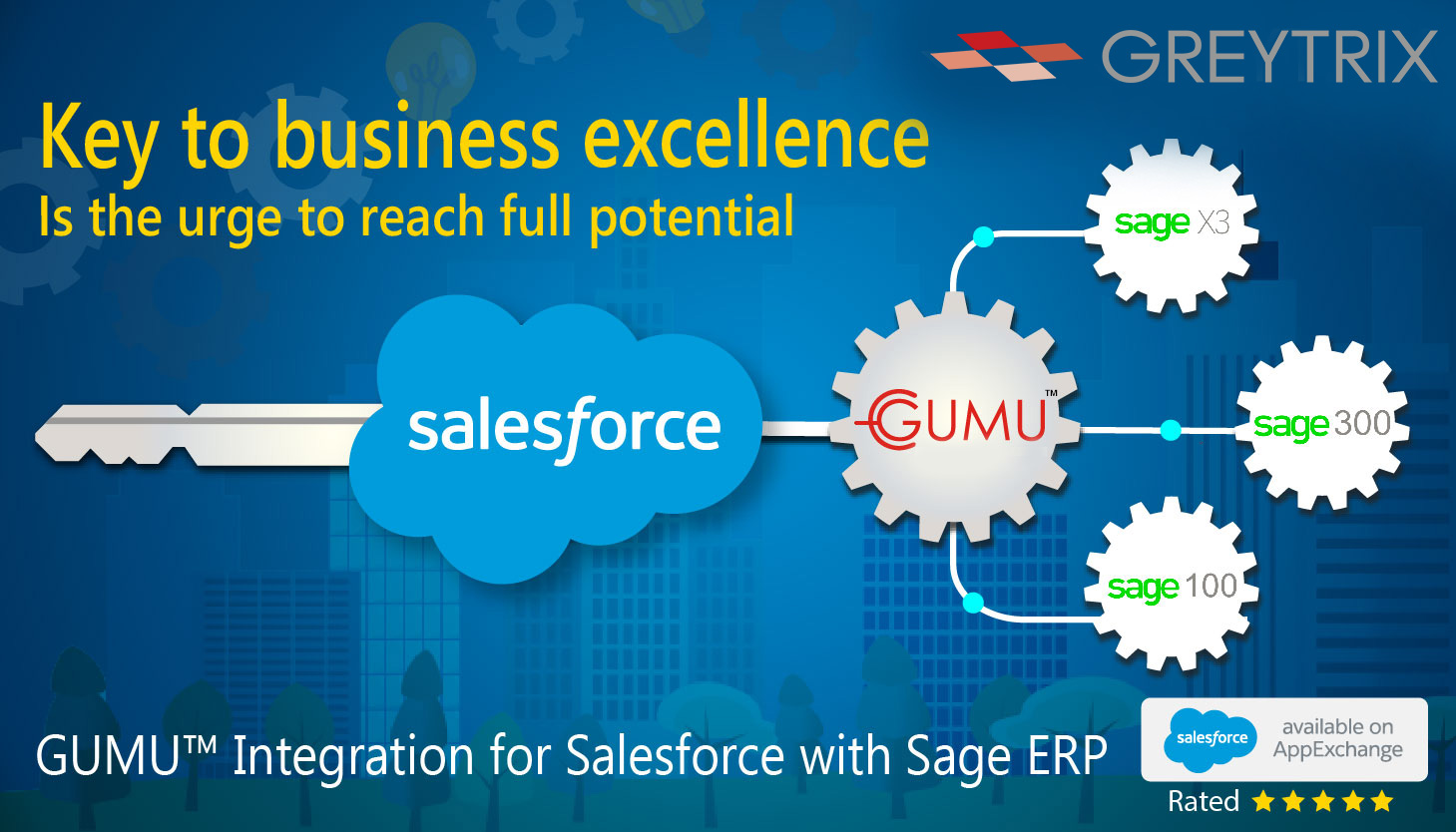 Features of Salesforce – Sage ERP Integration
Real-time, Bi-directional, Multi-Folder
Import Sage ERP Customers/Prospects into Salesforce Accounts along with contacts and Additional Ship to Addresses
View Customer Information, A/R Inquiry and Order Inquiry, real-time in Salesforce from Sage ERP
Integrate Multiple Sage ERP folders with a single instance of Salesforce
Security Matrix to control access to Sage ERP data to Salesforce user
Link/Unlink Sage ERP Customers with existing Salesforce accounts
Real-time updates for linked accounts
Easy to configure any new Standard/Custom fields to display on respective Inquiries screen
View Quote Inquiry, Shipment Inquiry and Sales Summary, real-time in Salesforce from Sage ERP
Promote Salesforce Account as a Sage ERP Customer real-time
Promote Sage ERP Customer as Salesforce account real-time
Import Sage ERP Products into Salesforce
Supports real-time pricing of products while creating Sales Orders from within Salesforce
Promote Sales Order from Salesforce to Sage ERP real-time
Sage ERP Salesperson Mapping with Salesforce users
For a live demo/trial or any queries/ feedback/suggestions please email salesforce@greytrix.com
Webcast: Salesforce and Sage X3 Integration – GUMU™ connector simplifying your business processes from front office to back office for your Salesforce – Sage X3 systems. Bring out the best in both business management systems and provide superior client relationships, taking your company to the next level.
GUMU™ connector not just seamlessly integrates the two revolutionary systems Salesforce and Sage X3 but offers a wide range of features and functionalities that benefit your business investments.
About Us
Greytrix – a globally recognized and one of the oldest Sage Development Partner and a Salesforce Product development partner offers a wide variety of integration products and services to the end users as well as to the Partners and Sage PSG across the globe. We offer Consultation, Configuration, Training and support services in out-of-the-box functionality as well as customizations to incorporate custom business rules and functionalities that require apex code incorporation into the Salesforce platform.
Greytrix has some unique solutions for Cloud CRM such as Salesforce Sage integration for Sage X3, Sage 100 and Sage 300 (Sage Accpac). We also offer best-in-class Cloud CRM Salesforce customization and development services along with services such as Salesforce Data Migration, Integrated App development, Custom App development and Technical Support to business partners and end users.
Salesforce Cloud CRM integration offered by Greytrix works with Lightning web components and supports standard opportunity workflow. Greytrix GUMU™ integration for Sage ERP – Salesforce is a 5-star rated app listed on Salesforce AppExchange.
The GUMU™ Cloud framework by Greytrix forms the backbone of cloud integrations that are managed in real-time for processing and execution of application programs at the click of a button.
For more information on our Salesforce products and services, contact us at salesforce@greytrix.com. We will be glad to assist you.