Siloed business systems are a yesteryear! Organizations are moving to the next level of digital. Forward-thinking business owners and IT leaders are making use of real-time information of their financial, managerial and marketing processes together and making informed critical decisions not just by sitting in the office but by making them on the go! Organizations are bringing their ERP and CRM business solutions together – extending the transparency of critical business data. Sage X3 is a comprehensive ERP system that manages accounting, inventory, purchase and HR etc. whereas Salesforce CRM manages the sales pipeline, track customer details, customer interactions and ensures customer retention. These two systems independently offer substantial benefits to businesses.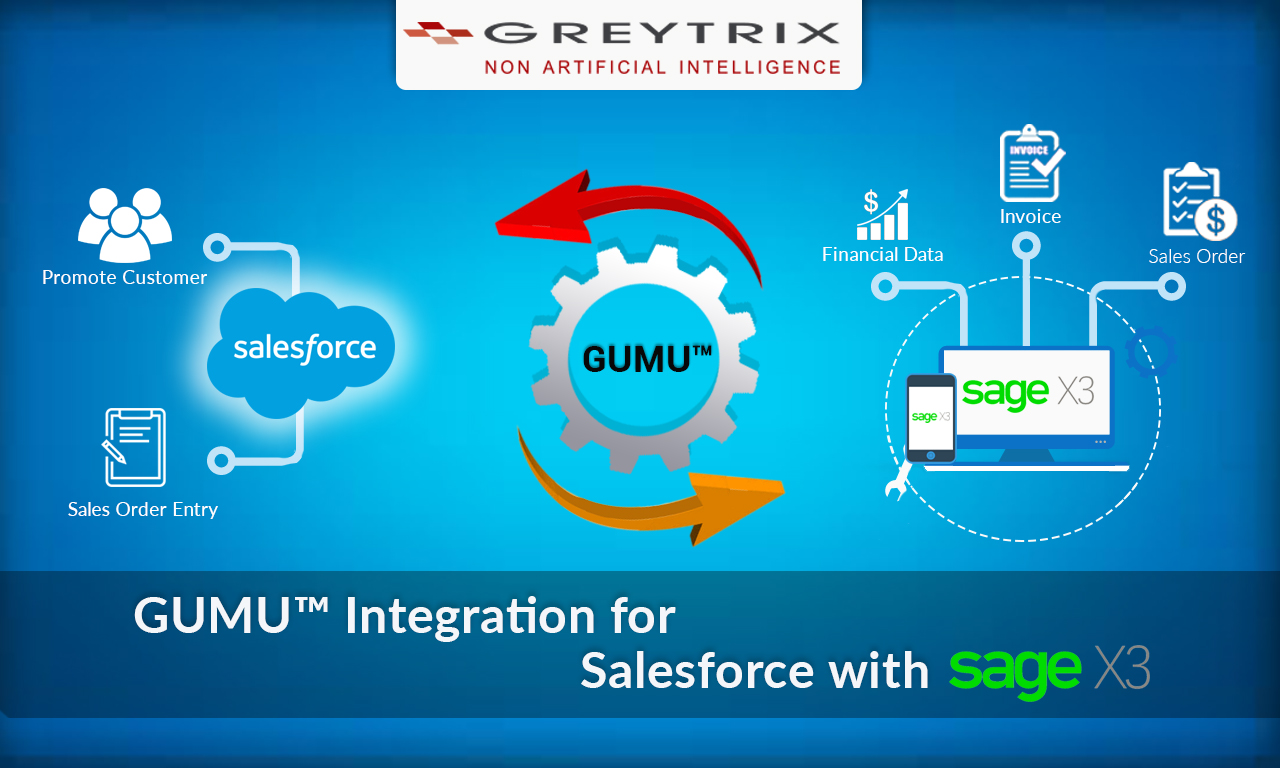 Why integrate Sage X3 ERP | Salesforce CRM systems?
Due to contrasting architectures of the two business systems, organizations have to experience a scenario of siloed data access, leading to sub-optimized operations and inefficient business workflow. Synchronizing the databases of Sage X3 ERP and Salesforce becomes an arduous task. Updating data becomes a manual and error-prone process. Unavailability of real-time access to critical business data related to sales or customer query may lead to reduced workforce productivity with inaccurate decision making. Order tracking and forecasting is an important requirement for businesses. With distinct systems, representatives fail to achieve a holistic view of the customer that directly affects customer retention.
GUMU™ for Salesforce – Sage X3 Integration:
Greytrix brings to your business bi-directional GUMU™ connector – which is a data exchange framework created by Greytrix with a purpose to facilitate rapid data movement and automate processes between two or more applications. The framework connects to any internal or external IT systems either using built-in API's or by developing new plugins to establish a link between the application and the framework.
Witness how our GUMU™ connector simplifying your business processes from front office to back office for your Salesforce – Sage X3 systems. Bring out the best of the two business management systems and enhance better customer relationships propelling your enterprises to the next level. Experience the features and functionalities of GUMU™ connector for your business systems Sage X3 and Salesforce by watching the demo of Salesforce – Sage X3 integration using GUMU™ connector.
Benefits of an integrated Salesforce – Sage X3 system to your business:
•  Real-Time Information View
•  Authorization Control
•  Entity Synchronization
•  Linking Customers to avoid data duplication
•  Flexibility to configure inquiries
•  Data access on Portable Devices
•  Easy Promotion of Customers and Sales Orders from Salesforce to Sage X3
•  Eliminate data redundancy
To know more about Greytrix Sage X3 – Salesforce integration using GUMU™ connector, write to us at salesforce@greytrix.com