In our previous blog, we had discussed about How to migrate Company from ACT! to Sage CRM. Going further with our series on GUMU™ CRM Migration services, this blog shall discuss about how one can migrate contacts from ACT! to Sage CRM through GUMU™.
GUMU™ migrates 'Contact' records from ACT! as 'Person' in Sage CRM. 'Persons' migrated in Sage CRM are linked to the corresponding company and ACT! 'Contacts' which do not have any linked company in ACT! get migrated as standalone 'Persons'.
GUMU™ also migrates Custom Fields from ACT! and maps the 'Contact' in ACT! to corresponding Custom Fields in Sage CRM. In migration, GUMU™ converts information related to Contact i.e. Address, Phone, Email etc. to Sage CRM Person's corresponding fields.
To understand this in a better way, we shall refer the below screenshot. Let's take an example of George Bailey (a Contact in Act!) whose details have been migrated to Sage CRM as 'Person'.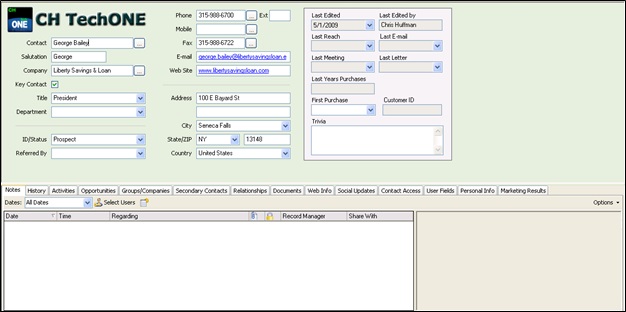 Now have a look at the migrated ACT! contact in Sage CRM.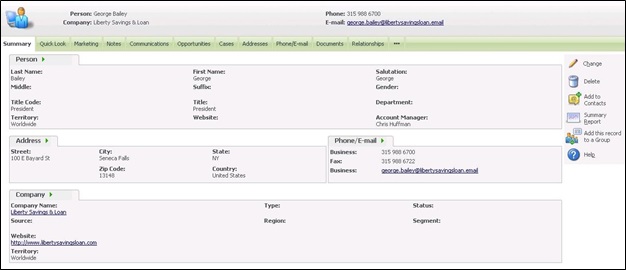 Below is the field mapping of the Converted ACT! 'Contact' to Sage CRM 'Person'.
Person's summary :

Address:


Business address has been set as Primary address for the company.
Phone: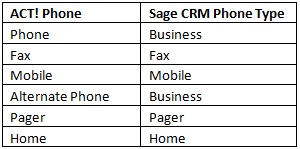 Phone with business type has been set as Primary Phone for the Person.
Email:




GUMU™ also migrates the Secondary Contact from ACT! to Sage CRM 'Person' with its related Company, Address, Email and Phone information mapped to the respective fields.
For more information on CRM data migration, drop us a mail at sage@greytrix.com
Also Read :
1. Migrate ACT! Contacts to Sage CRM Using GUMU™
2. Migrate Goldmine Contacts to Sage CRM using GUMU™
3. Migrate Goldmine Opportunities to Sage CRM using GUMU™
4. Migrate Goldmine Communication to Sage CRM using GUMU™
5. Migrate Goldmine Notes to Sage CRM using GUMU™