As we all know that Sage CRM is being used by millions of users worldwide who belong to different parts of the world. To talk with each other they find it easy to communicate in their regional language such as Spanish, Dutch, and German etc. However, when it comes to Sage CRM they are restricted to use the system in default language set by administrator. They might be finding it difficult to navigate in CRM from one screen to another with less knowledge of Default language configured.
Is it possible to change Language preference in SageCRM only for some users? Yes, it is.
GUMU Sage 100 – Sage CRM Integration : Mobile Order Entry for Sage 100 ERP (No App Needed)
In this blog topic, I will give you an idea on how you can change the user language to display all the buttons, fields and screen names in their local language supported by sage. While creating a new user we can set the preferred language of the user. On Step 2 of New User Setup process we can fix the same. Refer below screenshot for reference.

As shown above I have configured Spanish as a preferred language. Now, using log in credentials of this user CRM screens look like below.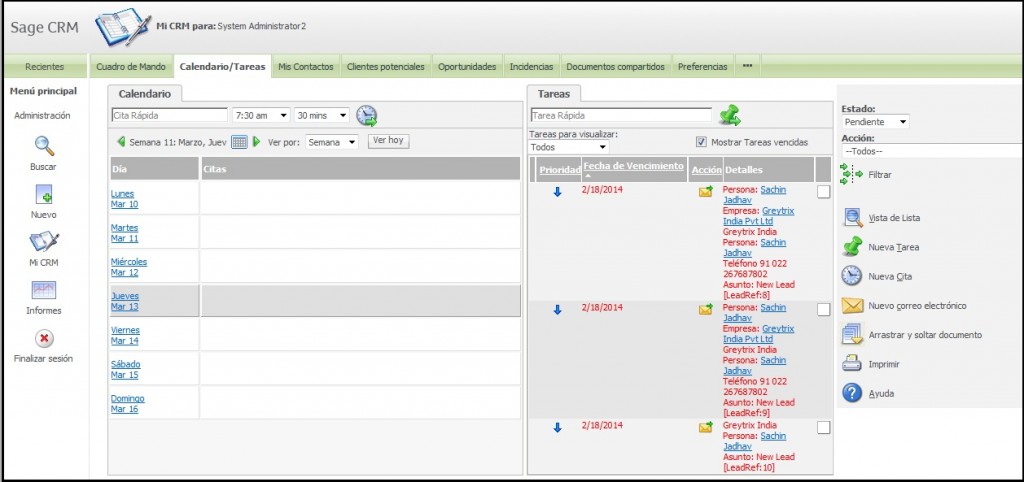 For this module to work beautifully, it is required that the translations are available in all languages under Administration || Customization || Translations. SageCRM by default has this in place however while creating custom entities we have to do it manually.

Also Read:
1. Modify Sage CRM field Captions in No Time
2. Set Shortcut Key for your Favorite Button in Sage CRM
3. Set field text type to Password on CRM screen at run time
4. Basic changes to Smartphone layouts of SageCRM
5. Control Web service effect on CRM performance