In our last post, we have gone through the Synchronize dropdown feature of GUMU for Sage CRM – Sage ERP X3.
With GUMU integration, we can view/add/edit all crucial data from Sage ERP X3 to Sage CRM. When dealing with these data, it becomes very important that it should be accessible only to the authorized person. Keeping these security issues in mind, we have provided "Security Matrix" feature in our GUMU for Sage ERP X3 – Sage CRM integration. Only users with administrator rights have access to this feature. Using this feature admin can allow/deny access rights to various GUMU features like importing customers/products, promoting customers/orders/invoices, viewing the order inquiry, or any other integration information.
New Stuff: Synchronization setting in GUMU for Sage CRM – Sage 100
You can navigate to this page from Sage CRM Administration> Sage 100 Administration> Security Matrix.Here Admin can decide whether to allow/deny integrated data access to CRM users. If he wants to allow full access to a particular CRM user, he can simply check "Select All" checkbox.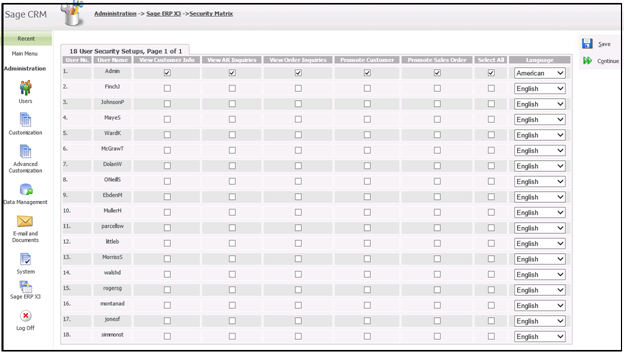 Also System administrator can assign the CRM users their preferable Language in which they want to view the details.