GUMU™ for Sage CRM -Sage 100 Integration Link is a real time, bi-directional link where user can update the information from Sage CRM to Sage 100 and vice versa.
Today in this blog we will discuss about how to disable GUMU™ from Sage CRM as well as from Sage 100 side.
New stuff: Enabling GUMU™ integration access for each Sage CRM user
By performing below simple steps you can disable GUMU™, first we will discuss how to disable GUMU™ from Sage CRM side and later we will discuss from Sage 100 side.
From Sage CRM Side:-
1. Before proceeding first take complete backup of Sage CRM.
2. Login in into Sage CRM.
3. Go to administrator ->Sage 100 administration -> Configuration
4. Select the company code for which you want to disable GUMU™ integration.
5. From configuration, change the synchronization and set it as 'NONE'.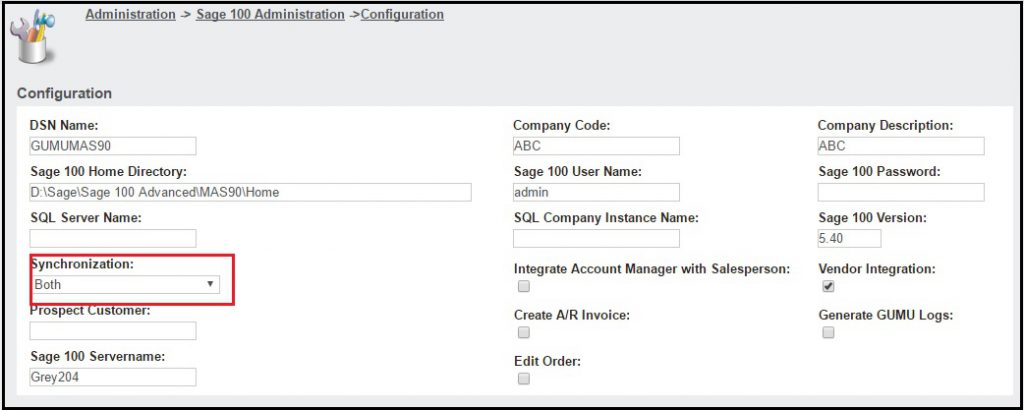 6. Now we have to detach Table Level script for the below entity
a. Company
i. Go to Administration ->Customization->Company->select the tab 'TableScripts'.
ii. Select CompanyEntity table level script.
iii. Change script type as Detached Table level and save it.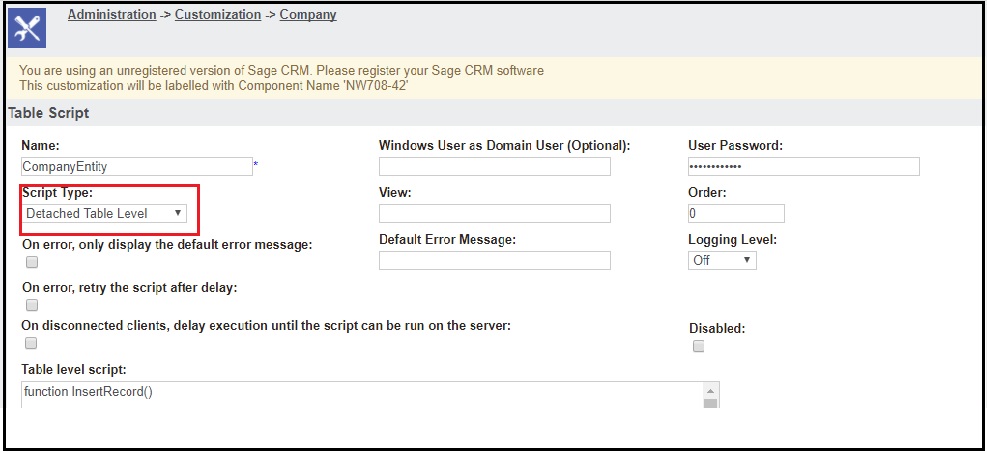 b. Person
From person entity like we have done for company we have to detach 'PersonEntity' Table script.
c. Address
From Address entity we have to detach 'AddressEntity' Table script.
From Sage 100 side:
1. Take complete backup of MAS90 and login into Sage 100.
2. Open Sage CRM configuration screen. You can follow below path to open this screen.
Modules->GUMU->GUMU options-> Sage CRM configuration.
3. Change the synchronization setting for customer as well as for vendor by checking the Inactive checkbox for both.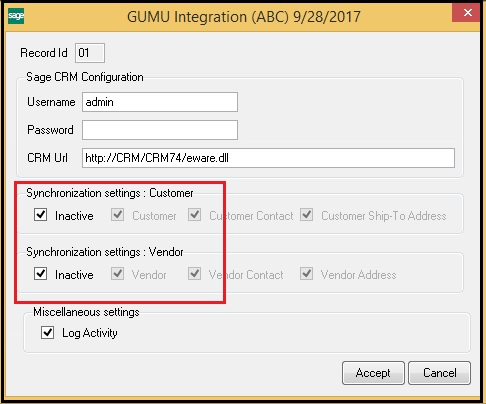 About Us
Greytrix is one stop solution provider for Sage ERP and Sage CRM needs. We provide complete end-to-end assistance for your technical consultations, product customizations, data migration, system integrations, third-party add-on development and implementation expertise.
Greytrix has some unique integration solutions for Sage CRM with Sage ERP's (Sage X3, Sage 100, Sage 500 and Sage 300).We also offer best-in-class Sage ERP and Sage CRM customization and development services to Business Partners, End Users and Sage PSG worldwide. Greytrix helps in migrating to Sage CRM from ACT, Goldmine and other CRM's.
For more information on our integration solutions, please contact us at sage@greytrix.com. We will be glad to assist you.
Also read :
1. New Feature in GUMU for Sage CRM – Sage 100 Integration – Quick Order Entry
2. GUMU™ Integration is now compatible with Sage CRM v7.3 SP3 and Sage 100 v2017
3. GUMU for Sage CRM – Sage 100 Integration – Sage 100 type field
4. Troubleshooting an error message of GUMU™ Integration – 'Unable to connect MAS'
5. New Feature in GUMU™ for Sage CRM – Sage 100 Integration – Edit Order