When a customer approaches an organization for any requirement, what do a salesperson do? They "QUOTE". A "QUOTE" is a document that allows a prospective customer to see a predetermined set of items and quantities at a predetermined price, to be delivered on a specific date.
Read More: GUMU™ for Salesforce – Sage ERP Integration
This Quote will be either approved, denied or it goes into the negotiation mode. If your efforts are rewarded with the pleasure of winning the opportunity, the next thing lined up is to create a Sales Order against the client approved quote. Sales Order contains all the same specifications as in the quote, including customer details, information about the items and the adjustments made to the price of items, and the payment terms and shipment terms, with simply a different Document Name Stamping.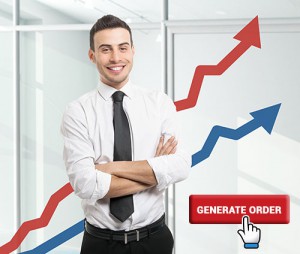 While creating the "Sales Order" from the quote, if the user is bogged down by the number of line items, there are chances that some line item(s) is/are missed out. Not just this, but if there are similar products in the organization, the user feeding the data can even pick the wrong product for the "Sales Order" ending up in erroneous data.
Salesforce provides a feature for this functionality. All you need to do is, simply click on the button "Generate Order" that appear on the Quote page (refer to the screen shot below) and the "Quote" is automatically converted to the corresponding "Sales Order".

This functionality not only eliminates the extra efforts required to create the "Sales Order" but also removes the remote possibility of manual/typo errors that could be encountered. It will also help to improve the business process.
If you don't see this feature in your organization, simply go to the AppExchange website and install the package provided by Salesforce lab absolutely free of cost. A little bit of tweaking is required to make it up and running for your organization.
Post that your organization is all geared up with this "Easy to use" functionality.
About Us
Greytrix – a globally recognized and one of the oldest Sage Development Partner and a Salesforce Product development partner offers a wide variety of integration products and services to the end users as well as to the Partners and Sage PSG across the globe. We offer Consultation, Configuration, Training and support services in out-of-the-box functionality as well as customizations to incorporate custom business rules and functionalities that require apex code incorporation into the Salesforce platform.
Greytrix has some unique solutions for Cloud CRM such as Salesforce Sage integration for Sage X3, Sage 100 and Sage 300 (Sage Accpac). We also offer best-in-class Cloud CRM Salesforce customization and development services along with services such as Salesforce Data Migration, Integrated App development, Custom App development and Technical Support to business partners and end users.
Salesforce Cloud CRM integration offered by Greytrix works with Lightning web components and supports standard opportunity workflow. Greytrix GUMU™ integration for Sage ERP – Salesforce is a 5-star rated app listed on Salesforce AppExchange.
The GUMU™ Cloud framework by Greytrix forms the backbone of cloud integrations that are managed in real-time for processing and execution of application programs at the click of a button.
For more information on our Salesforce products and services, contact us at salesforce@greytrix.com. We will be glad to assist you.