While working with one of our recruitment based clients, we had a requirement to incorporate their business process for the complete flow of opportunity, right from the "Prospecting" stage to "Closed-Won" stage. The process required certain fields to be updated, records to be auto-submitted for approvals, emails to be fired for certain criteria, etc. and mark our words, Process Builder was such a big relief.
The Process Builder is a workflow tool that helps you easily automate your business processes by providing a powerful and user-friendly graphical representation of your process as you build it.
Automated processes in the Process Builder are based on records and consist of:
Criteria that determine when to execute action groups.
Immediate and scheduled actions to execute when those criteria are met.
Process Builder Features
Trigger an Auto Launched Flow – From Immediate.
Compatible with all Browsers.
Process Builder does not require use or knowledge of Apex, Visualforce, or any other code.
Reduced chances of Hitting SOQL Limits in Processes.
Post to Chatter.
Create a Record:
Update Records with an Improved UI:
Schedule Multiple Groups of Actions:
Send an email:
Call Apex methods:
Submit for approval:
Criteria Based Execution of Action Groups: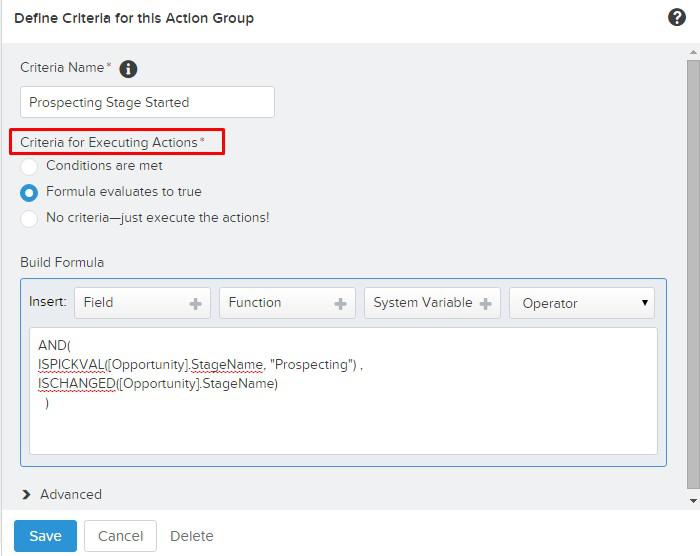 Process Builder Vs Classic Workflow
Process Builder Supports Visual designer, calls Apex code, creates records, posts to Chatter, submits for approval whereas Workflow does not support the above.
Any related records can be updated in Process Builder, but in workflow, only the record or its parent can be updated.
Send outbound messages without code via workflow, but in Process Builder Outbound messages are not possible.
Process Builder helps launch a flow via record criteria vs a button or link but it's not possible in Workflow.
Advantages of Process Builder
Complicated business processes can be easily implemented.
The Visual Aspect of Process Builder makes it very user-friendly.
It provides more flexibility within the criteria stage.
It provides an ability to add layers of a decision.
Quicker Response Time.
It's ability to quickly respond to changing market.
Limitations
Based on the above points, the Process Builder might seem to be just perfect, but it does have some limitations. These limitations might get bridged in the future.
Approval Processes support being called by user clicks, Apex, and Visual Workflow; Process Builder only evaluates upon a record changing.
Does not support deletion of records.
Cannot send outbound messages without code.
Does not support user interaction.
Does not support multiple time triggers.
The Process Builder is not available for Group and Contact Manager Edition customers.
About Us
Greytrix as a Salesforce Product development partner offers a wide variety of integration products and services to the end users as well as to the Partners across the globe. We offers Consultation, Configuration, Training and support services in out-of-the-box functionality as well as customizations to incorporate custom business rules and functionalities that requires apex code incorporation into the Salesforce platform.
Greytrix has some unique solutions for Cloud CRM such as Salesforce integration with Sage Enterprise Management (Sage X3), Sage Intacct, Sage 100 and Sage 300 (Sage Accpac). We also offer best-in-class Cloud CRM Salesforce customization and development services along with services such as Salesforce Data Migration, Integrated App development, Custom App development and Technical Support to business partners and end users.
Greytrix GUMU™ integration for Sage ERP – Salesforce is a 5-star app listed on Salesforce AppExchange.
For more information, please contact us at salesforce@greytrix.com. We will be glad to assist you.