In this blog, we will understand how a Salesforce System Admin can provide access to a User(s) to Search Account in Salesforce using Sage fields.
Often it might happen, that a Sales Rep is trying to Search in Salesforce using Sage fields visible in the list. But he/she is unable to perform the function as displayed in the below Image.
User Accessing Accounts in SF
This may be due to lack of access rights provided on Objects (or its fields) by Admin for security purpose. If the Sales Rep, is searching an Account in Salesforce using Sage fields, he/she will have to contact System Administrator to grant access rights.
Administrator can follow below steps in order to grant access to User, for allowing search of Account in Salesforce using Sage fields.
Login to Salesforce.
Navigate to Setup and Search for "Users" in the Quick find Box. The search will display all the users of Organization with their respective roles and profiles.
Select the user who is facing difficulty in Searching Accounts using Sage fields (in this example Customer Number).

Users Object
On the user record scroll down and look for "Permission Sets" and click on "Edit Assignment"

Permission Sets
Upon clicking "Edit Assignment" button, Admin will be navigated to "Permissions Sets". Select the Assignment (i.e. "GUMU Integration Access") and click on Save, as stated in the below image.
Note: Remember to clone the permission sets before assigning to a user. As permission sets are not editable directly.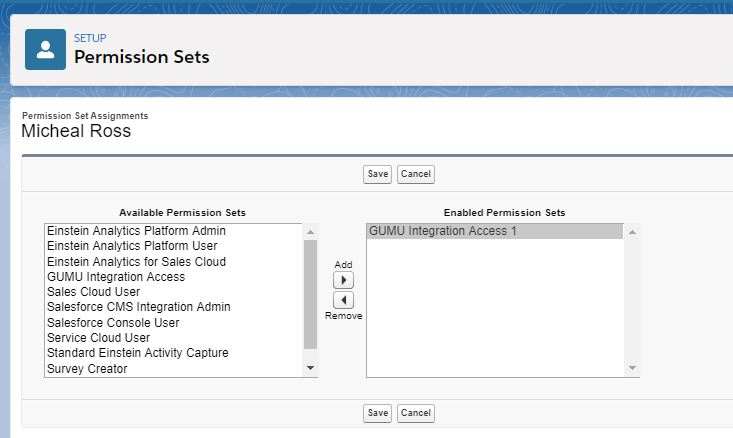 Available Permission Sets
Once saved the Assignment, the page will be re-directed to "User Information". Where Admin can now see the user have the permission set assigned to them.

User Info
Additionally, you can refer: Managed Assignment of GUMU on how you can directly assign "Permission Set" and provide access of GUMU™ components.
To allow user to perform operations within Salesforce, "Permission Set" are assigned. Similarly, GUMU™ integration creates a default permission set in Salesforce when the package is installed in the Org.
About Us
Greytrix – a globally recognized and one of the oldest Sage Development Partner and a Salesforce Product development partner offers a wide variety of integration products and services to the end users as well as to the Partners and Sage PSG across the globe. We offer Consultation, Configuration, Training and support services in out-of-the-box functionality as well as customizations to incorporate custom business rules and functionalities that require apex code incorporation into the Salesforce platform.
Greytrix has some unique solutions for Cloud CRM such as Salesforce Sage integration for Sage X3, Sage 100 and Sage 300 (Sage Accpac). We also offer best-in-class Cloud CRM Salesforce customization and development services along with services such as Salesforce Data Migration, Integrated App development, Custom App development and Technical Support to business partners and end users.
Salesforce Cloud CRM integration offered by Greytrix works with Lightning web components and supports standard opportunity workflow. Greytrix GUMU™ integration for Sage ERP – Salesforce is a 5-star rated app listed on Salesforce AppExchange.
The GUMU™ Cloud framework by Greytrix forms the backbone of cloud integrations that are managed in real-time for processing and execution of application programs at the click of a button.
For more information on our Salesforce products and services, contact us at salesforce@greytrix.com. We will be glad to assist you.