Block your calendars for Greytrix Product session @ Sage Summit – 2015
Greytrix offers an invaluable opportunity to introduce partners and customers insights about outside the box solution for taking Customer Interactions to the next level using its GUMU™ integration with eCommerce Magento and Salesforce.com. Our offerings have been designed keeping various business and industry needs in mind.
Session Name: Salesforce.com and Magento eCommerce with Sage ERP: A "Best of Breed" approach to 360-degree customer interaction interfaces.
Date: Thursday, 30 July 2015
Time: 11:45 AM – 12:30 PM CDT
Session Number: SP-123
Location: Sponsor theatre B
Speaker: Kumar Siddhartha
In this session, we will showcase our Greytrix Integration products
Salesforce.com Integration: Our first in line Salesforce.com integration. Access your Sage ERP data from anywhere at any time through cloud based Salesforce.com integration.
eCommerce (Magento): Sage ERP and Magento eCommerce Solution integration is designed to assist businesses to manage and seamlessly integrate their ecommerce website and marketplace with back office ERP systems performing bi-directional data synchronization in a fully automatic manner.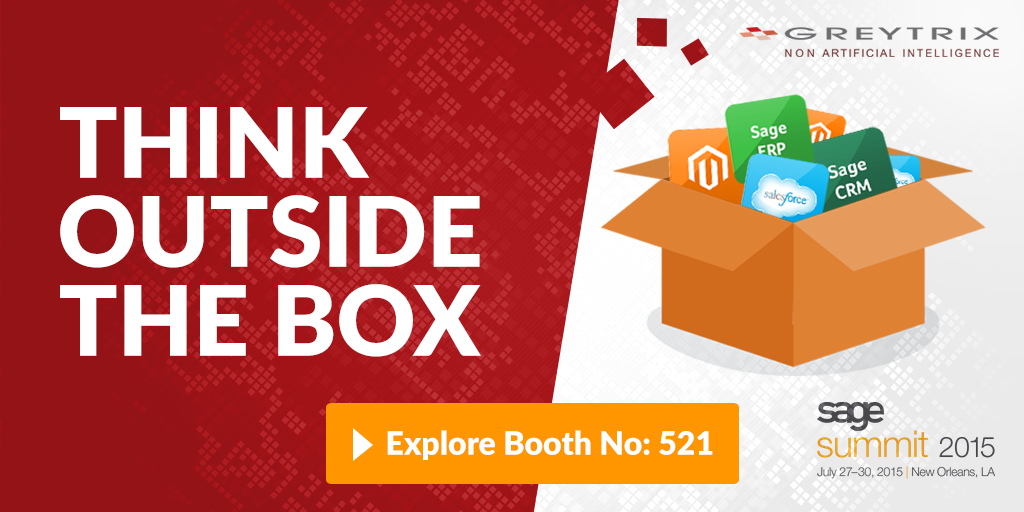 Along with this session, there will also be other sessions conducted by our Sage Partner Friends which we would be keen on attending. So with our hearts filled with anticipation and excitement, we would like to conclude for now until we meet again at Sage Summit – New Orleans!!
For more information on our Sage ERP and CRM technical consultations, product customization, data migration, system integrations, third party add-on development and implementation expertise services, contact us at sage@greytrix.com
Think Greytrix, grow big!!