This blog is in continuation of my previous blog wherein I have explained you the pre-requisites to be taken care of at the time of ERP installation for Sage CRM and ERP integration. Now in this article I will explain you the configurations that needs to be done regarding Web Portal and Web Deployment Manager in Sage 300 ERP.
Related Post: How to integrate Sage CRM and Sage 300 ERP – Part 1
Now you must be wondering, why we need to do this? Making this configuration will provide you the feature to access the system from any browser i.e. IE or Chrome etc. Thus users who tend to travel a lot say, a Sales Team user will be able to easily access the system and process the quotes, orders and so on.
Thus once you are done with the installation of ERP, next is you need to configure portal on your application server. Below are the steps for the same.
Sage 300 ERP Portal:
1. Login into SQL Management studio
2. Create New database with name of "PORTAL"
3. Go to Start and select Database Setup option from list
4. Login with admin user
5. Click on Portal button
6. Enter SQL Login credentials and configure PORTAL database
7. Go to Start and select Web Portal option from list
8. Login into Sage 300 ERP Portal with admin user credentials and check the same.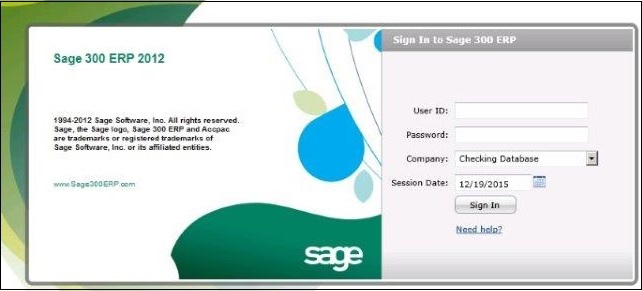 Web Deployment Manager:
1. Go To Start | Sage
2. Select Web Deployment Manager from List
3. Click on Configure option from Top menu
4. Make the necessary configurations and click OK. Please refer below given screen shot for your reference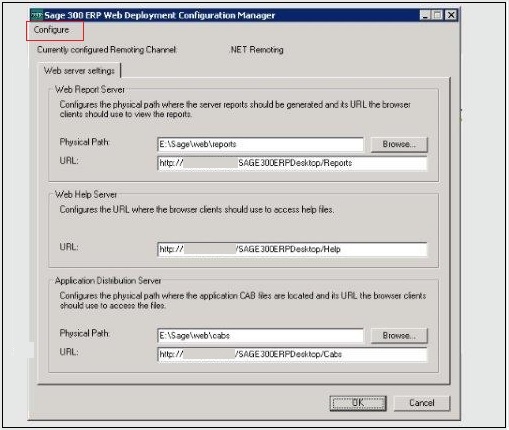 5. Enter the URL in browser in below given format –
URL: http//<System Name or IP address>//<ERP Instance Name>
6. Login into web deployment and check the same.
Also Read:
1. GUMU for Sage CRM – Sage 100 ERP integration video tutorials
2. Sage Pro ERP Integration with Sage CRM – Troubleshooting Tips
3. Purchase History Lookup in GUMU for Sage CRM – Sage 100 ERP Integration
4. Create AR Invoice in Sage CRM using GUMU Sage CRM-Sage 100 ERP Integration
5. New Features in GUMU for Sage CRM – Sage 100 ERP Integration