While creating Sales order, salesperson require lots of information related to customer at his fingertips like item pricing, quantity pricing, customer specific pricing, costs, credit limits, credit card deposit information and most important the Sold Products. Sage has already provided this information in Sage 100 ERP (earlier known as Sage MAS 90/200 ERP), which helps sales person while entering line item.
We have implemented this functionality in our GUMU™ for Sage CRM-Sage 100 (MAS 90/200) ERP Integration link. In this blog we will explain the Purchase Item Lookup functionality and see how it is useful for the Sage CRM Users/Salesperson.
Purchase Item lookup (Alt + S): This option is available to users on the key combination of Alt + S in Sage 100 ERP. In Our GUMU™ Integration, we have implemented the same functionality to search previously purchased items of the customers, so it could be found on the MAS 90/200 Lookup screen of Sage CRM. For viewing previously purchased item, select option "Purchase History", and click on Find button; grid will display the items that were previously purchased by the selected customer.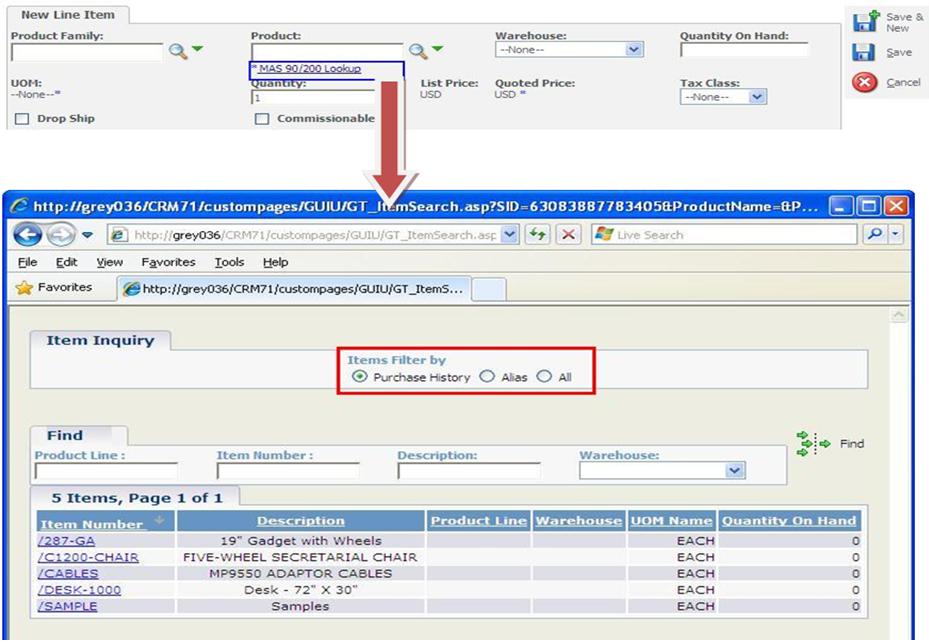 Thus, this functionality comes in handy to Users/Salesperson when they have thousands of products in their Sage 100 ERP Company and salesperson wants to find product details of the historical purchases of the customer.
— Related Posts —
1. New Features in GUMU for Sage CRM – Sage 100 ERP Integration
2. GUMU for Sage CRM integration with Sage 100 ERP
3. Salesperson Mapping Functionality in GUMU Sage 100 ERP integration
4. Synchronize Dropdowns in Sage CRM using GUMU Integration
5. Link Functionality in GUMU for Sage CRM – Sage 100 ERP
6. Create AR Invoice in Sage CRM using GUMU Sage CRM-Sage 100 ERP Integration
7. Configuration and Working for Creating AR Invoice in Sage CRM using GUMU Integration
8. Item Search functionality in GUMU Integration for Sage CRM – Sage 100 ERP
9. Creating Quote and Order for Non-Linked Customer in Sage CRM using GUMU Integration