GUMU™ Integration has a User Friendly Interface with Real time bi-directional link that integrates your front and back office, as a result making changes in either of the systems is directly reflected into another system or vice-a-versa. With the GUMU™ Sage CRM – Sage 100 Real-time, Bi-directional integration, you can access customer information, promote orders and view Sales Summary/History data on real time basis. Customer records can be automatically updated in both the systems from a single input, from either application. This GUMU™ integration is now available even in the latest version of Sage CRM v7.3 and Sage 100 v2016.
New Stuff: Creating additional purchase Addresses from Sage CRM to Sage 100 for Vendors
Below are the new features which are added in Sage 100 v2016:
1. Modern UI
2. Easier navigation : – Change fonts on the desktop and task window, customize desktop themes, and color schemes.
3. Personalization and security :- Individual users can change colors and themes, while accessing only the information they are authorized to see.
4. Application scaling :- Change the resolution of your screen to fit properly on high-definition screens.
5. Business Insights Dashboard :- Improved access to the Business Insights Dashboard, which has been given a modernized look.
Using GUMU™ integration, user can have mix and match of Sage CRM and Sage 100 version. User can now use any older Sage CRM version integrated with Sage 100 v 2016 using GUMU™ integration.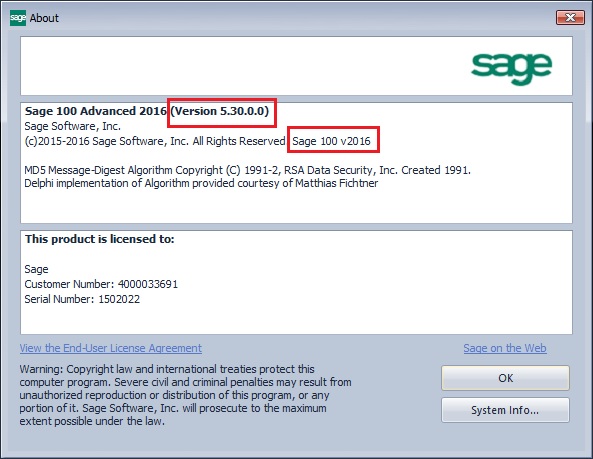 Also Read:
1. Restrict Users to create order if Credit Limit is exceeded
2. GUMU Sage 100 Tips – Creating additional address from Sage CRM to Sage 100
3. GUMU Sage 100 Tips – Creating additional contacts from Sage CRM to Sage 100
4. GUMU Tips – Unable to access SageCRMPlugin.SageCRM Object
5. Real time changes from Sage 100 to Sage CRM for Vendor