In this competitive global business environment, small and medium enterprises across industries are reaching new levels of excellence due to adoption of integrated business solutions. To address the universal challenges of their front and back office operations from accounting, cash-flow, inventory, reporting to customer service, sales etc., SMEs are focusing their business vision on integrated IT ecosystems. It thus becomes essential to choose the right solution that aligns your business workflow.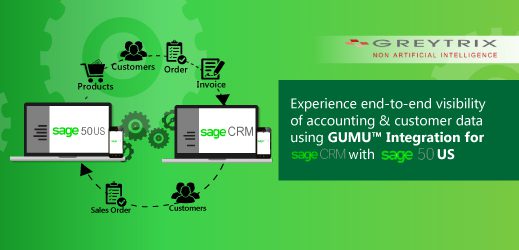 Sage 50 US – an accounting software includes inventory management, payroll processing for small businesses. Sage 50 US speeds up cash flow, reduces cost and protects critical data with user security. Whereas Sage CRM automates your Sales, Marketing, Customer service and support operations providing departments with an overall insight of your business with enhanced customer management. When both these solutions operate in silos it leads to inaccurate and inefficient business process.
Greytrix eliminates the challenges of your disparate business management systems with GUMU™ connector for integrated Accounting – CRM solution. GUMU™ Integration for Sage CRM with Sage 50 US bridges the information gaps between different departments, enables your team to have a consolidated view of the business data. This empowers your business with greater productivity with up-to-date front-end and back-end information.
Check out the product information on GUMU™ integration for Sage CRM with Sage 50 US and for a live demo of the integrated solution – https://www.youtube.com/watch?v=jqk9OEup8Oc
To watch the complete Demo video, write to us at sage@greytrix.com
. Discover the benefits of an integrated accounting – CRM solution for your business and gain more control and deeper insights using GUMU™ integration.