With growing businesses and expanding Customer base, enterprises face the distinct challenge of balancing agility against scale, streamlining critical processes, understanding prospects, and managing deeper connections. Business systems have evolved considerably over the years and are now more advanced, agile and Customer centric than before. Today, businesses invest in the infrastructure and technology systems such as ERP and CRM that simplify back office and front office operations. Greytrix– one of the largest and the oldest Sage Gold Development Partner, is a one stop solution provider for your Sage ERP and Sage CRM needs. It provides solutions which are a best fit for your organization by studying the industry patterns and measuring the challenges faced during implementation and execution. We will discuss the top 11 reasons of integrating Sage CRM – Sage X3 in this blog to help you make the best choice for your business.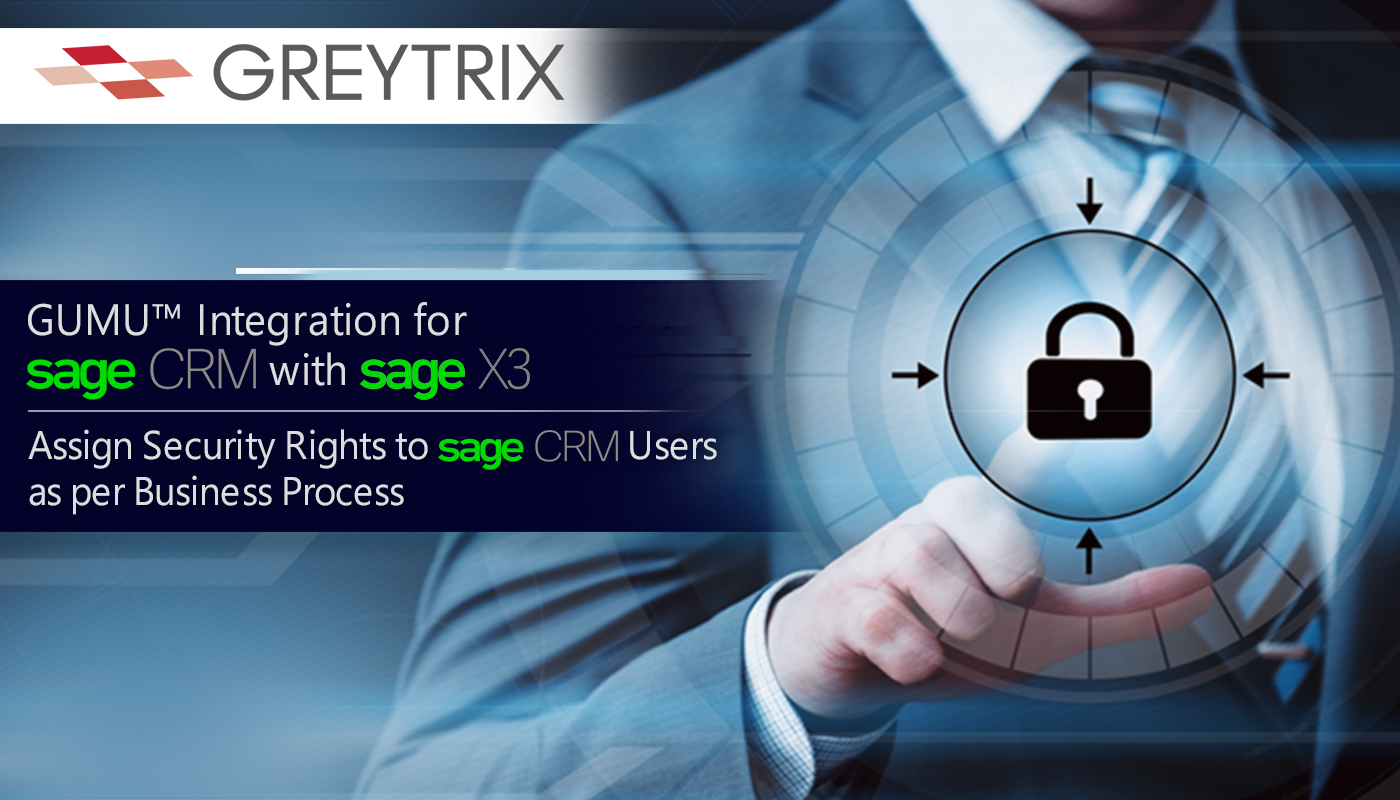 Why do you need Sage X3 and Sage CRM to climb the growth chart of your business?
Enterprises use Sage CRM to deal with front-end information. This includes recording Customer information, Sales tracking, managing Prospects, promoting Marketing campaigns and pipeline management. This further helps the stakeholders understand the Prospects and Clients while managing Customer relationships. On the other hand, Sage X3 handles backend operations such as storing and managing Purchase History, Manufacturing, Accounting information and supply chain management details. These systems further offer substantial benefits to your business. However, with contrasting functionalities and architectures, it becomes difficult to streamline business processes. This creates a roadblock towards enhanced forecasting and agile decision making for enterprises. Integrating Sage CRM with Sage X3 enhances your business benefits through end-to-end visibility and a single view of the Customer. It ultimately leads to deep business insights, effective communications, efficient performance and processes.
Top 11 features of GUMU™ for Sage CRM – Sage X3 Integration
Easy Installation and Configuration
GUMU™ integration for Sage CRM and Sage X3 is easy to install and configure.
Real-time Bi-directional Integration
GUMU™ allows users to bi-directionally sync data between systems depending on the business needs. Companies' Master Data comprising Addresses, Contact details and Transactions can be viewed on user-friendly Sage CRM tabs for a particular Customer. Sage CRM Company can be promoted as Sage X3 Customer or Vendor.
Easy Access to Data from Portable Devices
Critical information regarding Leads, Customers and Orders can be accessed across devices such as desktops, mobiles, and tablets ensuring that sales reps respond quicker to Customer needs. It provides the same view on all the devices. Sales reps can view Sales Orders on the go along with a user-friendly view of the line items, delivery status, and related information.
Authorization Control
GUMU™ Security Matrix empowers system administrators by allowing them to set different access levels with prescribed user privileges. This allows CRM system administrator to provide restrictive access to ERP data.
Multi-Company Integration
Sage CRM Admin can map Sage ERP Salesperson with Sage CRM users. This information is used to set the Salesperson on the Sales Order that is being promoted to Sage ERP. Using this feature eliminates the selection of Salesperson on Order Entry for easy and proper commission calculation on the ERP front.
Unified View of Customer Data
GUMU™ integration enables organizations to view Customer details, Invoices and Orders that have been generated in Sage CRM. This provides reps at the Customer end easy access to the data required to effectively cross-sell and up-sell.
Multi-Currency Support
GUMU™ eliminates manual computation of error-prone currency conversions. With multi-currency support, you can create Orders in Sage CRM with the currency value defined in Sage X3.
Secure Order Promotion
Sage CRM Admin controls the system and configures Promote Order rights to Sage CRM users. This ensures security for users to promote Orders in Sage X3 from Sage CRM.
Superior Order Visibility
Seamless integration of Orders from Sage CRM to Sage X3 allows superior Order visibility of information on promoted Orders
Streamlined Customer Response System
Seamless integration between the two systems streamlines inquiry recording and the related follow ups.
Effortless Multitasking:
GUMU™ allows handling multiple queries or multiple companies at an instance easily thus, providing the user with a highly efficient user experience. Additionally, multiple companies in Sage X3 are integrated at an instance with Sage CRM, simplifying enterprise operations.
Benefits of Sage CRM – Sage X3 Integration
Collaborated Data: From Sales to Support
With an integrated Sage X3 – Sage CRM business system, Sales, Accounting and Support departments can experience seamless visibility of their Customer data. This enhances communication between departments and offers better analytics and reporting of the Customer's preferences.
Faster Access to Crucial Data
An integrated business system allows quick and real-time access to important data such as Inventory levels, Finances, Order History, Shipments, and pricing without the need of keeping the Customer on hold for accessing information. This indirectly helps in retaining Customers by offering improved Customer experience.
Minimize Data Redundancy
An ERP system handles Customer information that revolves around Order details, inventory, warehouse and shipping whereas the CRM holds the Customer data for Marketing, Sales and Support. An integrated business approach with GUMU™ connector towards the front and back-office operations eliminates the tedious tasks associated due to data redundancy.
Real-Time Insights with Business Intelligence
GUMU™ connector for Sage CRM – Sage X3 streamlines business operations with end to end integration of business workflow. With this approach, systems produce real-time analytics and greater insights into costs and operational performance that assists in informed decision making.
Mobility in Business
The integrated solution offers freedom and convenience to access critical business data such as inventory levels, take Customer Orders, and approve purchases on the go.
Greytrix with a track record of proven success with leading industry leaders addresses the specific requirements of enterprises with customized features according to the latest trends and technological patterns. Greytrix data exchange framework GUMU™ facilitates rapid data movement and provides a comprehensive Business Management solution designed to keep your Total Cost of Ownership low by supporting multiple technologies, databases and operating systems.
About Us
Greytrix – a globally recognized and one of the oldest Sage Development Partners is a one-stop solution provider for Sage ERP and Sage CRM organizational needs. Being acknowledged and rewarded for multi-man years of experience and expertise, we bring complete end-to-end assistance for your technical consultations, product customizations, data migration, system integrations, third-party add-on development, and implementation competence.
Greytrix has some unique integration solutions developed for Sage CRM with Sage ERPs namely Sage X3, Sage Intacct, Sage 100, Sage 500, and Sage 300. We also offer best-in-class Sage ERP and Sage CRM customization and development services to Business Partners, End Users, and Sage PSG worldwide. Greytrix helps in the migration of Sage CRM from Salesforce | ACT! | SalesLogix | Goldmine | Sugar CRM | Maximizer. Our Sage CRM Product Suite includes addons like Greytrix Business Manager, Sage CRM Project Manager, Sage CRM Resource Planner, Sage CRM Contract Manager, Sage CRM Event Manager, Sage CRM Budget Planner, Gmail Integration, Sage CRM Mobile Service Signature, Sage CRM CTI Framework.
Greytrix is a recognized Sage Champion Partner for GUMU™ Sage X3 – Sage CRM integration listed on Sage Marketplace and Sage CRM – Sage Intacct integration listed on Sage Intacct Marketplace. The GUMU™ Cloud framework by Greytrix forms the backbone of cloud integrations that are managed in real-time for the processing and execution of application programs at the click of a button.
For more information on our integration solutions, please contact us at sage@greytrix.com. We will be glad to assist you.