Have you ever been in a situation where your business settlements are getting delayed due to lag in the payment processing of paper checks? You might have faced this situation numerous times during the on-going COVID-19 pandemic situation! To combat it, Greytrix– Sage Development Partner, brings to you Checkbook.io and Sage Intacct integration also available on Sage Intacct Marketplace, providing the convenience of digital checks wherein, businesses can receive and send ACH payments without any hassles and security concerns. The COVID-19 pandemic has all-the-more revolutionized online payments hence making it essential for businesses to break-free from paper checks and adopt digital checks.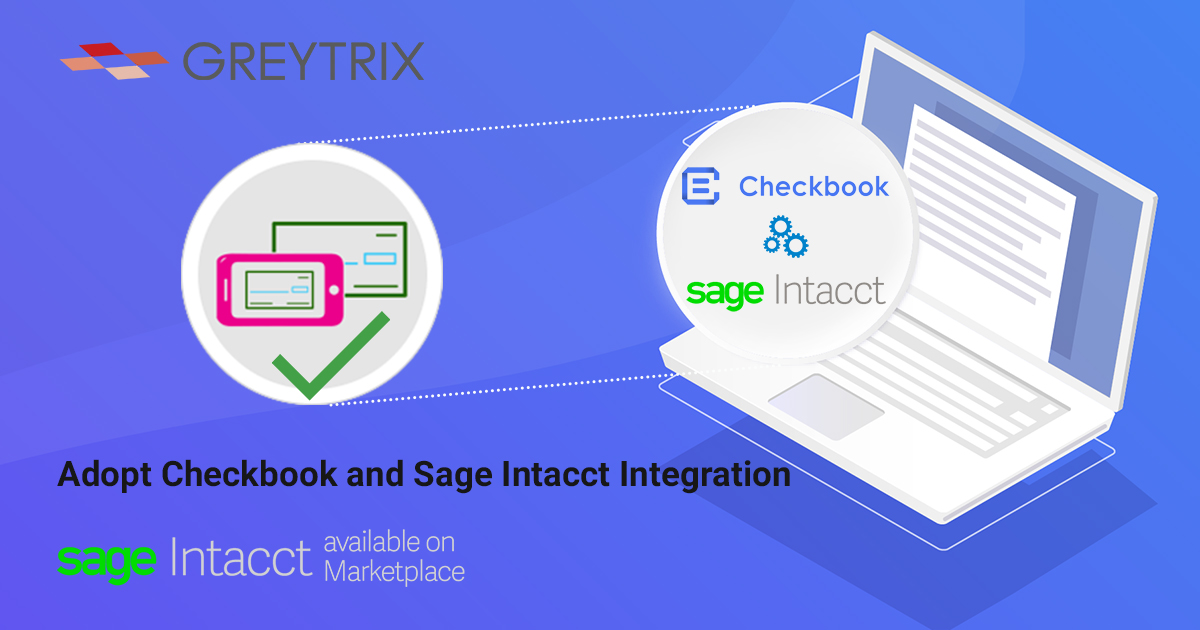 So, how does GUMU™ Checkbook integration work? The powerful solution is integrated with the accounts payable and cash management modules of Sage Intacct which helps in triggering the automated payments to send payments automatically or manually post approvals. The person receiving the check or Vendors can then print the check received or deposit it online and the ACH transaction of e-check/ electronic check takes place. After the payment is settled the General Ledger and the Accounts Payable workflow is updated from Sage Intacct in real-time. Moreover, the solution also offers easy selection of banks or accounts in Sage Intacct which is mapped with Checkbook to know the status of the payment. The Checkbook ERP integration allows users the advantage of setting up ACH payments only once which is applied to every bank the user works with, through Sage Intacct Vendor Payment Services.
Some of the common challenges that are faced in the absence of Checkbook.io integration can be listed as:
Manual processing of payments – printing and mailing of checks consumes time and effort
Security issues with physical checks as they can be forged
Clearance delays of upto three to four working days
Less information on vendor bank account and routing number
Tracking payments is a laborious and time-consuming process
Reconciliations are not real-time
Sage Intacct integration with Checkbook eliminates the need of printing checks and mailing them out manually due to which the possibility of an error is nullified. The integrated advantage of Sage Intacct and Checkbook.io is as under:
Increased productivity and eliminated errors
Modern technology finance tool
Send payments via e-mails
Secured payment solution
Along with the numerous benefits that the integration offers, digital check payments with Sage Intacct also helps businesses to ditch paper checks thus, reducing the processing time and improving costs. The main features of Intacct payment services and Checkbook payments are:
Seamless Integration: The solution is seamlessly integrated using GUMU™ cloud framework providing real-time data efficiency.
Automated Payments and Alerts: ACH direct check payment or Automated Clearing House ensures rapid verification and processing of checks in vendor accounts and users are notified of payment being received within three to four days.
Accounts Payable Integration: Integrate Checkbook solution without changing any payment method or approval policies in Sage Intacct.
Data Accuracy and Reconciliation: The digital check in Sage Intacct uses same bank, payee details, vendor account number and preferences as selected on payment entry assisting reconciliation.
Track Payment Status: Digital Checkbook and Sage Intacct integration tracks payments as recipient receives it and deposits the same. Once the payments are done it is updated back into Checkbook.
Quick and Secured Payments: From Sage Intacct pay your vendors securely online with digital checks. This form of check is faster, and vendors can instantly deposit it into bank with security throughout the transaction process.
Experience the one-click and one-stop solution for automated check payments with Greytrix- Sage Development Partner having more than 2 decades of expertise in Customer & Partner satisfaction.
For a walkthrough on this time saving integration or to discuss your requirements, feel free to write to us at sagecloud@greytrix.com