After successful installation of GUMU Integration application and GUMU web service, the integration configuration is a necessary part of an integration product.
In this blog, we will go through the GUMU configuration screen and will see what information we require for configuring GUMU™ Salesforce – Sage 100 ERP integration link.
Login to Salesforce >> GUMU Integration >> Administration >> Configuration.
The configuration screen is shown below –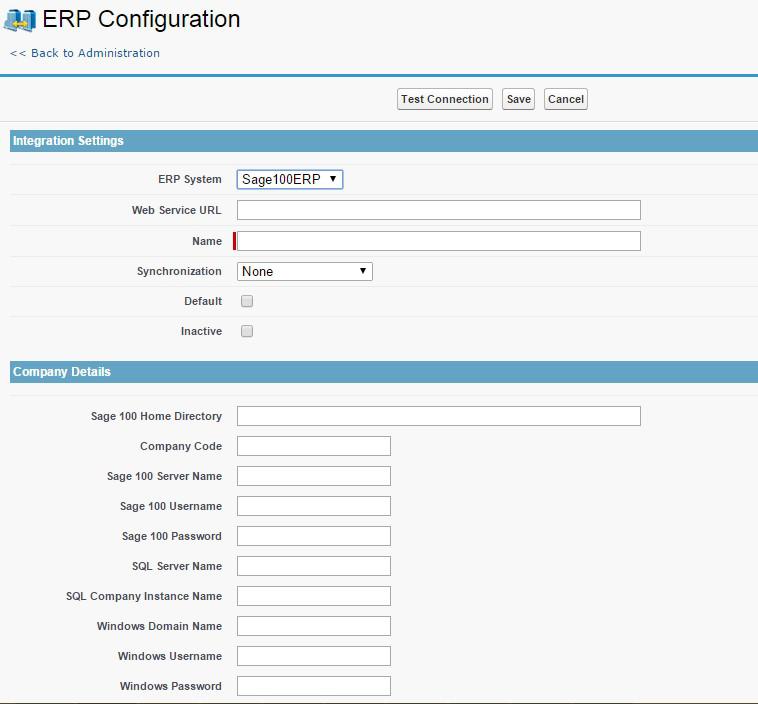 Below are the fields and information which we will have to enter in GUMU Configuration.
ERP System:- Select Sage 100 ERP from the dropdown option.
Web Service URL:- The ERP connection will happen through GUMU web service and we need to specify the Web Service URL that we have already setup on Static IP. The Web Service URL would be as specified below (with port or without port)
E.g. https:\\example.com\ IntegrationServicePro\IntegrationService.asmx
OR
E.g. https:\\example.com:8443\IntegrationService.asmx
The example.com in above links would be your hosted web service server domain name or sub-domain name.
Note: – Salesforce supports only secure external web service so your Domain must be certified by public CA. (i.e. VeriSign, GoDaddy etc.).
Name: – Enter the name for the integration (e.g. Integration – ABX)
Synchronizations: – Set this option as per your requirement i.e. One way – Salesforce to ERP, one way – ERP to Salesforce OR both.
Default: – Select this checkbox if you want this integration to be default.
Inactive: – Select to make the integration inactive.
Sage 100 ERP Home Directory: – Enter Sage 100 ERP server's Home directory path.
Company Code: – Enter Sage 100 ERP company code which needs to be integrated with Salesforce. For this Company code "Allow external access" checkbox should be checked.
Sage 100 ERP User Name: – Please provide Sage 100 ERP admin level user. This user should have full rights so that it can access AR, IC and SO module.
Sage 100 ERP Password: – Enter password for Sage 100 ERP user.
SQL Server Name: – In case your Sage 100 ERP is SQL version, please enter the SQL server name where Sage 100 ERP data is located.
SQL Company Instance name: – In case if Sage 100 ERP is SQL version, please enter the SQL database instance name.
Windows Domain Name: – Please provide domain name where GUMU Web service and Sage 100 ERP systems are located. Please make sure that GUMU Web service and Sage 100 ERP application should be in same domain.
Windows User: – Please provide the domain level windows admin user. GUMU uses this domain user while reading and writing data from Sage 100 ERP and Salesforce. If user doesn't have admin level rights, then it could create issues while updating/creating records from Salesforce to Sage 100 ERP OR vice versa.
Windows Password: – Please provide password for windows user.
Once you input all the above configuration parameters you can test the connection and save the integration.
For more information on our Salesforce integration with Sage ERP X3, please visit our website or email us on salesforce@greytrix.com to setup a live demo for you or your team.
About Us
Greytrix – a globally recognized Premier Sage Gold Development Partner is a one-stop solution provider for Sage ERP and Sage CRM needs. Being recognized and rewarded for multi-man years of experience, we bring complete end-to-end assistance for your technical consultations, product customizations, data migration, system integrations, third-party add-on development and implementation expertise.
Greytrix caters to a wide range of Sage Enterprise Management (Sage X3) offerings – a Sage Business Cloud Solution. Our unique GUMU™ integrations include Sage Enterprise Management (Sage X3) for Sage CRM, Salesforce.com and Magento eCommerce along with Implementation and Technical Support worldwide for Sage Enterprise Management (Sage X3). Currently we are Sage Enterprise Management Implementation Partner in East Africa, Middles East, Australia, Asia. We also offer best-in-class Sage X3 customization and development services, integrated applications such as POS | WMS | Payment Gateway | Shipping System | Business Intelligence | eCommerce and have developed add-ons such as Catch – Weight  and Letter of Credit for Sage Enterprise Management to Sage business partners, end users and Sage PSG worldwide.
Greytrix is a recognized Sage Rockstar ISV Partner for GUMU™ Sage Enterprise Management – Sage CRM integration also listed on Sage Marketplace; GUMU™ integration for Sage Enterprise Management – Salesforce is a 5-star app listed on Salesforce AppExchange.
For more information on Sage X3 Integration and Services, please contact us at x3@greytrix.com. We will be glad to assist you.
Related Posts