GUMU™ for Salesforce – Sage X3 integration is real-time integration which synchronizes data on a bi-directional basis. Once GUMU™ for Salesforce – Sage X3 integration is installed, the next step is to Configure the Salesforce-Sage X3 integration so that GUMU™ can connect to Sage X3 ERP and the two systems can start talking to each other.
Following are the steps to create a new configuration in salesforce using GUMU™
Login to Salesforce.
Go to "GUMU Settings" app.
Click on "Configuration" module.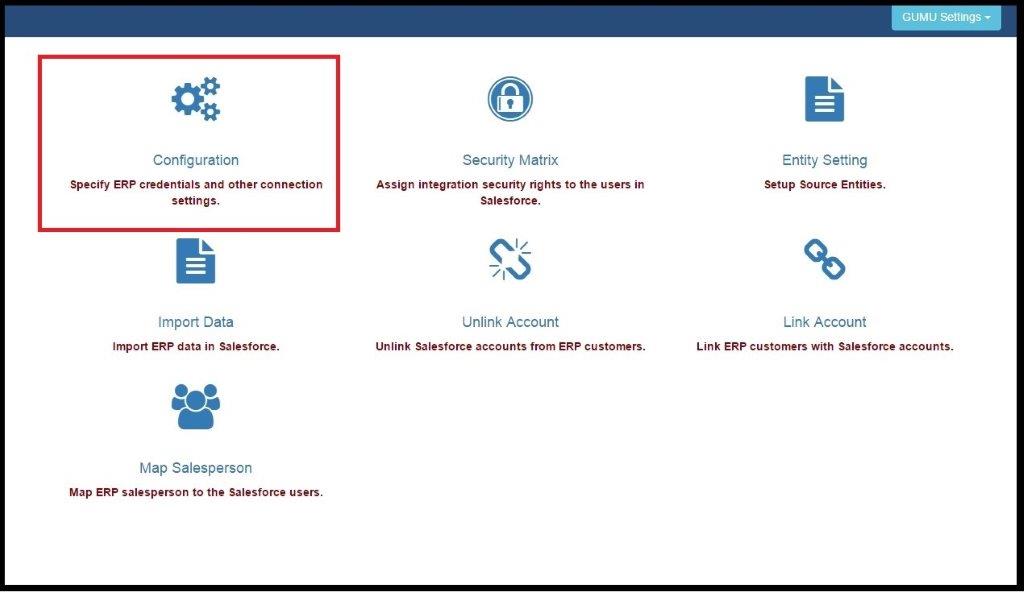 A list of existing configurations will appear on the screen if configurations have already been created.
To create a new Integration, Click on the "New Integration" button.
Enter the details as follows: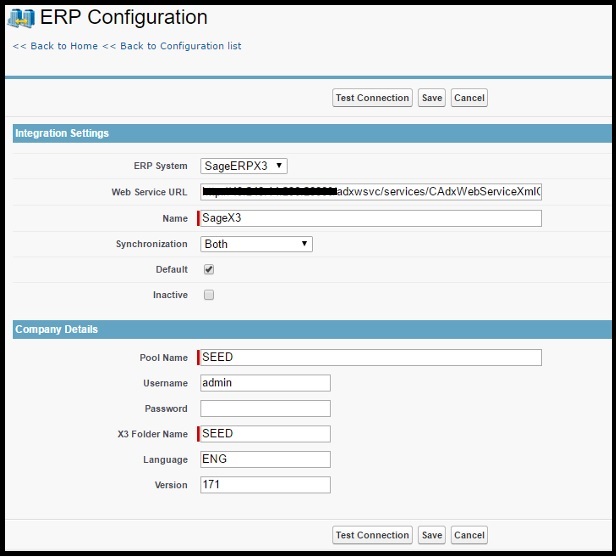 ERP System: Name of the Sage ERP. Please select "SageERPX3" to connect to Sage ERP X3 system.
Web Service URL: The Sage X3 web service URL to connect the Sage ERP system in below format. For e.g.: http://<your SageX3 server name>:28880/adxwsvc/services/CAdxWebServiceXmlCC
Name: Enter a name that best describes your integration. The name for Integration should be unique e.g. SageX3
Synchronization: Select the direction to Synchronize data. It can be one way from Sage ERP to Salesforce, Salesforce to ERP or it can be bi-directional as per your business requirement.
Default: If this check-box is checked, the Integration being created is treated as default among all the integrations created.
Inactive: This defines if the integration is active or not. If checked, the Integration is rendered inactive and the jobs/actions linked to this integration will not be performed.
Pool Name: Enter Sage X3 ERP Web service pool name.
Username: Enter User ID of the Sage X3 web service pool to which connection needs to be created
Password: Enter the password of the above user.
X3 Folder Name: Enter the Sage ERP folder name which is required to be integrated.
Language: Enter the "ENG" as a value which is a default value. This is the language in which the labels will be displayed.
Version: Enter the version of your Sage ERP X3 system e.g 171
Once all the details are entered, you can test if the connections could be established by clicking on "Test connection" button
If the test succeeds, click on "Save" button to save the integration details
Now that the connection has been established you can avail all the features of our GUMU™ integration product.
About Us
Greytrix as a Salesforce Product development partner offers a wide variety of integration products and services to the end users as well as to the Partners across the globe. We offers Consultation, Configuration, Training and support services in out-of-the-box functionality as well as customizations to incorporate custom business rules and functionalities that requires apex code incorporation into the Salesforce platform.
Greytrix has some unique solutions for Cloud CRM such as Salesforce integration with Sage Enterprise Management (Sage X3), Sage Intacct, Sage 100 and Sage 300 (Sage Accpac). We also offer best-in-class Cloud CRM Salesforce customization and development services along with services such as Salesforce Data Migration, Integrated App development, Custom App development and Technical Support to business partners and end users.
Greytrix GUMU™ integration for Sage ERP – Salesforce is a 5-star app listed on Salesforce AppExchange.
For more information, please contact us at salesforce@greytrix.com. We will be glad to assist you.