Greytrix GUMU™ Salesforce integration with Sage ERP is real time bi-directional integration where it integrates your Salesforce.com account with your Sage ERP. (Sage 100, Sage 300 and Sage X3). We will be coming up with new version of this integration where we have introduced, many new features. This new version uses Sage SData technology for integrating Sage 100 and Sage 300 ERPs. Below is the new look of the integration.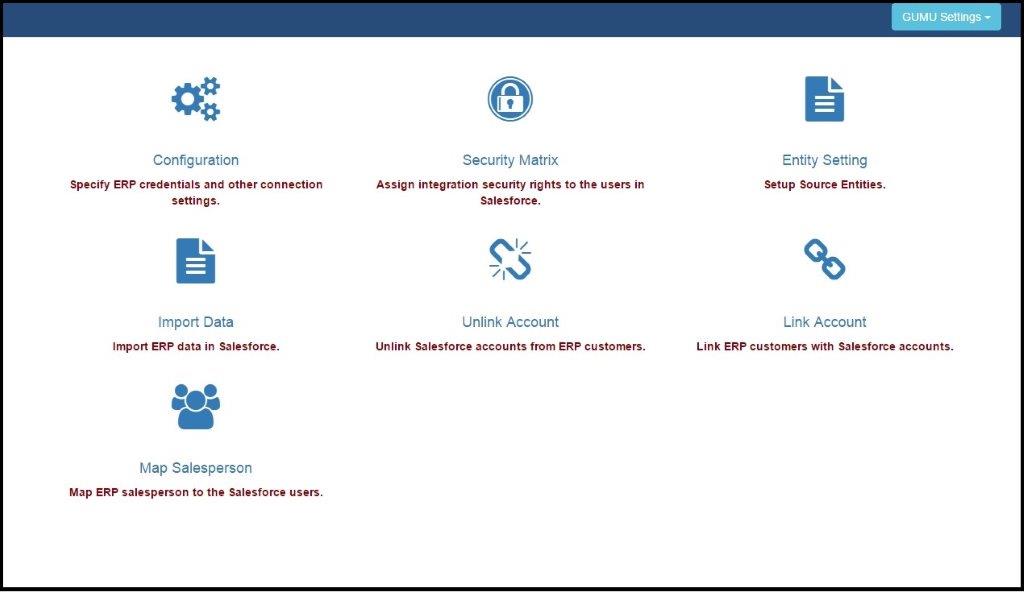 The new GUMU™ Salesforce Integration with Sage ERP has below features within it.
Real Time Information View: Sales representatives can view Sales Orders, list of Invoices, additional Customer details on user-friendly Salesforce UI for a particular Customer.
Authorization Control: GUMU™ Security Matrix empowers System Administrators by allowing them to set different access levels with prescribed user privileges. This provides System administrator with the power to secure data and control systems effectively.
Entity Synchronization and data synching: You can now have the flexibility to map and import any custom or standard Sage ERP entity data into Salesforce objects. This can further be leveraged to perform analysis using any Wave analytics, Dashboard reporting and Visual Charts. With the cloning feature you can reformat / filter/ restructure existing entity without disturbing its original form and use it for specific purpose. You can also set schedules to sync entities as per your need and have the option to support multiple sync of entities with processes running in the background. Log tracking provides you with complete progress track.
Reports and Dashboards: With GUMU™ integration you can create Reports and Dashboards in Salesforce based on the data synchronized from Sage ERP to Salesforce using Entity Sync Mapping. These Reports and Dashboards are important for taking informed decisions, identify business Opportunities and Forecast sales.
Link / Unlink Customers: Link/unlink existing Sage ERP Customers with Salesforce Accounts to avoid data duplication. Customizable Link / Unlink Customer screens to configure additional fields such as Billing country, Account status etc.
Data accessibility on – the – go: Integration can be accessed across hand-held devices like iPad/Mobile. Sales Orders can be promoted from Salesforce to ERP on – the – go.
Easy to promote: Customers and Sales Orders can be easily promoted from Salesforce to Sage ERP with a single click.
About Us
Greytrix as a Salesforce Product development partner offers a wide variety of integration products and services to the end users as well as to the Partners across the globe. We offers Consultation, Configuration, Training and support services in out-of-the-box functionality as well as customizations to incorporate custom business rules and functionalities that requires apex code incorporation into the Salesforce platform.
Greytrix has some unique solutions for Cloud CRM such as Salesforce integration with Sage Enterprise Management (Sage X3), Sage Intacct, Sage 100 and Sage 300 (Sage Accpac). We also offer best-in-class Cloud CRM Salesforce customization and development services along with services such as Salesforce Data Migration, Integrated App development, Custom App development and Technical Support to business partners and end users.
Greytrix GUMU™ integration for Sage ERP – Salesforce is a 5-star app listed on Salesforce AppExchange.
For more information, please contact us at salesforce@greytrix.com. We will be glad to assist you.
Related Posts