In Sage 300 ERP, user often has to search for a particular transaction for a vendor, and it would be time consuming if S\he would search through batches; entry by entry. Sage 300 ERP provides AP vendor Activity screen where user can easily find the transaction vendor wise.
In other words you can say, this form displays summary information about the current status of your company's accounts with your vendors.
Let's have a closer look on its functionality:
Go to Account Payable >> AP Vendor >> AP Vendor Activity
1.  Activity Tab: This tab displays all current affairs of vendor such as  Vendor is
a.  On Hold Or Inactive or both
b.  Shows Credit Limit set
c.  Most recent transaction done by vendor
d.  Displays amount is both Functional and Vendor currency for multi-currency database
The New Stuff: AP Vendor Ledger Report for Sage 300 ERP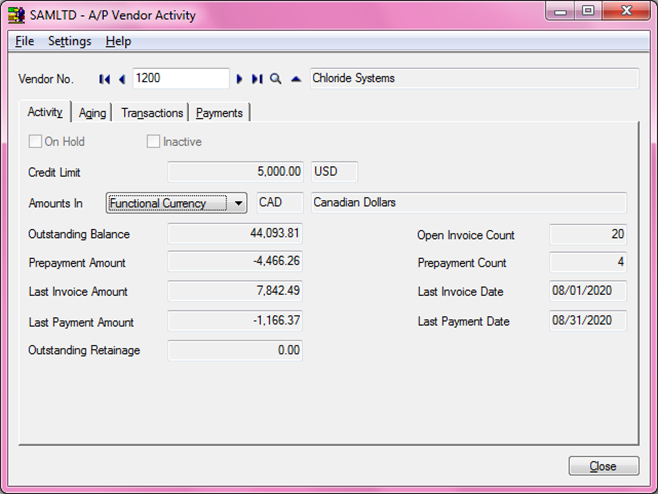 2.  Aging Tab: This tab Displays Company's account balance with the vendor in each of the aging periods used in Accounts Payable system, selected by the aging and cutoff dates as specify.
a.  Age As Of, Cutoff Date, Age By
b.  User can also filter on the basis of Include Transactions On Hold and Include Prepayments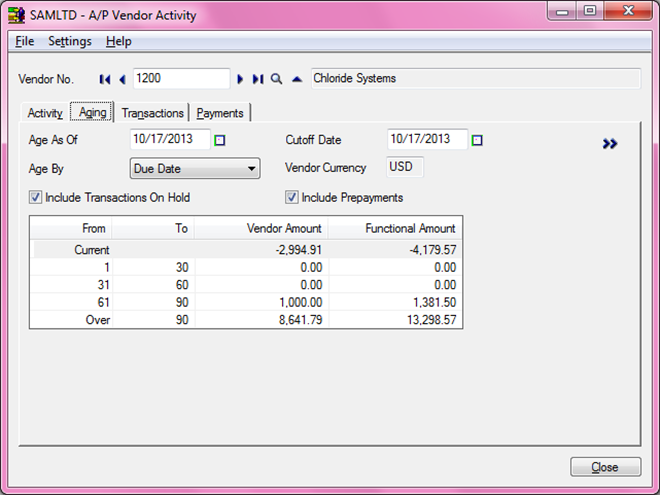 3.  Transactions Tab: This tab displays summary information about Invoices, Credit Note, Debit Note, Prepayment and Payment that has been posted to the vendor's account. This tab also provides.
a.  Open button: User can see applied transaction on a document
b.  Document button: User can actually see the Document that was made during posting using.
c.  Detail button: User can see detail line, Original Amount, Current Balance
d.  Optional Field button: User can see optional field for document defined at header level
– Note: Displays above mentioned transaction only if transactions are posted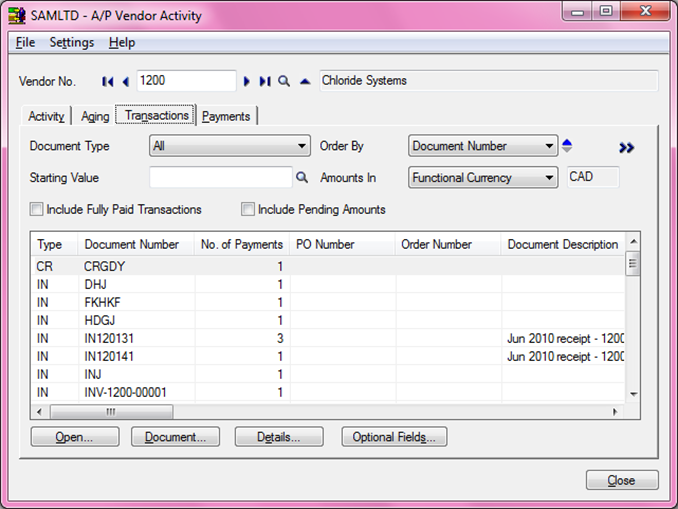 4.  Payment Tab: This tab lists the payments user made to the selected vendor.
a.  Open button: User can view all the documents and payments to which a check was applied, and see the amount of each application, the date, the number of the reference document.
b.  Payment Button: User can view the original entry in the Payment Entry form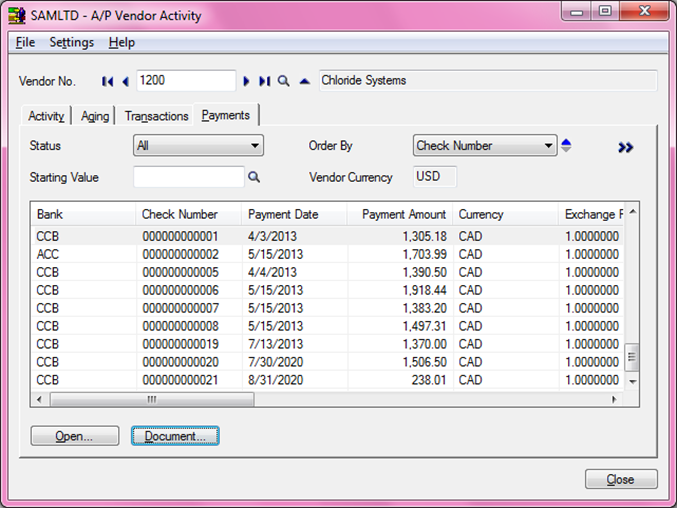 In this way, user can easily get the summary information about the current status of your company's accounts with your vendors by AP Vendor Activity.