In any business, software has become an indispensable component while offering products and services. From marketing, sales, customer service, supply chain management & operations, it has become essential to automate business processes capturing vital data for coordinated workflows. However, the reliance on siloed Salesforce and Sage 300 ERP solutions makes it difficult to track your enterprise data, control and respond to dynamic business needs instantly. Today, your business needs an efficient integrated solution to streamline processes between various modules keeping your business ahead of the competition.
Read More: GUMU™ for Salesforce – Sage 300 Integration
Sage 300 – ERP and Salesforce form the backbone of your organization's IT ecosystem. Sage 300 – ERP manages the backend information such as accounting, shipping details, financial data, supply chain management details and billing information and Salesforce tracks valuable customer data, understanding prospects and managing the sales pipelines. Greytrix, with its GUMU™ connector, integrates the two business systems unleashing the true potential of a unified system.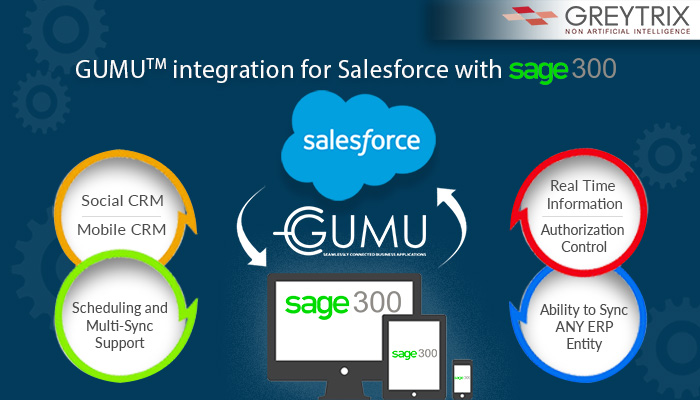 GUMU™ integration allows enterprises a bi-directional view of Salesforce and Sage 300 data on a real-time basis, ensures secured data access with Authorization Control, Promote Customers and Sales Orders from Salesforce to Sage 300 and also Link / Unlink accounts between the two software solutions.
GUMU™ can benefit your specific industry with integrated Salesforce & Sage 300 solutions, read more at GUMU™ integration for Salesforce with Sage 300. Empower your enterprise to connect customer information, accounting, payroll and financial data into one system so that information is accessible from any device at anytime, anywhere.