In last our last blog Process Sales Orders using Credit Card in GUMU Integration -I, we discussed about how to setup credit card against Sage 100 Customer. Here we would see how to use that Credit Card for payment in Sage CRM Sales order entry. For any Customer that has a valid Credit Card attached to its account in Sage 100, it is possible to do the payment associated with that customer in Sage CRM account via Credit Card. Let's follow the below process in order to achieve it.
               GUMU Sage 100 Integration Trial | Video | Blog | Demo Machine
Integrating the Sage 100 Customer with Sage CRM
After attaching the Credit Card to Sage 100 Customer, we need to Sync the credit card info into Sage CRM from Sage 100 so that all the changes are mapped both ways.  This can be done using the synchronize dropdown option, refer
Synchronize Dropdowns in Sage CRM using GUMU Integration
.



After that, import the Sage 100 Customer into Sage CRM against which we have added Credit card. For more information, refer Import Customers in Sage CRM using GUMU Integration
 Applying Payment through Credit Card
To process the payment through the Credit Card, we shall select the payment option as Credit Card at time of generating the Sales Order.
While creating a new Sales Order for a Company that has a registered Credit Card, we need to select the payment type as Credit Card, which populates the Credit Card Details related fields on the screen.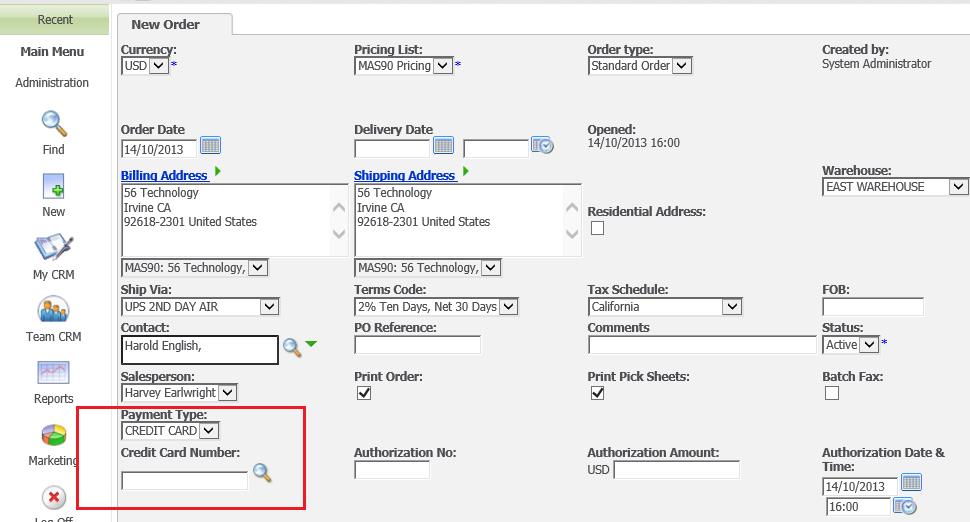 When we make Credit Card Number search, User is provided with an option to choose the Credit Card that is registered with the customer and from which the customer prefers to make payment.



By selecting the Credit Card and entering all other related field data, the Sales Order with Payment Type "Credit Card" will be created and you can promote this order to Sage 100 on a realtime basis.