This post is in continuation of our previous posts regarding Sage CRM and Outlook Integration. People using Sage CRM and latest version of outlook mainly face the problems with Classic Outlook integration Plug-in due to enhanced security and performance parameters in latest office products.
Create, Launch, Record, Analyze Surveys from within Sage CRM
Greytrix Survey CRM for Sage CRM
In Outlook 2013 if the Add-In causes slowness to application, it is automatically disabled. The error that I was facing is somewhat related to this.
I installed classic outlook integration with Outlook 2013 and SageCRM 7.2b. While opening outlook I was getting below error prompt. I knew this is where Outlook is trying to talk to SageCRM and its failing.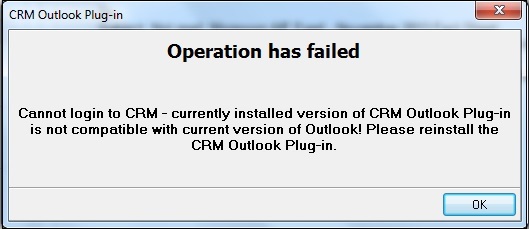 I opened outlook, went to File || Options || Add-Ins and found that plugin named "SageCRM outlook Add-In" was already enabled. Why this error then?
Now that's because classic outlook integration adds 2 not 1 Add-Ins. You can see one more Add-in named "ACCPAC CRM Addin for Outlook" which is responsible for synch processes in CRM tab.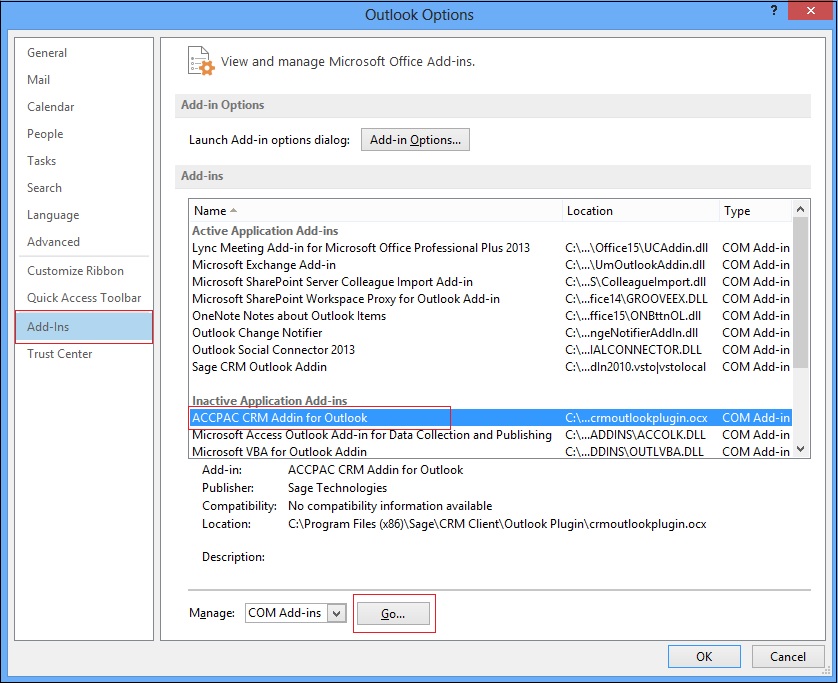 I found the Add-In was disabled automatically. To enable the same I selected COM Add-ins in manage dropdown and clicked on Go button. COM Add-Ins window opened as follows.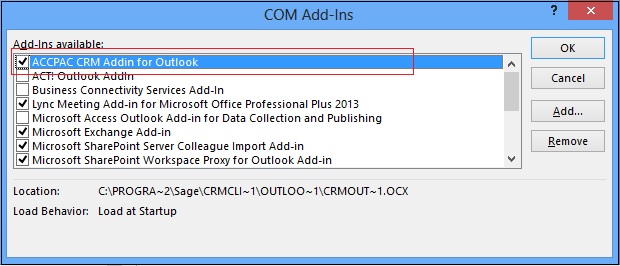 Here I checked the "ACCPAC CRM Addin for Outlook" option. Then click Ok and restarted outlook. My Outlook integration with SageCRM was back on track