The primary motto of GUMU solutions is to provide a seamless and hassle-free bridge between various ERP and CRM solutions in a user-friendly interface giving you access to your data anytime, anywhere on the Go. Today, we will talk more about our GUMU Sage 500 ERP integration.
GUMU for Sage CRM – Sage 500 Integration  Trial | Video | Blog 
Let's first see some Key Features:-
1.  GUMU™ Integration for Sage CRM-Sage 500 ERP is totally customizable; hence if users have any additional requirements to suit their business needs, it can be done with our GUMU.
2.  With GUMU™ you have Freedom of Choice. You are not restricted to upgrading both Sage 500 and Sage CRM at the same time. You can upgrade one or both as per your choice.
3.  GUMU™ Integration utilizes a single Sage 500 ERP user license to promote Sage 500 Customers and Orders from within Sage CRM to Sage 500 ERP. So even if you have 10 CRM users we just need 1 Sage 500 user license for the integration.
4.  GUMU™ Integration supports multiple companies. You can integrate multiple companies of Sage 500 with a single instance of Sage CRM.
5.  Full implementation is provided by Greytrix at no cost (integration, configuration via remote desktop).
GUMU for Sage CRM – Sage 500 integration is available in two flavors. You can pick one depending on your business needs. Standard Integration suite and Complete Integration suite.
Let us see the features provided in both the standard and complete suite.
1.    Standard Integration suite: In the standard Integration suite, we provide users with the following features:

a. Synchronize Customer data: You can sync the customer records from CRM to Sage 500 and vice versa. This works on a real-time basis which means when you make any changes in Sage 500; it will also update the CRM data for the same Customer and vice versa.
b. View Sage 500 customer Details: You can view all the 'Customer Details' and other information related to that particular customer present in Sage 500 ERP from the Sage 500 tab as shown in the below screenshot.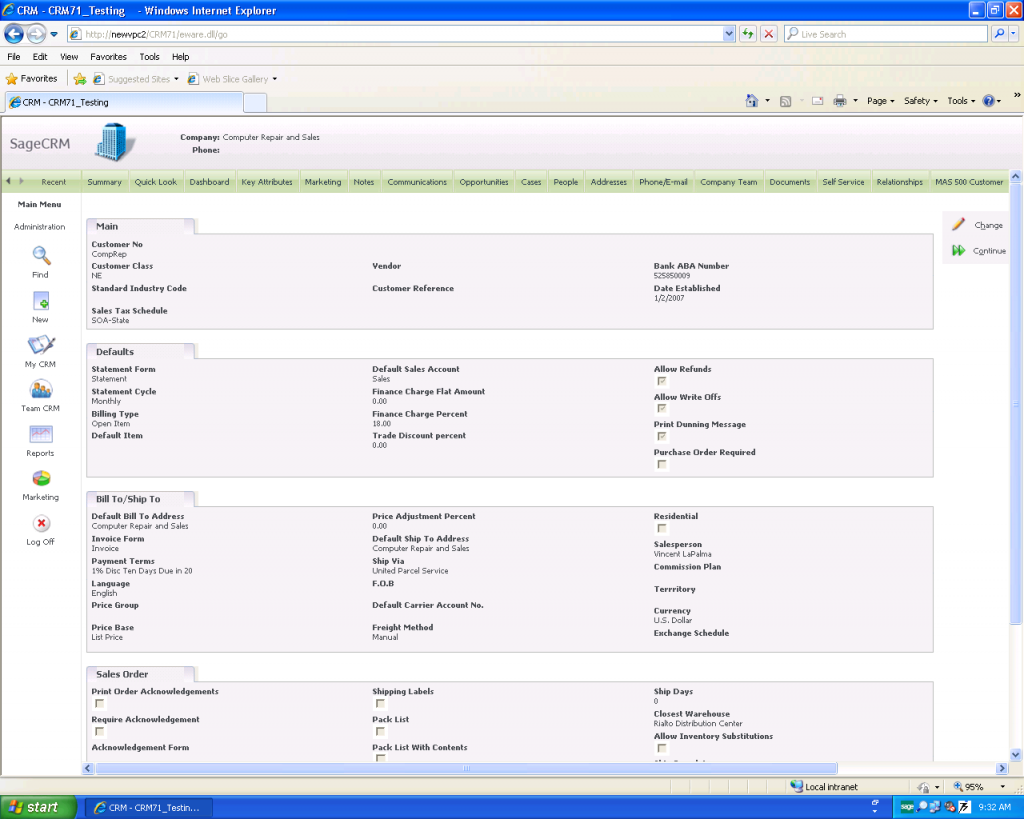 c. View Sage 500 AR details in Sage CRM: Users can also view the Sales Transaction details of Sage 500. For this, navigate to the 'Company' screen in CRM for which you want to see the Transaction details and click on the AR Inquiry tab where all invoices are displayed depending upon the criteria specified to it. You can drill down further to view the Complete Invoice details. Click on the details button which will display the invoice AR Detail screen, AR receipts, and AR Applied Documents created against the selected invoice.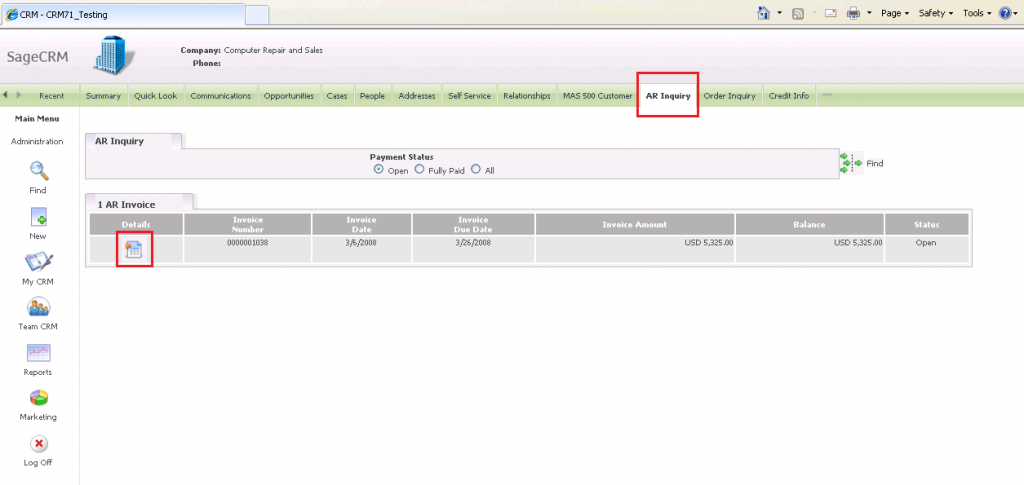 d. View Sage 500  Sales Order details in Sage CRM: Similarly, you can also view the list of Sales Transaction and details of the same in the Order Inquiry tab. Additionally, you can also view the line item details by clicking the line item button.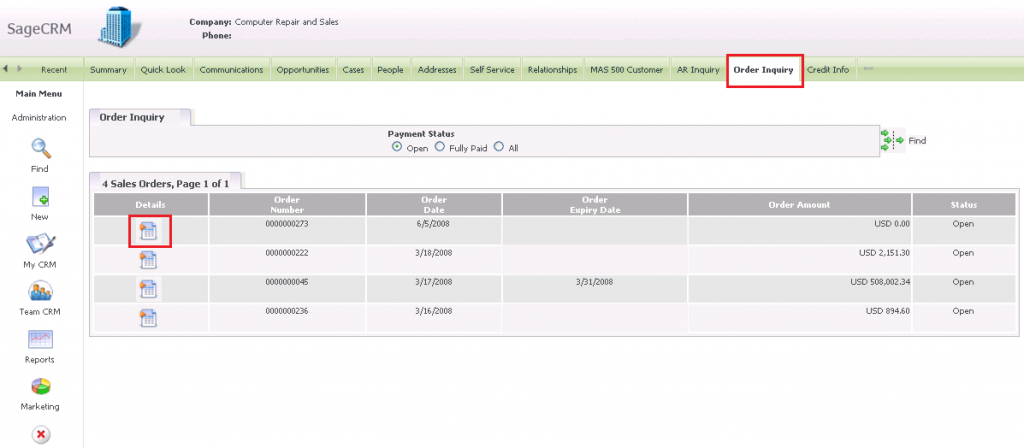 2.   Complete integration Suite: The complete suite comprises all the features that are present in the standard integration along with the feature where you can promote orders in real-time from your Sage CRM web interface to Sage 500 ERP