In earlier versions (Sage CRM v6.2 integrated with Sage Accpac v5.5 and v5.6), there was Order / Quotes tab which had an ability to create orders from an Opportunity. However in the newer versions (Sage CRM v7.0 with Sage Accpac v6.0), Quotes and Orders are created through the Quotes and Orders tabs (SWT screens) which are very limited for customizations and are Tomcat dependent.
Many times you come across business requirements which need some extensive customizations to the order screens. That's where our GUMU™ for Sage CRM – Sage 300 Integration can cater your requirement. Brief about our GUMU™ Sage 300 Solution.
1) It is built on top of the Standard Sage CRM – Sage 300 Integration provided by Sage in which Sage CRM Quotes and Orders tab is used.
2) It synchronizes drop downs/list of values such as Ship-To Location, Ship Via, Price Lists, UOMs, Product Family and Products, Locations, etc. that are required for creating Quotes and Orders from within CRM.
3) Item lookup when creating orders that retrieve Inventory on Hand directly from Sage 300.
4) Promote button in Order and Quote Summary screen to allow promoting order to Sage 300. GUMU™ for Sage CRM – Sage 300 ERP Order Entry integration is currently compatible with SageCRM 6.1/6.2/7.0/7.1/7.2 and Sage 300 ERP version 5.4, 5.5, 6.0 and Sage 300 ERP.

Key Features
1) Supports Multi-currency:
Our module supports multi currencies that mean no need to calculate currency conversions. Sage CRM will create orders in the same currency as defined in Sage 300 ERP.
2) Synchronizing Dropdowns in Sage CRM from Sage 300 ERP:
We have added below Order Details tables that are used to create an Order from Sage CRM under Administration à Sage 300 ERP Administration.
3) Import Products: Import Products option is given to Sync Sage 300 Items into Sage CRM.
4) Security for the user to promote order in Sage 300 ERP from Sage CRM: Security is given such that Sage CRM Administrator user can configure Promote Order rights to other Sage CRM users under User More Details block.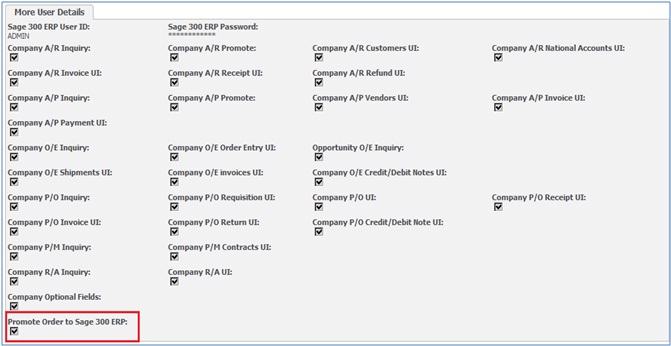 5) Ability to View Quantity on hand of Items:
A salesperson can view Quantity on Hand of Items before promoting the order to Sage 300 ERP using Display Ordered Items button.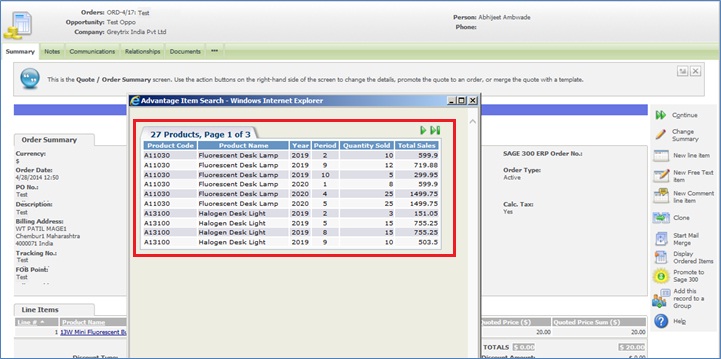 6) Selecting Line Items directly from Sage 300 Inventory Control Module: Sage CRM user can select the Product directly from Sage 300 Inventory Control Module using 'Product Lookup' or 'Product family' look up option (marked in the red box).


A user can view Optional Fields information of any particular Inventory Item as shown below.
7) Promoted Orders under Opportunity: User can view all promoted orders information from Sage CRM by navigating to the Promoted Orders tab of an opportunity.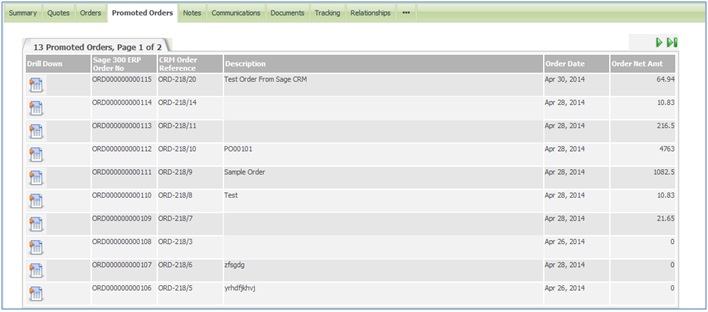 8) View Order Details: User can view the Order Details by clicking on drill down the column of Promoted Orders tab shown above.


Kindly contact us on sage@greytrix.com to know more about our GUMU™ Sage 300 Integration.
Sage CRM for Sage ERP X3: GUMU™ for Sage CRM – Sage ERP X3 Integration ~ Real-time, Bi-directional