In this blog post, we will go through the pre-requisite steps which need to be performed in IIS for GUMU™ integration. (Below IIS setting is for IIS version 7 and above.) This setting is necessary for ASP pages and other DLL files to work.
New Stuff: GUMU integration loads all type of pricing on real time basis
Select Start | Settings | Control Panel | Administrative Tools | Internet Information
Services IIS Manager.
ISAPI and CGI Restriction setting
Click on to the Internet Information Service Manager (IIS) Manager| Server
(Server\Administrator) | ISAPI and CGI Restrictions.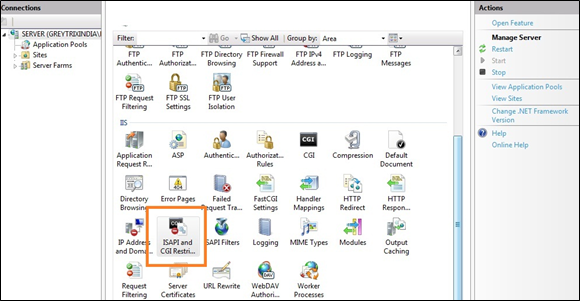 GUMU Sage 100 Integration  Trial | Video | Blog | Demo Machine
Click on ISAPI and CGI Restrictions and allow access to Active Server pages. When you initially install IIS, the service is installed in a highly secure and "locked" mode. By default, IIS serves only static content meaning features like ASP, ASP.NET and Server-Side do not work unless enabled. If you do not enable this functionality after installing IIS, IIS returns 404 errors. Please refer the below image.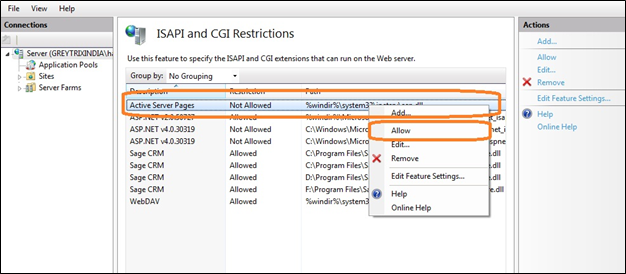 Enable Parent Path setting
Select Start | Settings | Control Panel | Administrative Tools | Internet Information
Services IIS Manager.
1.   On the Features view, double-click "ASP."
2.   Change "Enable Parent Paths" to "True."
3.   Under the Actions page, click "Apply."
Once all the above settings are done, please RESET the IIS. This is necessary for above changes to take effect.
Also read:-
1.  GUMU™ Sage 100 Tips – Creating additional contacts from Sage CRM to Sage 100
2.  GUMU for Sage CRM – Sage 100 ERP integration video tutorials
3.  Checklist for installing GUMU for Sage CRM – Sage 100
4.  GUMU Sage 100 Tips – Items are not getting hyperlinked in Sage100 Item Lookup
5.  GUMU™ Sage 100 Tips – Creating additional address from Sage CRM to Sage 100