GUMU™ for Sage CRM – Sage 100 ERP is a real time, bi-directional link. For syncing data between Sage CRM and Sage 100 application, we need dedicated Sage CRM and Sage 100 users for configuring it within integration. Today, we will go through the user settings required for these users.
New Stuff: Steps to Import Sage ERP X3 Customers in Sage CRM
For a Sage CRM user
For writing Sage 100 changes in Sage CRM, we would require a dedicated Sage CRM user. This Sage CRM user needs to be configured in GUMU Module of Sage 100 Application. (Please refer the below image).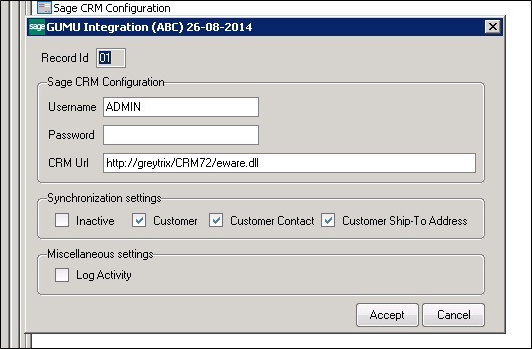 A dedicated Sage CRM user used in GUMU integration needs to have the following settings.
1.    In Sage CRM, go to Administration -> Users -> Users section.
2.    Search and click on the user which you want to configure in GUMU Integration.
3.    In the Security section, set the below options to the specified values.
–      Allow Web Service Access :-  True
–      External Logon Allowed :-  True
–      Administration:-  System admin
–      Profile Name :- unrestricted Profile



GUMU Sage 100 Integration  Trial | Video | Blog | Demo Machine
For a Sage 100 User
GUMU also needs 1 dedicated Sage 100 user license with full admin rights which will be used for integrating both the systems. This user will be configured in GUMU™ configuration in Sage CRM for GUMU Sage 100 administration section as shown in below screenshot.



A dedicated Sage 100 user used in GUMU integration needs to have the following setting.
1. Allowing external access to Sage 100 Company:-
In order to integrate any Sage 100 company code with Sage CRM, Allow External Access checkbox should be checked for that Sage 100 Company code as given in below screenshot. You can do this by going to Library Master > Company Maintenance
2. The dedicated Sage 100 user should have full access with admin level role in Sage 100 User maintenance and Role Maintenance.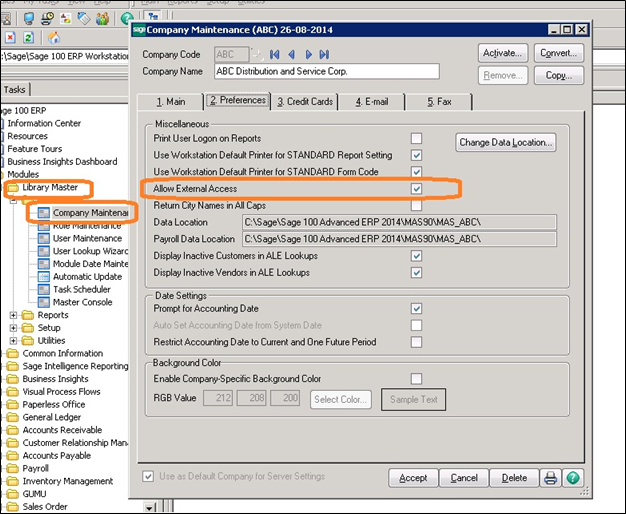 Also read:-
1.   GUMU™ Pre-requisite Setting for IIS
2.   GUMU Integration loads all type of pricing on real time basis
3.   GUMU for Sage CRM – Sage 100 ERP integration video tutorials
4.   Checklist for installing GUMU for Sage CRM – Sage 100
5.   GUMU Sage 100 Tips – Items are not getting hyperlinked in Sage100 Item Lookup