Hi readers! The screen which appears in CRM for the available entities contains fields which are placed with proper alignment (i.e. Row width, Column width). When we approach to our clients for the requirement gathering most of the time client asks to change the look and feel of the screens.
New Stuff: Change default appearance of Notification Area in Sage CRM 7.2
CRM gives a provision to set "Width" and "Height" of the field while adding on the screen. But maximum width that can be set for a particular field is "5 columns". What if I want more?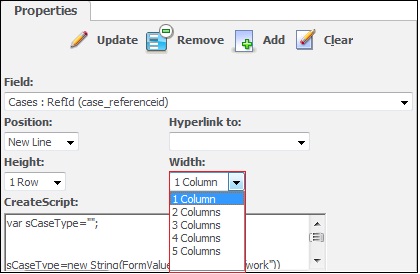 If you want to add more Columns then simply follow below steps.
Go to "Administration | Customization | Translations".
Type "New" and fill the available fields as shown below.
Click "Save" & "Continue".



Doing this you will see one more option in Width column named "6 Columns".
Also Read:
1) Managing FCK Editor's behavior with SageCRM Style sheet
2) Get impressive PDF Reports by adjusting Report Styles in Sage CRM – Part 2
3) Selecting multiple fields using Client Side API
4) Opportunity Funnel in Sage CRM 2014 R2
5) Standard Sage CRM reports with custom styling