GUMU™ for Sage CRM – Sage 100 ERP integration is a real time bi-directional link i.e. any changes made either in Sage CRM or Sage 100 ERP will be replicated immediately in the other system.
New Stuff:   Clone Quotes and Orders in Sage CRM
In GUMU™ integration, for updating changes from Sage 100 ERP to Sage CRM, we have created GUMU Sage 100 ERP module. In this blog post, we will go through the process of configuring GUMU Module in Sage 100 ERP, so that real time changes from Sage 100 ERP to Sage CRM should work.
Here we assume you have already gone through with GUMU Module installation and have provided the necessary permissions to access the GUMU Module.  Now, let's start with configuring GUMU module.
GUMU Sage 100 Integration Trial | Video | Blog | Demo Machine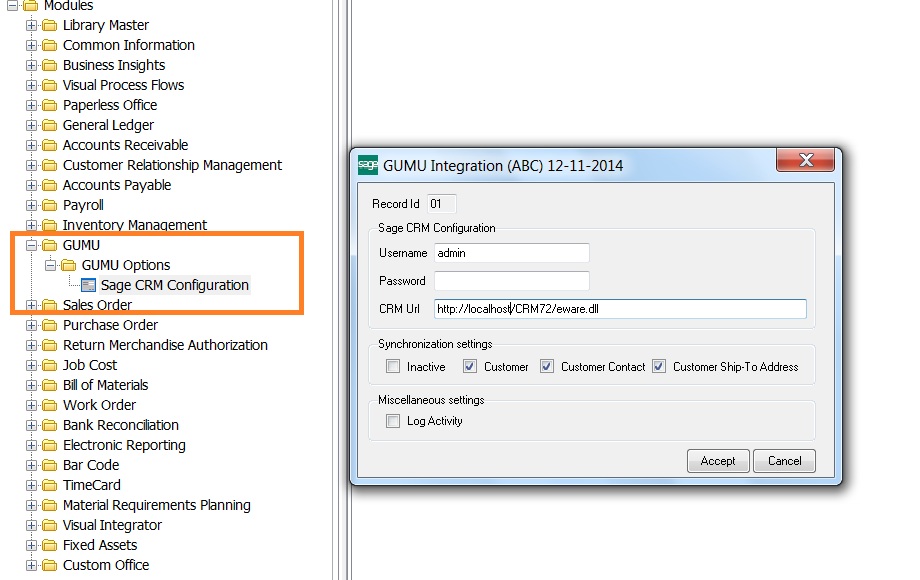 Once GUMU Module is installed, Sage100 ERP admin user can go to GUMU > GUMU Options > click on the Sage CRM configuration. It will open the GUMU Module configuration screen. Please enter below values in the screen.
Sage CRM Configuration:-
User Name: – Enter Sage CRM admin level user who has web service and external access enabled.  For more details, please refer blog link Sage CRM and Sage 100 user configurations for GUMU integration.
Password: – Enter password of above specified Sage CRM user.
CRM URL:- Enter Sage CRM URL till "eware.dll".
Synchronization settings:-
Inactive: – If you check this checkbox, then customer data synch from Sage 100 ERP to Sage CRM will get disabled. i.e. Any changes made to the Sage 100 ERP record will not update corresponding record in Sage CRM.
Customer: – For enabling real time synch from Sage 100 ERP to Sage CRM for Sage CRM Company, entity (customer records) check box should be checked. If this is not checked, then any changes made to Sage 100 ERP customer records will not update corresponding customer records in Sage CRM in company entity.
Customer Contact: – For enabling real time synch from Sage 100 ERP to Sage CRM for Sage 100 ERP contact synching, this check box should be checked. If this is not checked then any changes made to Sage 100 ERP customer Contacts records will not update corresponding person records in Sage CRM.
Customer Ship-To Address: – For enabling real time synch from Sage 100 ERP to Sage CRM for Customer's ship-to address records, this check box should be checked. If this is not checked, then any changes made to Sage 100 ERP customer ship-to address records will not update corresponding address records in Sage CRM.
Miscellaneous settings:-
Log Activity: – When this option is enabled, the GUMU logs will be generated under Sage 100 ERP Activity LOG.
Once you are done with these configurations, Sage 100 ERP to Sage CRM customer data update will start flowing.
Also read:
1.   Synchronization setting in GUMU for Sage CRM – Sage 100
2.   Sage 100 user mapping with Sage CRM User
3.   Sage CRM and Sage 100 user configurations for GUMU integration
4.   GUMU™ Pre-requisite Setting for IIS
5.   GUMU Sage 100 Tips – Creating additional contacts from Sage CRM to Sage 100