In Cloud Sage CRM 2014 R2, 'upload documents' and 'mail merge' functionalities are available in core entities such as Company, People and Opportunity. However, Leads entity does not have Documents tab which is a useful feature for Sales and Marketing People. Lots of customers do a lot of customizations for this feature whereas this feature can be made available with a simple customization in Cloud Sage CRM. In fact in Cloud Sage CRM, upload documents and mail merge can be enabled for custom entities which can then be used for customized entities based on Customer's Business requirements.
New Stuff: DCOM configurations on 64 bit server and 32 bit Microsoft office – Part 2
In Sage CRM 2014 R2, you can enable the Documents tab and its functionality by following below steps.
1) Go to Administration | Primary Entities | Lead
2) Click on Tabs.
3) Click on Lead hyperlink in the Tab Group Name column or the pencil icon in the Customise column.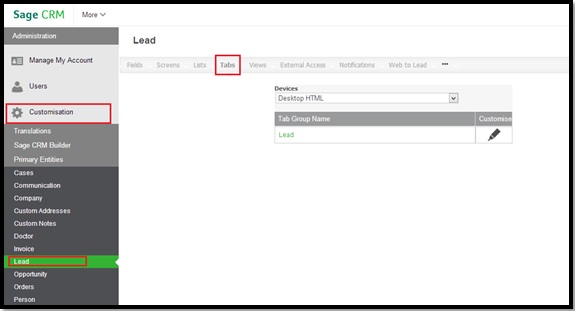 4) Enter Documents in the Caption field of the Properties panel and select librarylist from the System Act drop-down list.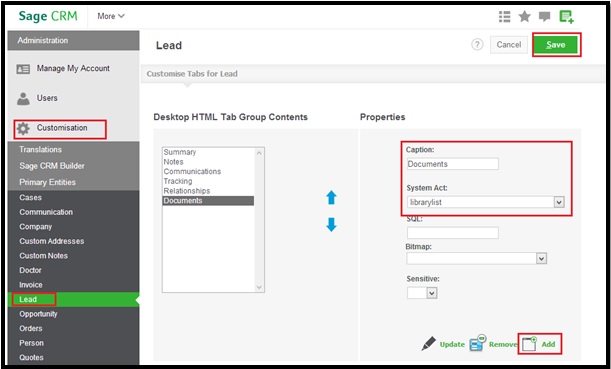 5) Click on Add and then click on Save to save the changes.
When you go to Leads and navigate to any Lead record, you will be able to see a Documents tab where you can upload documents and the Mail Merge function will be enabled with the Start Mail Merge button: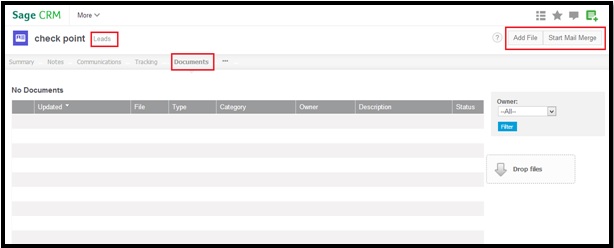 Once done, you can use Mail Merge functionality for Leads in Sage CRM. Similar steps can be followed for customized entity.
Also Read:
1) Case entity pipeline Sage CRM 2014 R2
2) Scheduling Backup activity through Sage CRM 2014 R2
3) Opportunity Funnel in Sage CRM 2014 R2
4) Inbuilt Add-ons – Sage CRM 2014 R2
5) WORKFLOW IN SAGE CRM 2014 R2