In our Previous blog, we have discuss about configuring GUMU to calculate Tax on the basis of AVATAX API. In this blog we will check how user can make use of Avatax GUMU Addon while Creating Orders.
New Stuff: GUMU™ Module installation for Sage 100 Premium version
Once you are done with configuring GUMU Avatax Addon, user can now get the tax amount as per the Avatax API. Currently we are calculating tax on the basis of below two scenarios:-
a. Real time Tax calculation on Addition of Item: This option will be enabled if admin select/check "Calculate Tax on Line Item Save" option in the AvataX Configuration section of GUMU Integration . If this option is checked the GUMU will calculate tax on real time basis on add/ update of Line Item on order and Quote Level.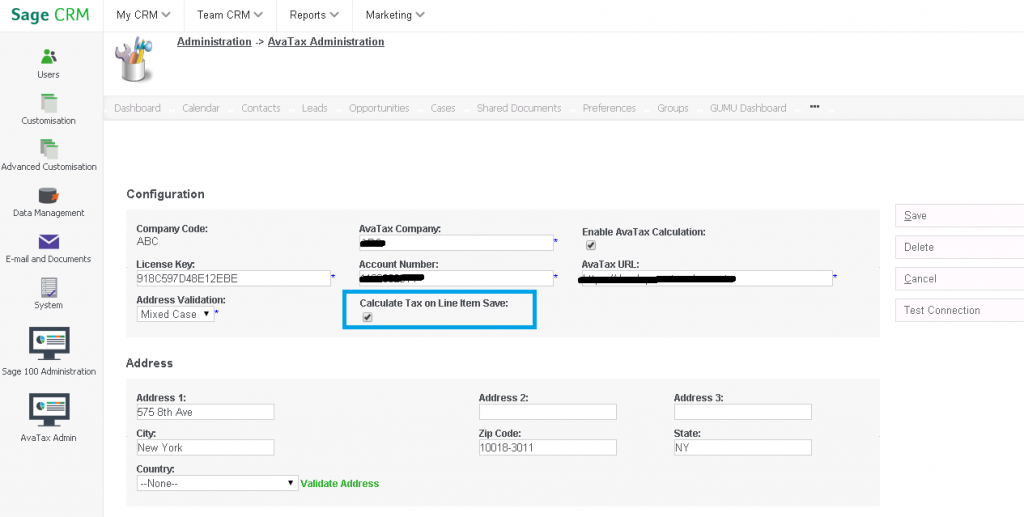 GUMU Sage 100 Integration Trial | Video | Blog | Demo Machine
b. Manually calculate Tax : If user do not check "Calculate Tax on Line Item Save" option then a calculate tax button will Appear on Order and Quote screen so that user can manually calculate tax using GUMU Avatax Addon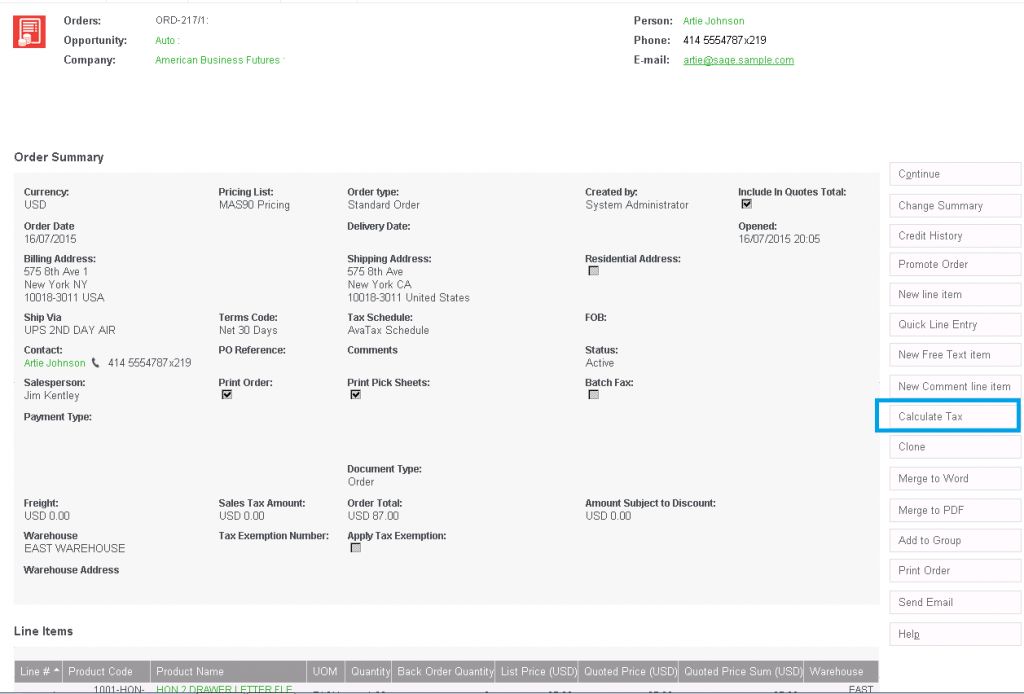 Let me walk you through how GUMU Calculate tax using Avatax API
1. Configure the Avatax Integration as mentioned in our previous blog
2. Select a company which is an Integrated with Sage 100 or Select a prospect customer.
3. Create a new order and select the Tax Schedule as Avatax and add Line Item. Please note that if the selected tax schedule is other that Avatax then it will fetch tax as per standard Sage 100.
4. While calculating tax, it set the Shipping address as destination Address and the Warehouse address in Line item section as Source address.
5. In case the Warehouse Address is Empty then it will check for the address which is present in the configuration screen.
6. Using above scenario it will calculate tax.
User can also Validate the addresses while creating creating orders on real time basis. We will explain this feature in our upcoming blog.
Also Read  :
1. Sage 100 integration with AvaTax
2. Calculate Sales Tax in Sage CRM using AvaTax API
3. GUMU™ Module installation for Sage 100 Premium version
4. Promote order from Sage CRM to Sage 100 using comment line item
5. Map single Sage CRM User with multiple Sage 100 Salespersons