Our GUMU™ for Sage CRM – Sage 100 integration link is real-time bi-directional link. One of the major feature of our GUMU™ Integration is  user can use any combination of Sage CRM and Sage 100 version and editions i.e. user can have Sage CRM version 7.1,7.2,7.3 and Sage 100 version can be 4.3 and above.
In order to implement real time changes from Sage 100 to Sage CRM, we have come with creating separate GUMU™ module in Sage 100 which will take care of all configuration and synch options for Sage 100 to Sage CRM real time updates.
New Stuff: GUMU for Sage CRM – Sage 100 Integration DOs and DON'Ts
In this blog, we will go through the GUMU™ Module installation for Sage 100 Premium version which is little bit different as compare to other Sage 100 editions.
GUMU Sage 100 Integration Trial | Video | Blog | Demo Machine
a.   After successful installation of GUMU™ Module, login to Sage 100 application as ADMIN and navigate to Library Maintenance->Main->Company Maintenance.
b.   Select the Sage 100 company code for which you want to configure the GUMU module and click on the activate button.
c.   Check the checkbox in front of GUMU module option and click on the proceed button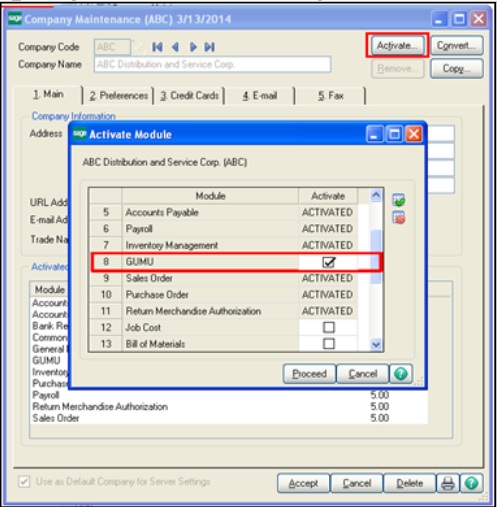 d. Once Module is activated, login to SQL server and select the Sage 100 Company code database for which you want to activate the GUMU™ module.
e. Run the below Query
"Update GT_options set newsystem ='N'"
f.  Also Admin will have to provide rights to the user to access the GUMU Module. For this navigate to the "Library Maintenance->Main->Role Maintenance" screen and assign the desired access to GUMU Module.
However we can install GUMU module in Sage 100 Integration. For more information, please drop us a mail at sage@greytrix.com
Also read :
1. Country code setting in GUMU™ integration
2. Calculate sales Tax in Sage CRM using AvaTax API
3. GUMU Sage CRM – Sage 100 integration – Help Button
4. Accelerate your Line Item Entry process using GUMU Integration
5. Promote order from Sage CRM to Sage 100 using comment line item