We have been looking at various instances of export to excel issues identified in CRM and resolution towards it. These resolutions are drafted in 4 blogs written on the same topic and links are available at the end. Well, in this blog, we will be looking at a specific error message which says "The execution time of the report has exceeded the maximum time permitted" while fetching the report in excel.
New Stuff: Greytrix Sage CRM CTI Framework
We were quiet sure that Report Query and Build Timeout was causing this error to occur. And, CRM doesn't allow us to extract the report in excel format if we put irrelevant values in above fields. See below screenshot for your reference.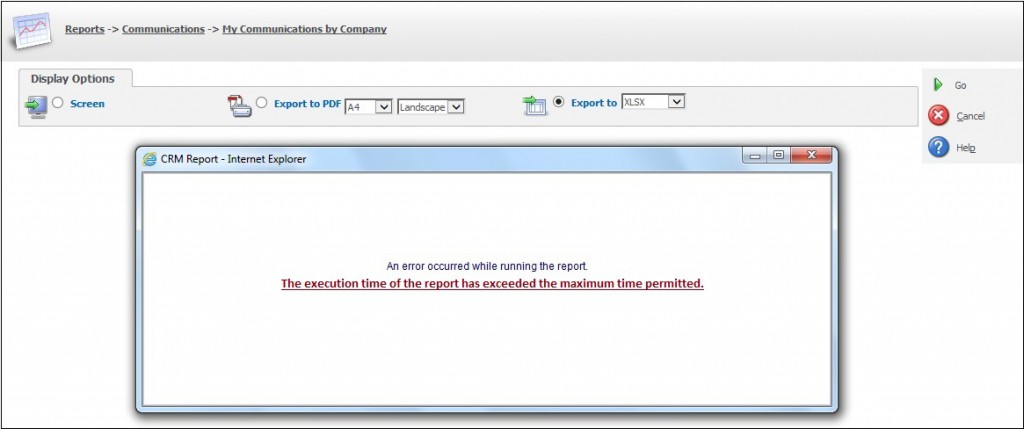 On checking the available values under Documents & Reports Configuration section, we found that it was set to 999999.
Then, we changed the Timeout values as below and were able to extract report in excel format.
1. Navigate to Administration | E-mail and Documents | Documents & Reports Configuration
2. Click on Change button and set the Report Query Timeout to 720.
3. Same for Report Build Timeout field.
4. Save the changes.




Also Read:
1.Error exporting reports to excel in CRM
2.Error exporting reports to excel in CRM part 2
3.Error exporting reports to excel in CRM part 3
4.Error exporting reports to excel in CRM part 4
5.Export to Excel and Export to PDF functionality on Sage CRM Self Service lists